We thought we were passionate about food - but Tom Perkins and Matt Chennells put us to shame.
Try a 501 day culinary adventure across three continents, covering 21,000km from London to Cape Town, all to be done on a bicycle.
Having explored the joys of local cooking, Tom Perkins has turned his culinary adventure into a part travelogue, part recipe book: Spices & Spandex -The Travel Cookbook.
Enjoy three of the recipes from the book and get immersed in this fascinating whirlwind of food and culture.
See Also:

Indian Vegetarian Recipes: Savoury Yoghurt Kebabs And Blackberry Lassi
Seared Tuna Steak with a Lychee, Avocado and Rocket Salad (serves 4) - East Africa, Tanzania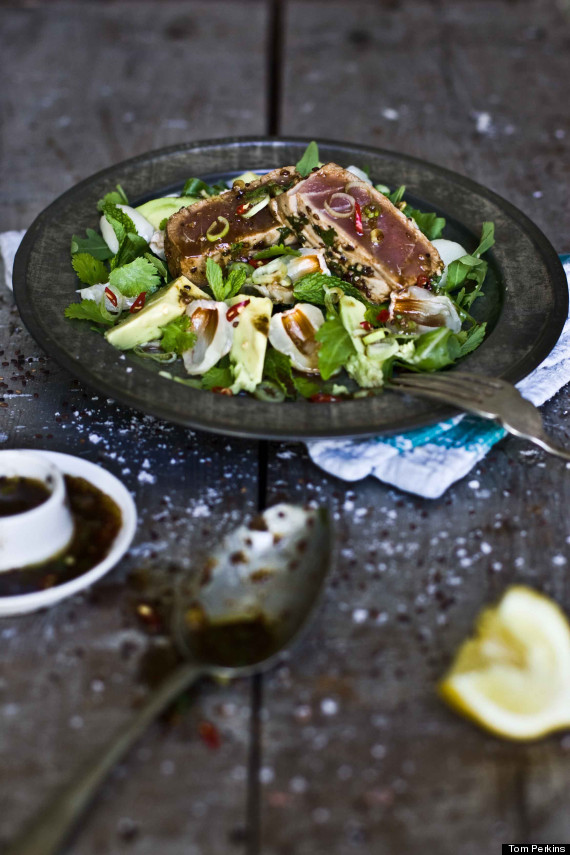 Marinade:
6 tsp soy sauce
4 tsp olive oil
2 tsp runny honey
2 tsp sesame seeds
4 spring onions, finely sliced
juice 2 limes, zest of 1
2 whole red chillies, (de)seeded & finely sliced
4 x 200g tuna steaks, roughly 2cm thick
large bag rocket
large handful fresh mint, roughly chopped
large handful fresh coriander, roughly chopped
16 lychees, pealed and cut in half
2 avocados, pealed and cut into slices
Place all of the tuna steaks in a shallow dish. Combine the soy, olive oil, honey, sesame seeds, spring onion, lime juice, lime zest and the chilli in a cup and mix well. Pour over the tuna and make sure all the steaks are evenly covered. Place in the fridge for 30 minutes to marinade.
Get a griddle pan to a high heat and then place on your tuna. Sear for a minute on each side (including the flanks) for rare. Add an extra minute if you like it a little more well done. Once cooked to your liking, place all the steaks on a chopping board while you construct your salad.
Combine the rocket, mint and coriander and divide evenly among the four plates. Do the same for the lychees and the avocado. Slice up each steak into 1 cm thick pieces and place on top of the salad. Use the remaining soy marinade to dress the salad. Finish with an extra squeeze of lime and a sprinkling of more toasted sesame seeds.
LIKE HUFFPOST UK LIFESTYLE ON FACEBOOK | FOLLOW US ON TWITTER
Jordanian Beef Tagine with Apricots, Olives, Butternut & Harissa (serves 4) - Western Asia, Jordan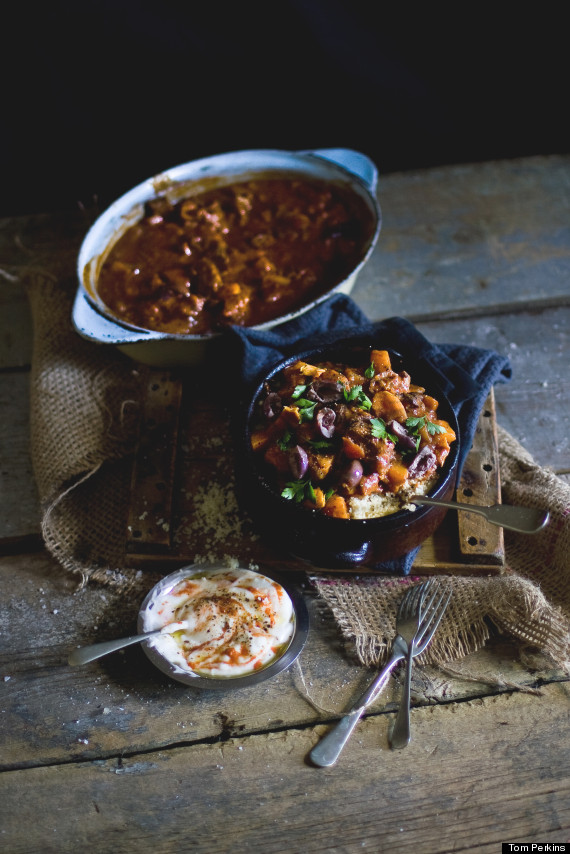 600g stewing beef
500g plain yoghurt
2 tsp harissa paste
½ tsp dried chilli flakes
1 tsp smoked paprika
½ tsp cinnamon
½ tsp ground cumin
½ thumb fresh ginger
1 tsp dried mint
zest 1 lemon
olive oil
1 medium red onion, roughly chopped
3 cloves garlic, finely grated
2 tsp tomato paste
1 can chopped tomatoes
2 cups beef/chicken stock
1/2 medium butternut squash, 1cm cubed
1 cup mixed olives, pitted
1 cup dried apricots, roughly chopped
1 tsp runny honey
1 lemon
salt
black pepper
large handful fresh coriander
plain cous-cous
The value of a good, and ideally long, marinade of the beef should not be overlooked. So, in a large mixing bowl put all of the beef, then in with half of the yoghurt, the harissa paste, all of the dried spices and herbs, the lemon zest and the ginger.
Season well with salt and pepper and set aside in the fridge for as long as you can wait. For the meat to really take on all the lovely flavours they need some time together – a couple of hours in the fridge would work nicely, but leaving it overnight would be top – patience is key.
Get yourself a large casserole pan (if you have a genuine tagine then certainly get fully involved with that), in go a couple glugs of olive oil and then over a medium heat it's time to fry the marinated beef with the onion. Give this about 8 - 10 minutes.
Then in with the garlic and the tomato paste. Fry for another minute. Next in with the chopped tomatoes and half of the stock. Bring to the boil, then reduce to a gentle simmer with a lid firmly on the pan for about 2 hours. Stir occasionally.
Give everything a big stir and then in with all the butternut, olives and apricots. In goes the rest of the stock, and then place the lid on a little skew so that some steam can escape and the sauce can reduce right down to a dark, sticky gravy. Continue to simmer until the butternut is cooked through but retains a little bite.
Now for the final touches. Stir in the runny honey, check for seasoning, and then scatter over a generous handful of fresh coriander, and squeeze over half a lemon.
Take the rest of the yoghurt and marble through 1 tsp harissa paste, lightly season and then squeeze over the other half of the lemon. Serve this yoghurt and harissa dressing as an accompaniment to dollop over the tagine alongside a simple, seasoned cous-cous.
Bakes Tilapia in Banana Leaves with Leek, Red Pepper & a Gin and Soya Sauce Marinade (serves 4) - East Africa, Uganda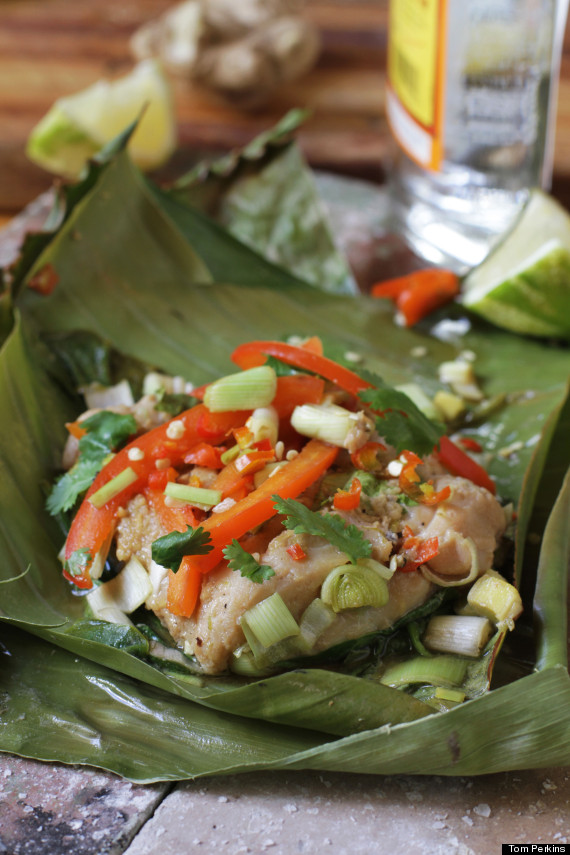 4 large tilapia fillets
2 leeks, chopped into 1cm disks
2 red peppers, cut into thin strips
2 large handfuls spinach leaves
8 strips banana leaves, cut into roughly 15 x 30 cm long strips
8 toothpicks/wooden skewers, soaked in water for 10 minutes
handful coriander
For the marinade:
4 tbs cooking oil
2 tbs oyster sauce
4 tbs gin
2 tbs sesame oil
2 tbs soy sauce
juice and zest 1 lime
medium thumb ginger, pealed & finely grated
1 red chilli, deseeded & finely sliced
small handful coriander stalks, finely sliced
1 tbs brown sugar
salt
black pepper
Place all of the tilapia filets in a shallow dish. Combine all the ingredients for the marinade in a cup, stir well to combine and then pour over the fish. Make sure all the fillets are evenly covered. Place in the fridge for 30 minutes to marinade. Pre-heat your oven to 180'c.
In a large saucepan pour 2cm of water and bring to the boil. Place a colander in the saucepan so that the bottom of the colander sits just above the water. Place the banana leaves, two at a time in the colander and place a lid over them. You want to steam the leaves for a minute or two to make them more malleable to wrap the fish with.
Lay one of the steamed leaves on a flat surface and then place a small handful of spinach leaves in the middle. On top of the spinach place one tilapia fillet. Divide the leeks and the red pepper into four equal amounts and place a quarter on top on the tilapia. Spoon over a generous amount of the marinade and then start wrapping up the banana leaf. You want to tuck the leaf back under itself and then place that on top of another strip of leaf going at right angle to the first. Repeat the folding process trying to make it as tightly sealed as possible. Secure the leaves in place with a toothpick through the top.
Transfer the parcel to an ovenproof dish and then repeat the whole process for the remaining three tilapia fillets. When all the banana leaf parcels are wrapped up, place the dish in the oven for about 25 minutes.
Remove from oven, then pull out the toothpick and slice the top leaf open. You are going to eat straight from the parcel so you want to be careful to retain as much of the sauce as possible. Squeeze over some lemon juice, then top with some fresh coriander leaves and some finely sliced red chilli.
Hungry for more? Why not preorder a copy of Spices & Spandex - The Travel Cookbook for more recipes from around the globe.