Pope Francis has declared two of his predecessors - Popes John Paul II and John XXIII - saints in a double-canonisation mass before an enormous crowd in the Vatican's St Peter's Square.
The canonisation was doubly unprecedented because the Pope was accompanied by a living predecessor - Pope Benedict XVI, who retired last year due to ill health - the first pope to abdicate in nearly 600 years.
The Vatican said there were 500,000 people in the piazza and surrounding streets while around 800,000 were believed to have gathered in Rome as a whole to celebrate.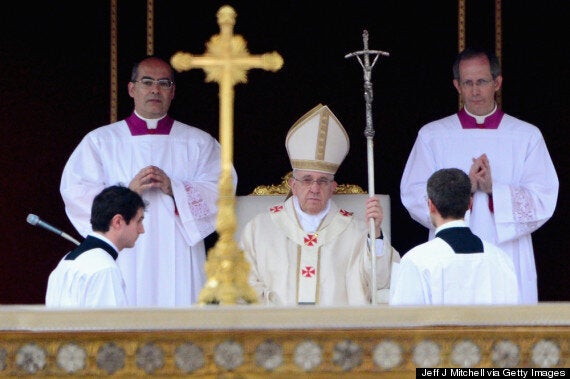 Pope Francis canonised two of his predecessors - Popes John Paul II and John XXIII
"We declare and define Blessed John XXIII and John Paul II to be saints and we enrol them among the saints, decreeing that they are to be venerated as such by the whole church," said Francis in the official proclamation.
In his homily, Francis paid tribute to "two men of courage" who "co-operated with the Holy Spirit in renewing and updating the church".
"They were priests, bishops and popes of the 20th century. They lived through the tragic events of that century, but they were not overwhelmed by them," he said, according to The Guardian.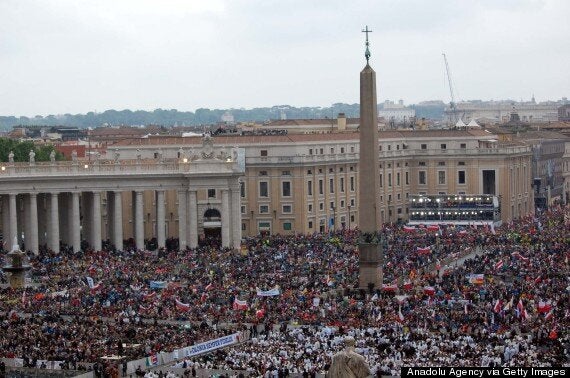 Hundreds of thousands gathered in Rome for the canonisation
John Paul II was Benedict's predecessor and was pope from 1979 to 2005 - one of the longest papal reigns in the church's history.
John XXIII, who reigned from 1958 to 1963, called the Second Vatican Council, which sought to modernise the church.
Francis described him as "a servant leader" and said John Paul II was "the pope of the family".
Crowds were let in to the piazza at around 5.30am when authorities opened the gates. They carried flags, backpacks and rolled up mattresses into the piazza.
They had come from all over the world, including John Paul II's country of origin, Poland.
"Four popes in one ceremony is a fantastic thing to see and to be at, because it is history being written in our sight," Polish pilgrim Dawid Halfar told the BBC.
Related