Ayrton Senna, considered to be the greatest Formula 1 driver in the sport's history, died at the San Marino Grand Prix 20 years ago on 1 May at the age of 34.
One of the most dominant and vibrant drivers int he sport, Senna was world champion in 1988, '90 and '91, and formed one half of one of the sport's most enduring rivalries, as he and Alain Prost vied for supremacy whilst teammates at McLaren.
Senna's legacy endures through his nephew, Bruno, a racing driver for Aston Martin in the FIA World Endurance Championship. The racing was also immortalised in Asif Kapadia's critically acclaimed 2011 documentary, Senna.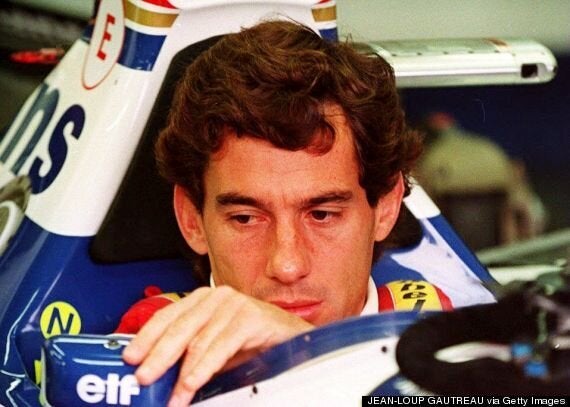 Senna prepares ahead of the 1994 San Marino Grand Prix in Imola
The day before Senna's death, Austria's Roland Ratzenberger died in qualifying at Imola. There have been no fatalities in F1 since that sobering weekend, but those present and involved with both deaths, especially that of Senna, are still haunted by them.
Two days prior to the grand prix, Senna's compatriot and protégé, Rubens Barrichello, clipped a curb driving for the Jordan team and crashed at 140 mph at the Variante Bassa chicane. Senna visited Barrichello at the medical centre, where the Brazilian rookie regained consciousness.
Senna had joined Williams for the 1994 season from McLaren but was deeply unhappy with the car. Although he admitted it improved in practice, he was traumatised by Barrichello's accident and Ratzenberger's death. English neurosurgeon Sid Watkins, whose work is largely responsible for the zero fatalities in F1 over the last two decades, implored Senna not to race and quit the sport, but was told "I can't quit." Senna was said to be so mentally fragile following Ratzenberger's passing he collapsed in his motor home and sobbed.
On the morning of the race, Senna spoke with former rival Alain Prost and Niki Lauda about improving the safety of F1's drivers, and was fastest on the track in the warm-up. Yet on the seventh lap, Senna's Williams car spun off at the Tamburello curve and into a concrete barrier at 190mph. Aerial footage shows his head move slightly to the left before returning to where it was. He never moved again.
"He looked serene," Watkins, who performed the on-site tracheotomy on Senna, recalled in Senna. "I raised his eyelids and it was clear from his pupils that he had a massive brain injury. We lifted him from the cockpit and laid him on the ground. As we did, he sighed and, although I am not religious, I felt his spirit depart at that moment."
Angelo Orsi, a photographer and friend of Senna, captured images of him motionless after his helmet was removed before marshals blocked the view. Only he and the Senna family have seen the pictures.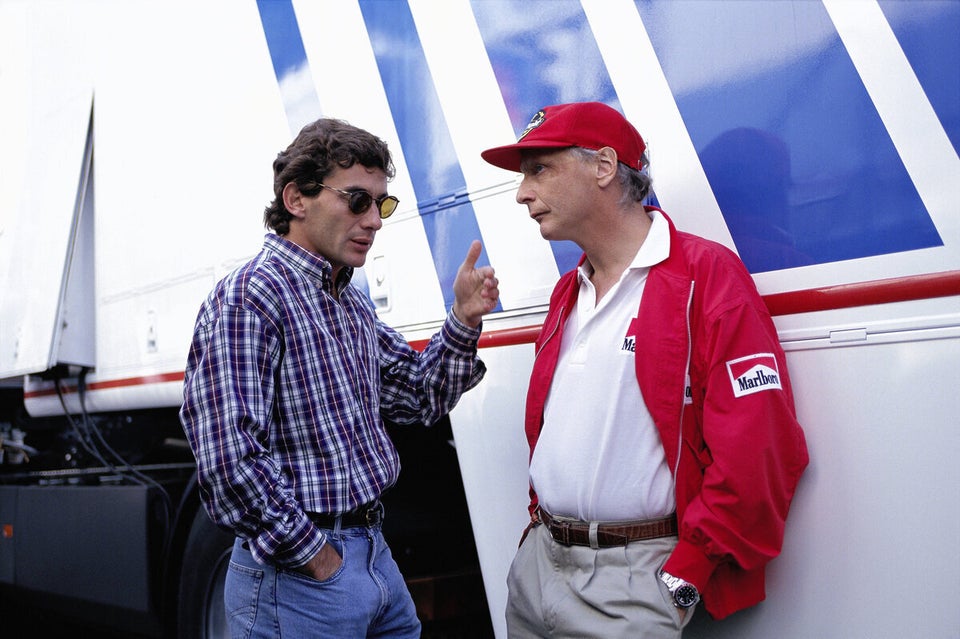 20th anniversary of Senna's death
Senna was airlifted to Maggiore Hospital and at 3:10pm, his heart stopped beating, but was restarted by doctors, who placed him on a life-support machine. Senna's heart stopped beating again at 6:37pm, and it was decided not to restart it. Senna was pronounced dead.
BBC Sport commentator Murray Walker described Senna's death as the "blackest day for Grand Prix racing that I can remember". Found in the wreckage of the car was an Austrian flag Senna planned to wave at the finish line in tribute to Ratzenberger.
Senna's death was a national tragedy in Brazil, as the government declared three days of mourning and millions of people poured onto the streets of his hometown of São Paulo for his funeral.