A dead whale daubed in graffiti has bizarrely washed up in Atlantic City.
So far so weird.
The two-tonne minke whale was found under a pier on Thursday, the Associated Press writes.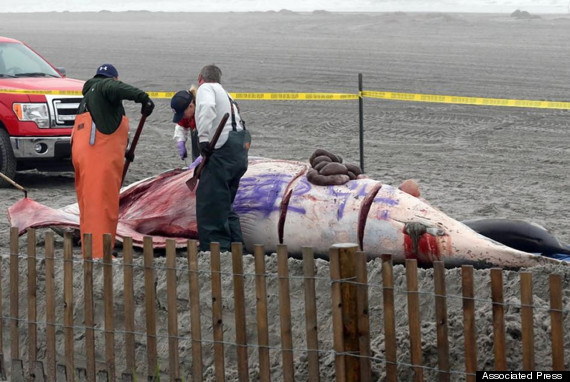 Not gang-related. I repeat: Not gang-related
But wait.
Police say the graffiti marks are not gang-related, the Press of Atlantic City reports.
That's right.
The purple daubings on the 20ft whale's underbelly are not gang-related. Because painting a dead animal in easily-identifiable gang tags would be a thing?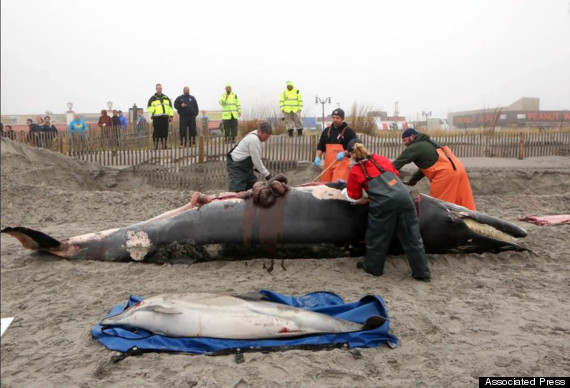 Was this a hazing prank? I don't know, but it was definitely not gang-related
Even more weird: They appear to be Greek letters.
Which leads Philly.com to suggest the unfortunate whale may have been the victim of a hazing prank.
It deciphers the letters as TEΦ, or "Tau Epsilon Phi" and points out they were painted in the lavender colour that corresponds to the New York-based fraternity, which has chapters at Rowan University, the University of Pennsylvania and Rutgers University.
The letters are followed by what looks like a "94".
File under WTF.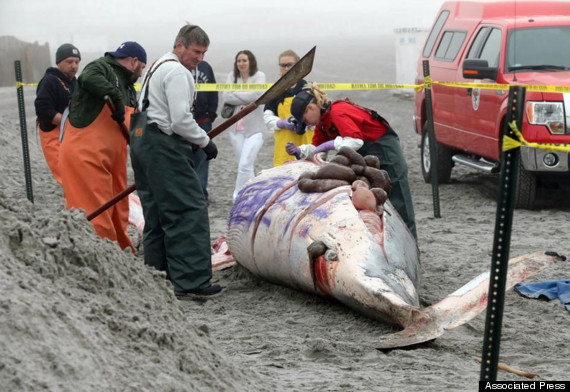 Still not gang-related
Frats behaving badly
'Compton Cookout'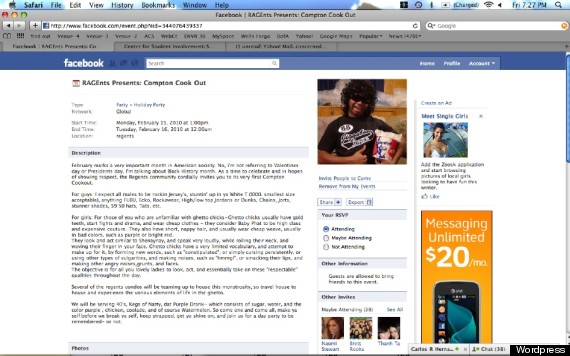 During Black History Month in 2010, members of the Pi Kappa Alpha fraternity at University of California-San Diego threw a "Compton Cookout," advertising it with a photo of what was supposed to be a black person with a bucket from KFC. Students were invited to come dressed as "ghetto chicks" and gangsters. The fraternity denied that it sanctioned the event. The NAACP was not happy, and neither was the black community on campus. Students of all races joined together for demonstrations and teach-ins in the following weeks, and faculty expressed outrage about the racist party.
'Bloods & Crips' Party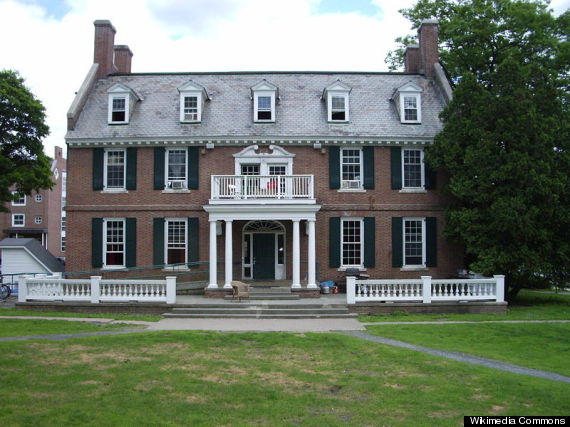 Alpha Delta fraternity (the inspiration for "Animal House") and Delta Delta Delta sorority at Dartmouth College co-hosted a "Bloods & Crips" party in July. The Greeks said it was meant to be a costume party and not intended to be offensive, but apologized anyway. The college initiated a review of the event after students and alumni complained the theme was racially insensitive. This happened the same month that a brother allegedly urinated on a woman from a second floor balcony.
That Time Pi Kappa Alpha At Florida International University Was Dumb Enough To Sell Drugs On Facebook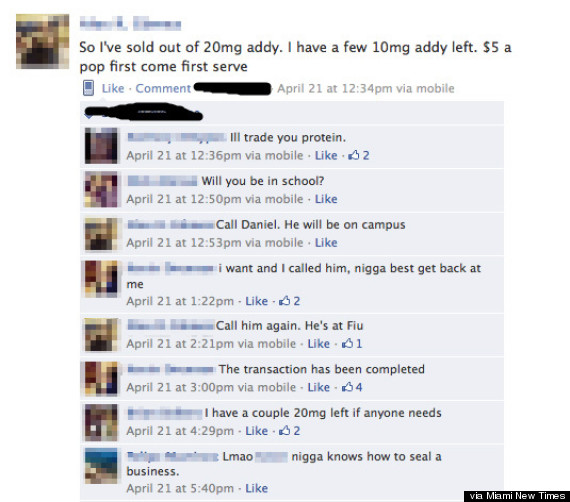 Florida International University's Pi Kappa Alpha fraternity was suspended and an investigation was launched after screen shots of members posting about hazing, semi nude photos and about selling and using illicit drugs, came to light in August 2013.
Turkey Torture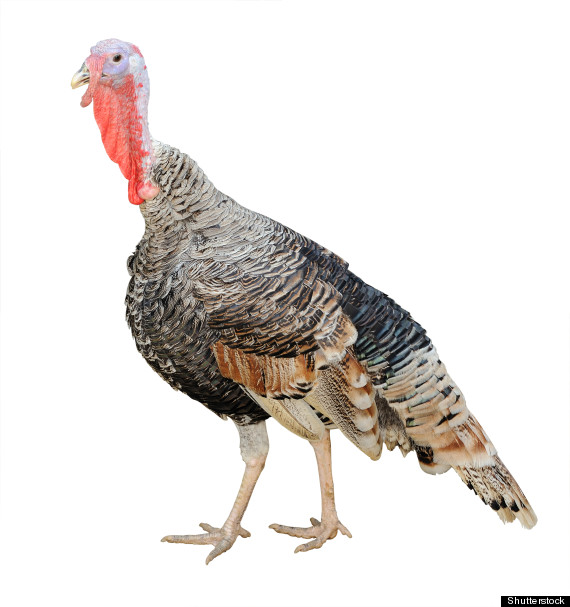 Members of Beta Theta Pi at the University of Kansas allegedly kicked a turkey's cage, then tossed the bird around like a football, choked it, before eventually someone killed it out of pity.
Survey Asks Who Would You Rape?

Sigma Phi Epsilon was suspended by the University of Vermont in Dec. 2012 amid allegations they circulated a survey asking members "If you could rape someone, who would it be?"
Blackface At A Party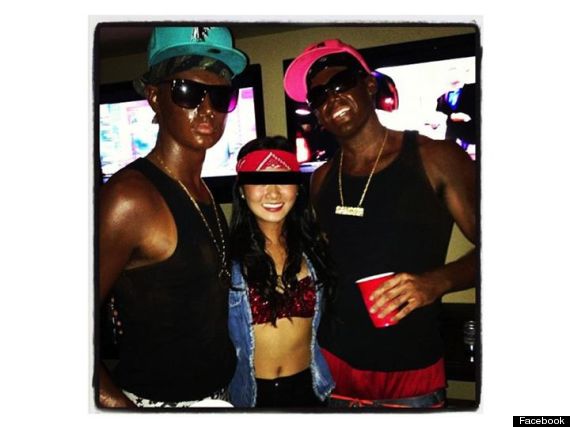 Two members of the Beta Theta Pi fraternity at the University of Florida evoked outrage on campus for dressing in blackface at a party. The photo was posted on the NAACP-UF chapter's Facebook page with the caption "the fact that this is seen as acceptable is where the problem lies."
The Butt-Chugging Epidemic
After a University of Tennessee student was brought to the hospital with a blood alcohol level of 0.448 percent, police wanted to know how anyone could get that intoxicated. Police determined he used an alcohol enema, consuming wine through a tube inserted in his rectum. The student denied he ever "butt-chugged," as did the Pi Kappa Alpha fraternity where he allegedly used the alcohol enema, but they wouldn't explain how he got the injuries to his rectum. The frat did bring out their lawyer to hold a press conference denying the "butt-chugging" allegations, repeatedly using the phrase "butt-chugging" for several minutes. The university suspended the fraternity.