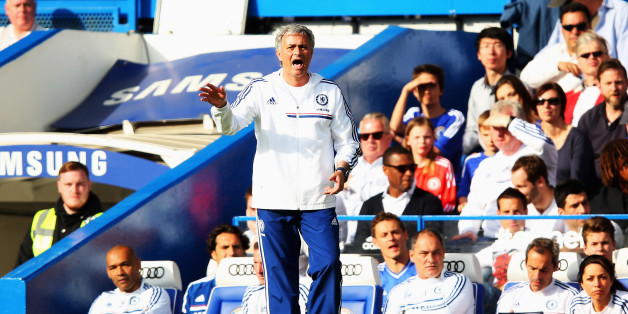 Clive Rose via Getty Images
José Mourinho was already looking ahead to the new season even before Chelsea's final Barclays Premier League home match of the season. Still adamant the club will not seal a first title in four years, he promised their supporters in his programme notes "We will be stronger and ready to pull on the blue shirt again; to play from the first day to the last day; giving everything we have for our club."
Eden Hazard did not give enough on Wednesday. Criticised for dithering during two of Atlético Madrid's goals, Hazard later opined Chelsea "are not made to play football" and added "I'm asked to do it all by myself and it's not easy." Mourinho claimed the Belgian is "not the kind of player ready to sacrifice himself" and was "not happy". Inevitably, Hazard was a substitute for Norwich City's visit, and yet he departed the pitch as Chelsea's best player again.
"I think the team was much better in the second-half," Mourinho admitted. "Was Eden playing in the second half? Yes. Did he contribute? Yes. But I think the team, as a team, was better in the second-half. The first-half was lazy, slow, no pressure, the passing was very slow. In the second-half, the ball was arriving much faster."
Was there a problem with Hazard?
"We speak every day," was all Mourinho would say.
Chelsea fans waved their blue flags when white would have been more appropriate. Both sides, already seemingly resigned to not achieving their aims at either end of the table, effectively surrendered. Chelsea must hope Manchester City and Liverpool take no more than a solitary point from their last two games, while Norwich must beat Arsenal and hope Sunderland lose their final two home matches to West Brom and Swansea. Such outcomes are as likely as a trophy coming to west London.
Norwich Chelsea'd Chelsea. Not unlike Mourinho's Real Madrid last season, Chelsea were given most of the possession, suffocated and failed against disciplined underdogs.
"I'm immensely proud, it was an immense performance," Norwich manager Neil Adams beamed. His team merely achieved a stay of execution.
Hazard leisurely strode out into the sunshine to collect the Fans' Player of the Year award before kick-off. A player of such supreme confidence he toyed with Chelsea and the Manchester clubs' fanbases as he pondered which club to join from Lille two years ago, he does not succumb to sheepishness. On the substitutes' bench, he donned a pair of aviators and looked about as carefree as Jack Nicholson.
Chelsea's terrific triumvirate of Hazard, Oscar and Juan Mata contributed to 45 goals last season but Hazard could be the only one remaining at the Bridge come the start of next season. It was suggested Mata's sale was partly attributed to Mourinho's vindictive streak against Spanish players, although the gradual alienation of David Luíz suggests Brazilians could receive similar treatment.
Oscar has not played since the temperamental home defeat to Sunderland, yet was not safe from Mourinho's wrath on Sunday morning.
"From August to November or December, he was fantastic," Mourinho said. "After that, he was going down... I can imagine, in a couple of weeks, he will be in a high and during the World Cup he will be in a high. There are things you can't resolve." Mourinho has accused Oscar of conserving energy for Brazil's tilt at a fifth World Cup and has not completed 90 minutes for Chelsea since 8 February. Either substituted or the substitute, his decline is similar to Mesut Özil's under Mourinho at Madrid and it is already rumoured Chelsea are considering selling him in the transfer window.
It was not the most ruthless of purges. Hazard, Chelsea's most sparkling player this term, only returned for Atlético's visit after three weeks out injured and Norwich's awful away record allowed Mourinho to reintegrate André Schürrle and the eligible again Nemanja Matić and Mohamed Salah into his first XI. He underestimated not only the Canaries' confidence, but his team's profligacy.
Without an away victory since their 2-0 defeat of West Brom on 7 December, or a point on the road since New Year's Day, Norwich might have received a lifeline had referee Neil Swarbrick penalised John Terry for hacking Martin Olsson down in the penalty area inside 11 minutes. Weakly, though, he played on when he should have halted play and flourished the red card.
"I spoke to the officials at half-time and they said they're not allowed to look at it," Norwich manager Neil Adams said. "I've just had a look at it and it's pretty clear that it's hard to say it's not a penalty."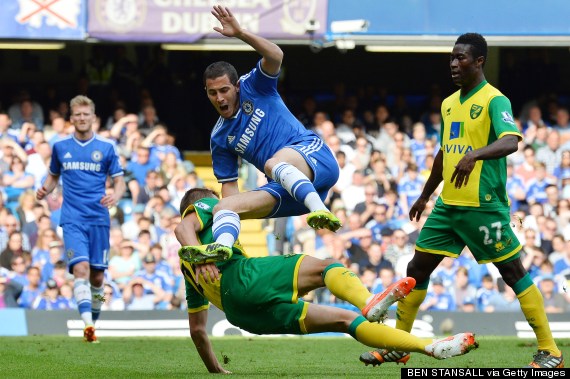 Hazard is sent flying by Ryan Bennett, but the foul did not merit a penalty for Chelsea
Mourinho admitted Chelsea have become "more strategical and less intuitive" this calendar year, which partially explains their bluntness against Atlético, even if he does have an enviable array of forwards.
The industrious Willian, less gifted than Hazard, is the prototype Mourinho attacker, but it was Schürrle who came closest to the opener when he cut inside as effortlessly as Hazard and clipped John Ruddy's left-hand post. A prosaic first-half was summarised aptly by Alexander Tettey's comedic touch-and-slip. The ball was lost to the crowd.
Proactive as ever, Mourinho predictably introduced Hazard for the second 45 for the sombre Salah. Luíz, too, replaced Frank Lampard and rattled the crossbar within three minutes with a wicked strike.
Hazard galvanised Chelsea, but they were ultimately undone by some wretched refereeing. Swarbrick, firstly, overlooked a third probable penalty in the 54th minute when Schürrle was upended by Tettey and then inexplicably dismissed Hazard's appeal for a spot-kick when he averted a scything swipe from Ryan Bennett and was barged over. The truculent Branislav Ivanović was booked for protesting, while Mourinho, previously dormant in the technical area, finally became agitated.
Mourinho trotted to his office for a replay and returned laughing. Why was he laughing?
"Because I can't cry." He declined to elaborate because he feared another punishment. "My assistant [Rui Faria] is in jail."
Snodgrass flustered when put through for a rare sighter at goal in the 70th minute, as Gary Cahill recovered to thwart his effort, aided by a dismal first touch from the Scot. Willian was as tireless, yet timid, and Chelsea's following quickly became impatient with his wasteful passing.
Hazard almost crowned his contribution in the 79th minute when he danced past three defenders and unleashed a shot Ruddy parried to the side, as Norwich continued to frustrate their hosts. Ivanović began arguing with supporters and the final whistle was greeted by loud booing in a scenario not dissimilar to Rafael Benítez's opening couple of games in charge. He did, at least, win something.