Just in case we hadn't had enough feral goings on in this year's 'Celebrity Big Brother' house, this week saw the debut of Channel 4's latest reality TV show concept - for all-round he-man Bear Grylls to deposit 13 'normal' blokes on an uninhabited desert island and leave them to fend for themselves.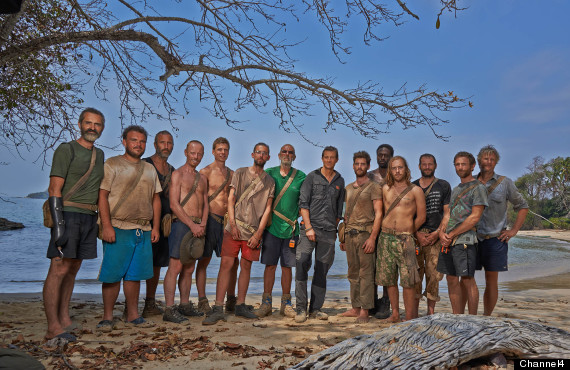 13 men and a Bear - all set for some Island living
The whole challenge was for these ordinary chaps to survive for four weeks on their wits, strength and stoicism alone - none of the comforts of home, and no Facebook updating to boot. Of course, this being the 21st century, you can't have this kind of in-a-box experiment without cameras on hand to record the whole experience - Hawthorne effect, anyone? - but at least, in this case, the cameras were being held by the men themselves.
It was a noble and necessary exercise - a bit like watching a particularly staid version of 'I'm A Celebrity', just without any impending eviction, diva antics or bikini contests.
And without any of those same distractions of "When I appeared in Las Vegas with Liberace" conversations, it was a far more refreshing chance to see how a group of men - all different ages, educations and backgrounds - really behave when they're up against it, and no women around to impress or distract.
And what did we learn? That, even with the treat of extreme tides and errant snakes, and however "primal and deep" Bear Grylls might have wanted his chaps to go, when it comes down to it… does anybody know how to start a fire? Isn't there an app for that?
LIKE US ON FACEBOOK | FOLLOW US ON TWITTER