As most men take the ostrich approach when it comes to women's menstruation, the achievements of Arunachalam Muruganantham – the man who invented a machine that creates cheap sanitary towels for rural women in India – are all the more remarkable.
During his years of research, he lost his wife, his mother moved out in disgust and his fellow villagers were so perturbed they gave him a choice: be tied to a holy tree upside down or be exiled. Yet still he didn't give up.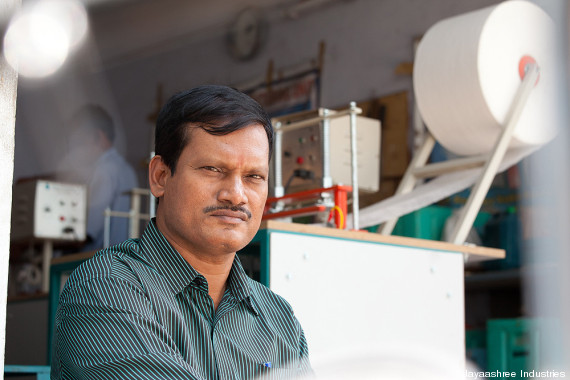 In India, periods aren't just taboo.
For women in rural villages, they severely disrupt education because for the five to six days when it arrives, girls stay at home, missing classes and exams. Some, as a result, don't bother going to school.
Then there is the impact it has on a family's earnings – when women can't work one week out of four, that affects the amount of money being brought in. During this time, they can't go to the temple or prepare food.
SEE ALSO:

This Woman Used Her Own Experience Of Forced Marriage To Save The Life Of Others

Letting Go: Why Hedge Fund Manager Jenny Dawson Swapped Luxury For Chutney
So how does the extraordinary Muruganantham or Muruga as he calls himself, fit into the picture?
The son of a single mother, hailing from a poor family in Coimbatore, south India, Muruga got the idea when he was trying to impress his new wife.
"In the early marriage days," he said, talking to HuffPost UK Lifestyle, "lunchtime was only time I got to speak to her alone because we lived in a joint family situation.
"One lunch time I saw her carrying something behind her back and I kept asking 'Shanthi, tell me, what's in your hand? She slapped me on my cheek and said 'none of your business'. Then I saw it was a nasty rag.
"I am eldest son and I have two youngest sisters so I knew what it was. In my childhood – we had an open toilet with no roof – here and there I find stained cloth which made me run away from the toilet. I saw the same thing in my wife's hand and I asked: 'Why don't you buy sanitary towels?' She said that she had to use it because sanitary towels are expensive."
Muruga then decided to buy one for her a present. He went to a pharmacy to buy one, and was handed the item wrapped up in lots of newspaper. "It was like he was giving me smuggled goods. Even now in big cities like Mumbai and Delhi, they wrap it up and treat it like it was something to hide," he adds.
Looking at the sanitary napkin, he says he was gobsmacked at the price - one weighed less than half an ounce but was being sold at 40 times the price of raw cotton – for something that looked so ugly. "It looked like a big bandage. I am the son of an heirloom weaver and back in 1997/98, cotton was cheap."
Muruga then decided to make his own. He bought a cotton web, cut it into rectangles and wrapped it in viscous cloth.
But – then came the biggest problem. How on Earth was he going to test it? "I needed to research something which is very taboo, in a very conservative part of the world. A wife doesn't talk to her husband about it, or her mother."
He asked his wife for feedback, and only then did he figure out that women get their periods monthly and not on regular days. "She told me I'd have to wait to give her feedback about the napkin. I didn't even know this before then and actually, 99% of men don't know what is happening with women's bodies."
SEE ALSO ON MEN:

Going Bald? These Foods Could Help to Tackle Hair Loss

Nigel Thomas, Chief Training Officer For Tough Mudder, Talks Strength And Arctic Enemas
The feedback wasn't great – Shanthi pronounced it as 'nasty' and said she was going back to the rags. Muruga's sisters, when he approached them, refused to give him feedback and then came a third blow. His family, horrified by his experiments, said that if he continued what he was doing, they would refuse to provide food for him.
But Muruga continued with his research in secrecy. He knew that women using rags was not viable option, and yet the majority of women in the country continued to do so. According to The Times of India, only about 12 percent of 355 million menstruating women use sanitary products. The health implications, said the BBC who ran a feature on Muruga, are serious.
"Women who do use cloths are often too embarrassed to dry them in the sun, which means they don't get disinfected. Approximately 70% of all reproductive diseases in India are caused by poor menstrual hygiene - it can also affect maternal mortality."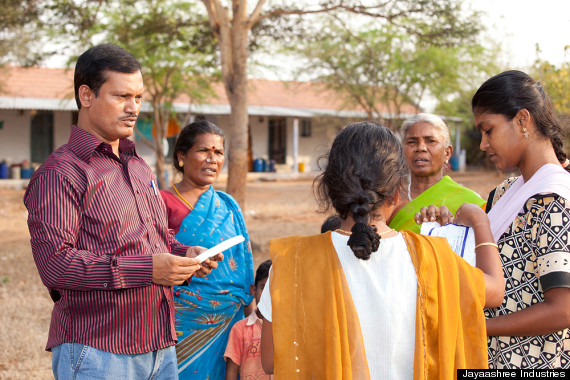 Muruga set his sights on the women at a medical college, as he figured they'd be less squeamish about him approaching them. He cycled there and back – 40 km each way – to collect their feedback sheets, only to eventually find they had been faking them. "I came across three of them furiously filling in the sheets for the others," he says.
The only recourse, says Muruga, was to try the sanitary towel himself.
This decision – while admirable and probably makes him the only man alive to wear one for researching a product to make women's lives easier – was to create all kinds of trouble for him.
"The question was: where was I going to get a uterus? So I made one from a football bladder, filled it with animal blood and made a small puncture. Then wore it everywhere, while cycling and walking – even under my dhoti (a plain cloth wrapped around like a sarong)."
Muruga was undertaking highly unusual methods and in a small village, it did not go unnoticed. In fact, people actually thought he was going mad. He would wash his rags at the common well and then people began to talk. "In a small orthodox village, the main job for most people is that they look for what other people are doing."
Rumours flew and Shanthi packed her bags and said she was going to her parents for a visit, after hearing gossip that he was having an affair with the medical college girls. She didn't come back.
After she left, Muruga had the next brainwave. Rather than wearing a homemade uterus, he should look at used sanitary towels and how they worked. "I felt that it was unnatural using the napkin on myself, but I did feel like I had given respect to women by trying it and seeing it from their perspective. I challenge any man to do the same."
He already knew that cotton didn't work – it didn't absorb liquid well, and even when absorbed, the liquid would seep out.
But how to get hold of used sanitary towels? "Even if you asked in Britain for a tampon, the woman would call the police," he says.
He found some more volunteers who agreed to drop them in a special bin that he would then collect. Wrapping a handkerchief around his face to ward off the smell, he conducted his experiments.
But the last straw for his mother came when she spotted a row of sanitary towels laid out to dry in the sun – Muruga's technique for reducing the smell.
Convinced he was under the spell of someone performing black magic, she packed her bags. Once she left, the village people swooped in. "The villagers thought I was a pervert, so the solution they came up with was to tie me upside down to a holy tree. They gave me the option to leave – I took it."
He started living in a small room with five people, and began making enquiries, with the help of a professor, into the materials used. Then he discovered that cellulose, not cotton was the answer.
Muruga's main problem was that machines that break down cellulose cost thousands of pounds, so the only available option was to make his own. After four and half years, he succeeded.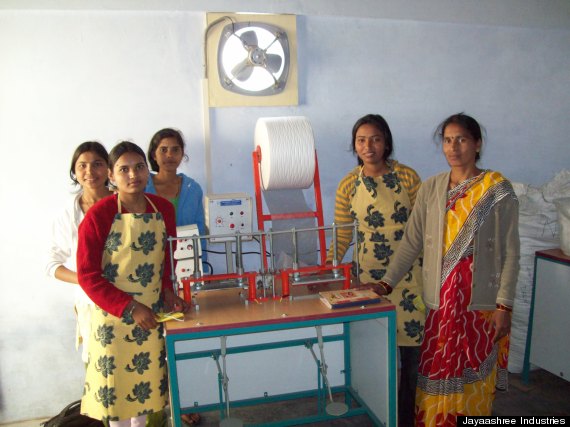 He now has 250 machines, and despite initial reservations, have spread to 1,300 villages across India. They are operated and sold by women, so there is less stigma when it comes to buying them.
After he showed his machine to the Indian Institute of Technology, IIT, in Chennai, the institute entered him for an award for national innovation. He won, and was presented an award by the then President of India, Pratibha Patil.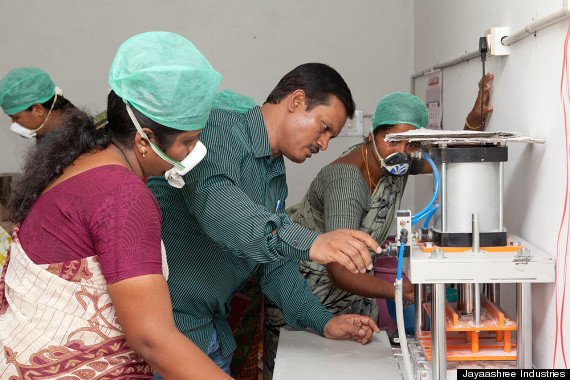 Yet his proudest moment was actually helping the girls in a tribal village to go to school after centuries, because they didn't have to stay at home anymore.
Even more good news: his wife returned.
When asked what had fuelled such passion for a project that spanned 15 years, that specifically looked at empowering women, Muruga said: "I was raised by a single mother. I saw how she struggled to raise me and so I wanted to make this to help other women earn a livelihood for their family."
And then he says something so poignant, it's overwhelming. "If you empower a mother, you empower a country."