Lady Gaga has seemingly hit out at fellow popstar Katy Perry on Twitter, after similarities emerged between Katy's 'Prismatic' tour and one of Gaga's earlier stage shows.
Katy kicked off her most recent tour - in support of her third album 'Prism' - earlier this week in Belfast, with an elaborate show that saw her donning a series of colourful wigs and at one point taking to the stage atop a mechanical horse to perform her single 'Dark Horse'.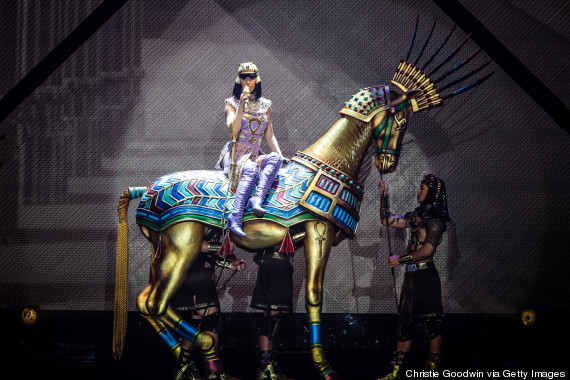 Katy rides her 'Dark Horse' but it's Gaga who ended up on her high horse...
However some of Gaga's die-hard fans - nicknamed 'little monsters' by the singer - were less than impressed when pictures from Katy's opening night emerged online, claiming that her mechanical horse was a rip-off of their idol's stage entrance from her 'Born This Way Ball' tour.
It seems the comparisons didn't go unnoticed by Gaga herself, either, who took to her Twitter to suggest she wasn't happy with Katy's show.
She tweeted on Thursday night:
It looks like green hair and mechanical horses are the thing now 👀

— Lady Gaga (@ladygaga) May 8, 2014
Oof. The shade.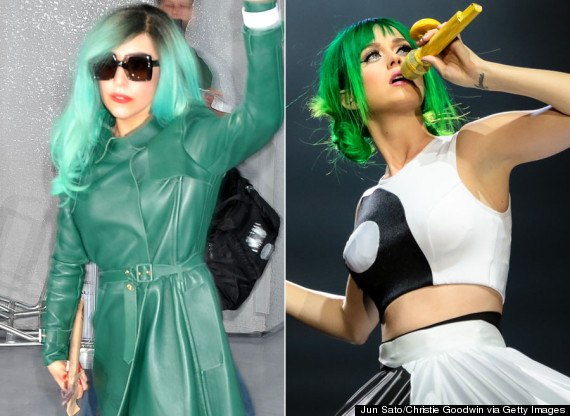 Lady Gaga and Katy Perry
This isn't the first time there's been a bit of tension between the two singers, though, as when Gaga's controversial 'Alejandro' video - which paired heavy Catholic imagery with sexualised choreography - Katy, whose parents are pastors, tweeted:
Using blasphemy as entertainment is as cheap as a comedian telling a fart joke.

— Katy Perry (@katyperry) June 8, 2010
Of course, Lady Gaga is no stranger to a 'copycat' controversy, having been the target of Madonna fans after her single 'Born This Way' was released in 2011 and it was alleged she'd copied the song's chorus from Madge's earlier hit 'Express Yourself'.
The diva even weighed in on the controversy herself during an interview with Cynthia McFadden for ABC News, where she slammed Gaga's hit single, branding it "reductive".
She even referred to the controversy during her 2012 'MDNA' tour, where she performed a mash-up of 'Express Yourself' and 'Born This Way' before really sticking the (bejeweled, high-heeled) boot in and adding a few lines from her song 'She's Not Me'.
Whoever's side you're on in this argument, we think there are going to be some angry fan debates on Twitter pretty soon…
href="http://www.facebook.com/HuffPostUKEnt"target="_hplink">LIKE US ON FACEBOOK

| FOLLOW US ON TWITTER