The outcome was as predictable as the Mancunian weather. Manchester City recaptured the Barclays Premier League title on a straightforward afternoon in which even the feckless Newcastle United briefly threatened to make the ordeal as tranquil as possible at Liverpool. Dominant and professional, City dismissed an uninterested West Ham United to complete another rousing revival.
Some brought their radios, while some of the longest-sufferers bit their nails even when Carlton Cole prepared to come on. However, City were never in danger of being usurped and their supporters jubilantly poured onto the pitch. Patience was required for all of 39 minutes, and for half of that duration the Etihad Stadium resembled the Haçienda, thanks to Martin Skrtel giving Newcastle the lead down the East Lancs Road.
Georgi Kinkladze, City's diminutive genius in the mid-late 90s, was paraded before kick-off. Some City supporters in front of the press box visibly asked, "Who is that?" Sixteen years ago, a crestfallen Kinkladze trudged off the Britannia Stadium pitch as City were relegated to Division 2 - now League One. If a year is a long time in football, then 16 years must feel like an aeon, and "Typical City" has a different definition these days.
Unrelenting and determined, the fourth title in City's history is not as dramatic as two years ago, but it will be remembered as another impeccable comeback.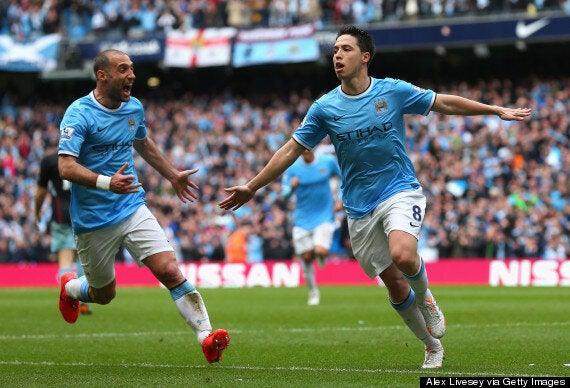 Samir Nasri's opener all-but-secured City's title in the 39th minute
Defeat at Anfield and the draw with Sunderland in April seemed to signal the death knell for City's title challenge. Yet in the following five league matches they have won to regain their crown City have scored 14 goals. Despite all the newsprint columns dedicated to Liverpool this calendar year, City have entertained thrillingly, too, and have two trophies glistening in their cabinet.
The party had already begun well before Samir Nasri's 39th-minute opener. A player Pellegrini's predecessor, Roberto Mancini, "wanted to punch" for deflecting in Robin van Persie's derby winner, Nasri has scored the winner in the Capital One Cup final and the title clincher this season. He is a player who perhaps best symbolises the "holistic" transition City have enjoyed.
Outside the Etihad Stadium, the shirt sellers were touting "Champions 14" T-shirts before a ball had been kicked. Both a Liverpool fan – and player – have already succumbed to premature giddiness this campaign, and even two years on from Queens Park Rangers' bold attempt to deny City a first championship in 44 years, some supporters could not resist tempting fate.
The fervour that greeted the team bus fuelled supporters' expectation levels. A smoke bomb rose from a sea of blue and Manuel Pellegrini waved merrily at the "wonderful supporters who have made me feel welcome". Everyone was confident, rather than cautious. A slip gifted City this chance and they would not let it slip.
West Ham enjoyed a Mancunian triumph in lashing rain when they avoided relegation seven years ago, and even denied United the title on the final day of the season in the closing stages in 1995, yet they were as toothless as Bruce Forsyth.
Scouser Kevin Nolan offered City supporters the match ball as a souvenir in an otherwise dominant opening 20 minutes for the hosts, as news of Skrtel's error filtered around the Etihad and the decibels soared. As early as the 27th minute, City's following hollered "Stand up for the champions," as Premier League representatives made preparations to pin blue and white ribbons to the championship trophy.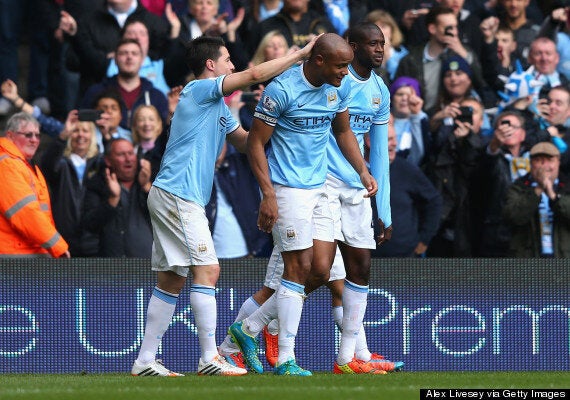 Kompany scored City's second shortly after half-time
West Ham were not so much "on the beach" as contemplating their holiday itinerary. Allardyce's approach was identical to their "19th century" system José Mourinho derided in January, or Aston Villa's resigned set-up on Wednesday, and it was only City's profligacy that spared them, as goalkeeper Adrián was barely tested. Perhaps the Spaniard had become too comfortable, as he reacted late to Nasri's low drive and could only push the ball onto the post and into the net.
David Silva hit the goal frame with the penultimate kick of the half, but despite that disappointment, City supporters gorged on their pies and swigged on their beer knowing they were the de facto champions. Regulars hugged each other and the concourse was raucous.
"I never felt more like singing the Blues, City win, United lose, Oh City... You've got me singing the blues," they sang. That United, at Southampton, were playing an utterly inconsequential game fuelled the merriment inside the stadium. Captain Vincent Kompany was then serenaded three minutes after the pause when he spun to finish past Adrián and confirm a title won via a points margin, rather than goal difference.
The coronation soundtrack soon switched to "We're gonna win the league." Steven Gerrard had already been ridiculed on numerous occasions for that unforgettable and regrettable slip against Chelsea. Sergio Agüero somehow contrived to miss an open goal from the tireless Pablo Zabaleta's cross with a quarter of the game remaining, as Liverpool took the lead at Anfield, however it was all academic. No one was about to rain on City's parade.