We can't quite believe it (or maybe we can...) but Jennifer Lawrence very nearly took another tumble on the red carpet over the weekend.
The actress was seen at the premiere of 'X-Men: Days Of Future Past' in New York on Saturday night, and clearly took the theme of reliving the past a little too literally as she almost gave a repeat performance of her infamous fall on the Oscars red carpet.
Jennifer was climbing up some stairs when she nearly lost her balance, relying on nearby assistants to stop her hitting the deck completely.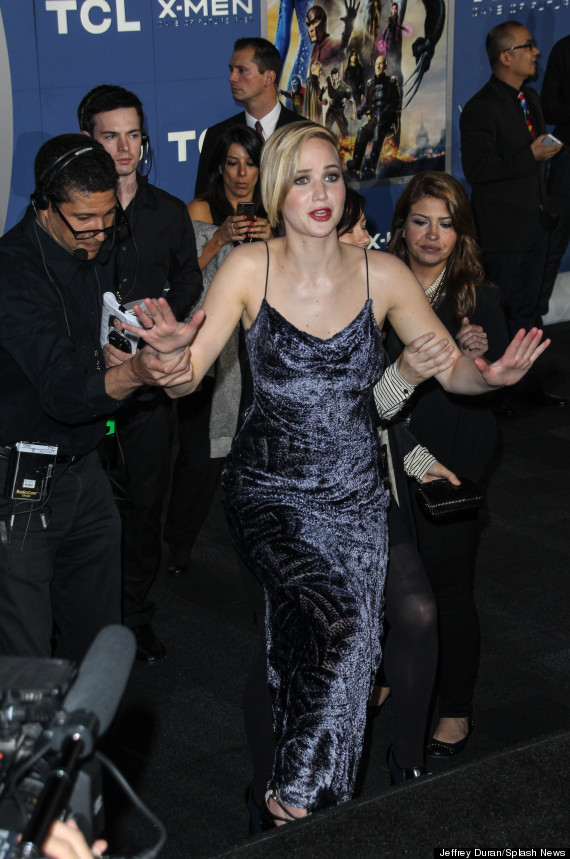 Jennifer Lawrence
In Jennifer's defense, she was wearing some pretty impressive high heels, but the actress's constant falls are beginning to make us worry. Perhaps she should take a leaf out of Kristen Stewart's book and invest in some trainers for her next film premiere.
The 'Hunger Games' star first hit the deck when she was collecting her 'Best Supporting Actress' Academy Award in 2013 for her performance in 'Silver Linings Playbook'.
Luckily, the star was able to laugh it off during her acceptance speech, but a year later at the same event she was seen tripping over on the red carpet again, narrowly avoiding biting the dust in front of photographers.
Despite apparently struggling to put one foot in front of the other in a formal setting, Jennifer has a legion of fans and was recently named 'Sexiest Woman In The World' in FHM's annual countdown, beating competition from the likes of Mila Kunis, Kelly Brook and 'Coronation Street' actress Michelle Keegan, who was given the honour of Sexiest Brit on the list.
However, not everyone is as won over by Jennifer, as actor Jared Leto revealed after the star's second Oscars fall that he was beginning to wonder if she was actually putting on an act.
href="http://www.facebook.com/HuffPostUKEnt"target="_hplink">LIKE US ON FACEBOOK

| FOLLOW US ON TWITTER