The Rolf Harris trial has heard lurid details from the woman who claims he assaulted her when she was just 13.
Giving evidence from behind a curtain at Southwark Crown Court on Monday, the woman claimed Harris, who denies 12 charges of indecent assault, had assaulted her in the late 1970s.
She said that the performer also masturbated in front of her, adding: "He came in and got his penis out, which was very small, very very small, and started to fondle himself."
It is claimed that he pushed the girl's head towards his penis and ejaculated into a tissue.
She told the court: "I felt it was all my fault - what took place between me and Rolf - because I didn't stop him. I should have shouted and screamed.
"I just felt really low and all my self-confidence went."
The woman also said Harris gave her his "creepy" hugs before he indecently assaulted her during a holiday in Hawaii.
She claimed Harris, now 84, touched her when she had just got out of the shower and was wrapped in only a towel during the trip in 1978.
The woman said that as she stood in the towel: "He just came over and gave me one of his big hugs and tickles."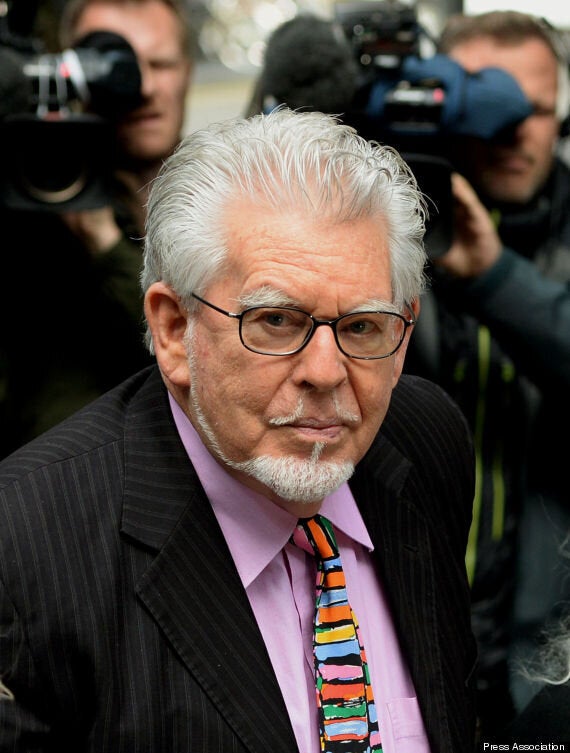 Rolf Harris arriving at Southwark Crown Court on Monday
She told the jury of six women and six men: "The way he hugged you and touched you all over, it was cringey.
"The way Rolf folded himself around you, he was a big man...he enfolded you in his arms and then touched you up and down over your body.
She claims he indecently assaulted her with his fingers.
After the claimed assault, the alleged victim said: "He just took his fingers out and pretended as if nothing had happened and said 'see you downstairs'."
Harris, sitting in the glass-walled dock, looked down at the floor as he listened to proceedings through a hearing loop.
His wife Alwen, his niece and his brother-in-law were among relatives in the packed public gallery, along with dozens of journalists.
The woman said: "I was shocked and panicked by it because I didn't know what to do. I thought 'I don't know quite what's happened here but whatever it is, it's not good'.
"I just sat on the edge of the bed in a state of shock, really."
The alleged incident is not included among charges that Harris faces, because it happened abroad before such offences could be prosecuted in the UK.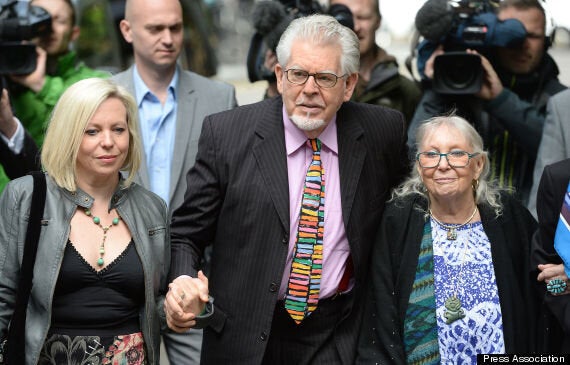 Harris' wife, niece and brother-in-law came to the court to support him
But the woman is named on seven of the 12 indecent assault charges against the artist and musician. She claims that Harris went on to abuse her for a number of years.
The woman said he struck again during the same holiday, fondling her crotch as he wrapped a towel round her on the beach.
She said the star's wife and daughter were sunbathing "a few feet away" when he put his hand inside the towel, and down her bikini bottoms.
Asked why she did not tell them or shout out, she said: "I was a very shy child, excruciatingly shy really, and I just hadn't got the guts to shout out and I thought, well, if you shout out it will cause mayhem anyway. It was Bindi's dad and Alwen's husband."
Later in the same holiday, she said she was again fondled by Harris while she was wearing her bikini.
The woman, who jurors have heard went on to have a number of sexual encounters with Harris until her late 20s, said he told her later that the bikini she wore on that holiday had "always turned him on".
She told the court she was "scared" of the entertainer, saying: "It was quite an early age I was scared of him."
The court heard that on one occasion the woman woke up to hear the "clicking of a camera" and found Harris taking photographs of her.
She said that she "buried" the alleged holiday assaults after coming back to the UK, and later began drinking, "swigging" glasses of gin and tonic water when her parents were not around.
The woman told the jury she was "a bit confused and angry".
She said of the alleged abuse: "It just made me panic more. I was anxious and very panicky and that's why I started to drink."
Harris took notes as the woman gave her evidence.
She told the court: "Just his sheer presence worried me, just him being in the close vicinity."
By the time she was 15 she had started drinking to cope with the anxiety, the woman told the court, and if she knew she might see Harris she would drink a "shed load of gin".
"It would calm me right down, stop my heart beating, and stop my anxiety," she told jurors.