The first pictures from the upcoming episode of 'The Simpsons Guy', an hour-long special which sees the cast of 'Family Guy' meet 'The Simpsons' characters have been unveiled.
FOX announced last summer that one-off special was being produced, and would see the Griffin family finally interacting with the Simpsons as they leave Quahog behind and embark on a road trip to Springfield.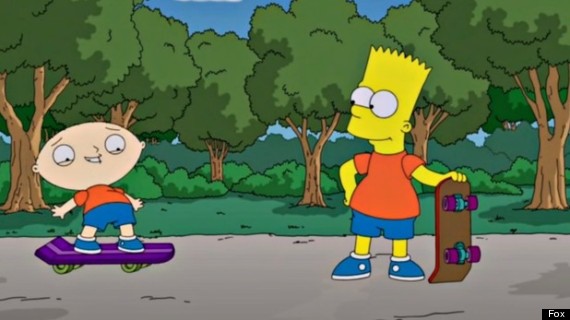 Bart Simpson teaches Stewie Griffin how to skateboard
The two cartoon families are thought to get on well in the episode, with matriarchs Marge and Lois bonding over having such wacky broods, while in another photo Bart is seen teaching baby Stewie how to skateboard.
Lisa will also reportedly take fellow outcast Meg Griffin under her wing, though it looks like not everybody is going to get along so handsomely as in another of the new pics Homer doesn't seem too impressed with his 'Family Guy' counterpart.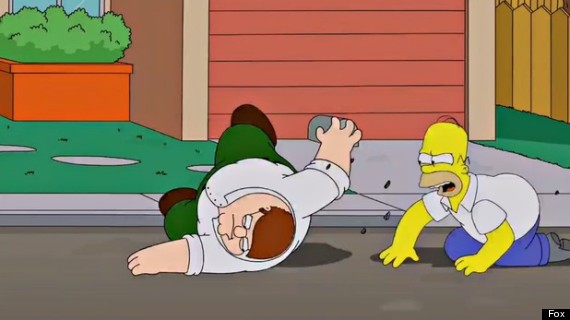 We can't wait to find out the story behind this picture of cartoon dads Homer Simpson and Peter Griffin
'The Simpsons' cast members Dan Castellaneta, Julie Kavner, Nancy Cartwright, Yeardley Smith and Hank Azaria - who provide the voices for the Simpson family as well as other Springfield residents - will all lend their voices to the 'Family Guy' episode, following in the footsteps of Ricky Gervais, Drew Barrymore and Carrie Fisher who have all starred in the cartoon series before.
While the two cartoons have made reference to each other previously, it's never been particularly favourably.
In one 'Simpsons' episode they even branded the Seth MacFarlane series 'plagiarismo', faux Italian for 'plagiarism'.
href="http://www.facebook.com/HuffPostUKEnt"target="_hplink">LIKE US ON FACEBOOK

| FOLLOW US ON TWITTER