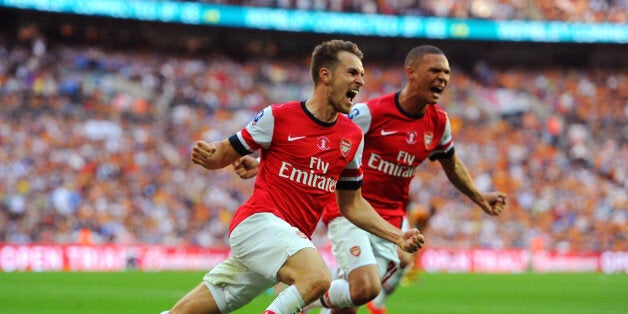 A traffic notice was served ahead of the trophy parade, Lukas Podolski hadn't heard of Matty Fryatt and Yaya Sonogo posted a "Last tweet before history" prior to kick-off. Arsenal had to justify their confidence and did, eventually. A trophy drought that lasted 3,283 days ended at the new Wembley, a haunt that has merely haunted the Gunners during their barren spell.
It was to Hull and back. Hull City threatened to cause another Cup final upset a year on from Wigan's heroics. Two-nil ahead inside a quarter-of-an-hour, irrespective of Arsenal's quality, their capitulation will bother them for decades, let alone years, as they became the second finalists this century to let a two-goal advantage slip.
Questions will continue to be raised about Arsenal and Arsène Wenger. Few expected the occasion to be as routine as their 3-0 thrashing of Hull at the KC Stadium, however against another "rugby town" they still fired a few shots at their foot.
The margins were so fine. Kieran Gibbs' goalline clearance at 0-2 turned the tide, gradually, Arsenal's way as early as the 13th minute. Alex Bruce's injury, Steve Bruce's questionable substitutions, the officials' error that led to Laurent Koscielny's leveller and Sone Aluko's radar all ensured Wenger would hoist the FA Cup for a fifth time and the parade will go ahead.
Fittingly, it was the club's best player this season, Aaron Ramsey, who joined the pantheon of Charlie George, Alan Sunderland, Andy Linighan, Marc Overmars, Ray Parlour and Robert Pires as an FA Cup final Arsenal matchwinner. His goal means Arsenal are now joint-record holders of the Cup, along with Manchester United.
Per Mertesacker admitted the "fear of failure" affected Arsenal in the semi-final defeat to Wigan and 35 days later Hull could also smell it. Positive from the kick-off, Ahmed Elmohamady won a corner and, unforgivably, not a single Arsenal man feared Tom Huddlestone might be lurking at the edge of the area, but he was. His off target effort ominously trickled its way into the six-yard box and was superbly steered in by Chester, via the upright.
Lightweight and flimsy Arsenal have been blitzed in the first quarter of games already this season, albeit by top four sides. On another decisive occasion, they wilted again. Stephen Quinn ridiculed Olivier Giroud and delivered a wonderful cross Alex Bruce nodded against the post, and Curtis Davies swept home the rebound. Eight minutes gone, and it was 2-0.
Hull's tigerish supporters dug their claws into Wenger. "You're getting sacked in the morning." Every set-piece was greeted jubilantly and it was easy to see why. The game was not 13 minutes old when Gibbs cleared Alex Bruce's goal-bound effort to avert a third goal.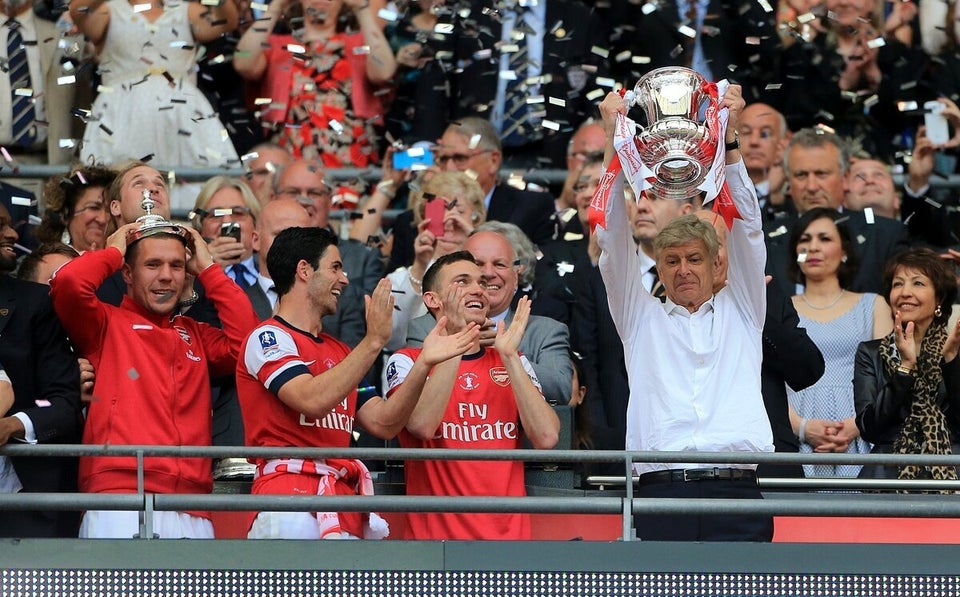 FA Cup final
Like their opponents, Hull were undone by a set-piece. One of the most absorbing starts to an FA Cup final in living memory received another shot of adrenaline through Santi Cazorla's magnificent free-kick into Allan McGregor's top left-hand corner. The Scot smacked his post in frustration, perhaps expecting Cazorla to opt for the near post. Two-one and with 72 minutes to go, those who had tuned into La Liga's title decider might suddenly have scrambled for their remotes.
Özil hit thin air, rather than the ball, when he should have levelled from Podolski's low cross. He made cleaner contact with a shove on Liam Rosenior following a crunching tackle on Bacary Sagna, which at least highlighted Arsenal's determination to eschew another big-game thrashing.
Bruce hardly sat down. Elmohamady's foraging run had elicited the opener, yet his manager was apoplectic when he not only failed to find Fryatt but began arguing with him when the ball was in play 10 yards away. It would be disingenuous to call Fryatt's task thankless when he was selected on the basis both Shane Long and Nikica Jelavić were cup-tied, however he was so detached from his teammates he could have been in a different time zone.
For a team littered with artisans, Hull coped admirably with Arsenal's patient passing, although there were some elemental breakdowns in communication, and Arsenal should have capitalised on David Meyler's telegraphed pass which instigated a counter-attack with the interval looming. Curtis Davies heroically intercepted and the whistles during added time were so loud it sounded like the referee's shrill was about to signal full-time instead of half-time.
Bruce's bravery was reminiscent of his father's when he denied Giroud and felt the striker's studs rake down his leg. As battle-hardened as his Steve, he would have remembered the agony of his dad's culpability in Everton's winning goal in 1995 and his omission from the Manchester United squad the following year. This was an occasion to exorcise the demons.
Fryatt was admirable in exile and while his pace troubled Koscielny and Mertesacker, he was not canny enough. Podolski, unaware of who he was, soon found himself in a place he knew only too well – the substitutes' bench. Sanogo's one-time career aspirations to become a postman complemented the FA Cup final heroism narrative, and he was under pressure to justify his premature tweet.
Jake Livermore wasted a wonderful chance to assist a third, and from the breakaway Cazorla burst into the area and drew contact from Davies. The centre-back just about grazed the ball, although Cazorla was still apoplectic with referee Lee Probert.
Giroud, dormant, almost created the leveller and a first Arsenal goal for Sanogo, only his flick nestled into the side netting. Some Arsenal fans mistakenly cheered and were heckled by Hull's following, only momentum soon swayed the Gunners' way. A corner was erroneously awarded, Sagna bundled the ball into Koscielny's path and the defender equalised in the 71st minute. Arsenal were anodyne from open play and the 2014 edition was in danger of being brandished the Set-Piece Final.
"There's a couple of big decisions in there," Bruce lamented. "I'd like to see them again. With the equaliser, we all thought it was a goal kick. It's not the time to whinge, but it costs you."
His son's departure through injury four minutes before Koscielny's strike contributed to Arsenal's sharper dominance and his replacement, Paul McShane, appeared to suffer stage fright whenever he received the ball. Sanogo, gangly yet troublesome, teed up Gibbs to complete the turnaround in the 78th minute, yet with the goal at his mercy he blazed over from 10 yards. Cazorla tumbled in the box in vain again and McGregor thwarted a Giroud volley competently. Sone Aluko replaced Quinn for Hull in an attempt to support Fryatt, who was now dropping deeper. Chances were scarce for the Tigers in the second 45, yet their determination was faultless and the game merited an 30 additional minutes.
Giroud came closer than Gibbs with a header planted onto the crossbar in the fourth minute of extra-time with McGregor, statuesque, uttering a quiet prayer as the ball whistled over his head. Hull could barely muster an attack, let alone an opportunity, mainly thanks to the myopic Aluko when Yannick Sagbo seemed a superior alternative. Steve Bruce often looks like he is on the verge of a heart attack, and his heart might have leapt up and into his mouth when McGregor's pass was intercepted by Sanogo, only to travel out of play.
Wenger threw on Jack Wilshere and Tomáš Rosický in place of Cazorla and Özil, while Bruce introduced George Boyd with his final substitution. "We were dropping like flies, which was always the problem I had," Bruce confessed. Arsenal punished them when Wilshere instigated an attack, and as Hull fans screamed and cried in fear, the neat move resulted in Ramsey's belting winner.
Arsenal, as is their wont, almost snatched defeat from the jaws of victory. Łukasz Fabiański, near faultless all season, inexplicably hared out of his area and presented Aluko with an open goal from an acute angle. The ball trickled past the post, and Arsenal's trophy drought was a thing of the past.
Related