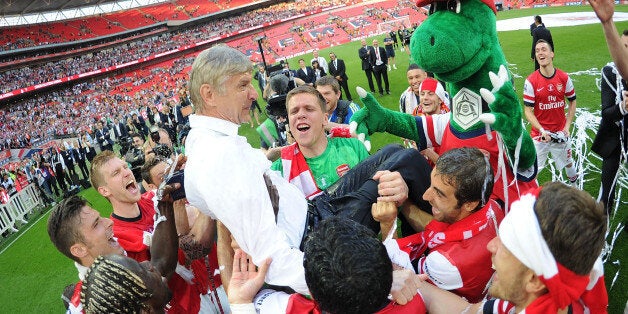 With his hair wet and clad in a tracksuit after his players had soaked him during the celebrations, Arsène Wenger was applauded into the Wembley press room. Was it for his fifth FA Cup win? The end of Arsenal's trophy drought? Or that he belatedly turned up after what felt like a wait as long as Arsenal's for silverware these last nine years? His late entrance was apt.
"It is a relief and a happiness because, of course, we were under severe pressure to win today," Wenger said, "and we didn't start well. Hull started strong and you could see we were hesitant, and then we made a demonstration of how to respond from being 2-0 down and a demonstration of how not to start a cup final.
"In the end it finished well and we waited a long time for that. Happiness is linked, sometimes, with the suffering. It was a great moment."
Had Kieran Gibbs not denied Alex Bruce in the 13th minute the post-mortem might have been bloody. Liverpool and Chelsea have memorably blitzed Arsenal in recent months and despite Hull's 16th-placed finish in the Premier League, it was unsurprising Wenger's side suffered stage fright again.
Hull's two goals inside the opening eight minutes did not leave Wenger numb, as he disputed the validity of Curtis Davies' goal with the fourth official instead. However, had Gibbs not vigilantly remained on his line the atmosphere in the dressing room would have been heavy, rather than heady.
"I was shocked because you know that the next goal against you, you wonder if the shock for the team will not be too hard," Wenger said. "But the team has a special spirit and a special togetherness and we tried to respond. It was important for us to try and get it to 2-1 before half-time, so then we could not rush our game and keep calm and structured. Overall, in the second-half, we had many chances.
"A cup final in England is special, you have seen it last year and you have seen it again this year. It was an important moment in the life of this team. To lose today would, certainly, have been a major setback and to win, we have a good platform to build on and come back even stronger next year."
Wenger will be back, too. Derided as a "specialist in failure" by José Mourinho earlier this year, he has won more than the Portuguese this season and could not resist gloating about his first triumph in nearly a decade.
"I've won it now five times, it is not too bad," Wenger said matter-of-factly.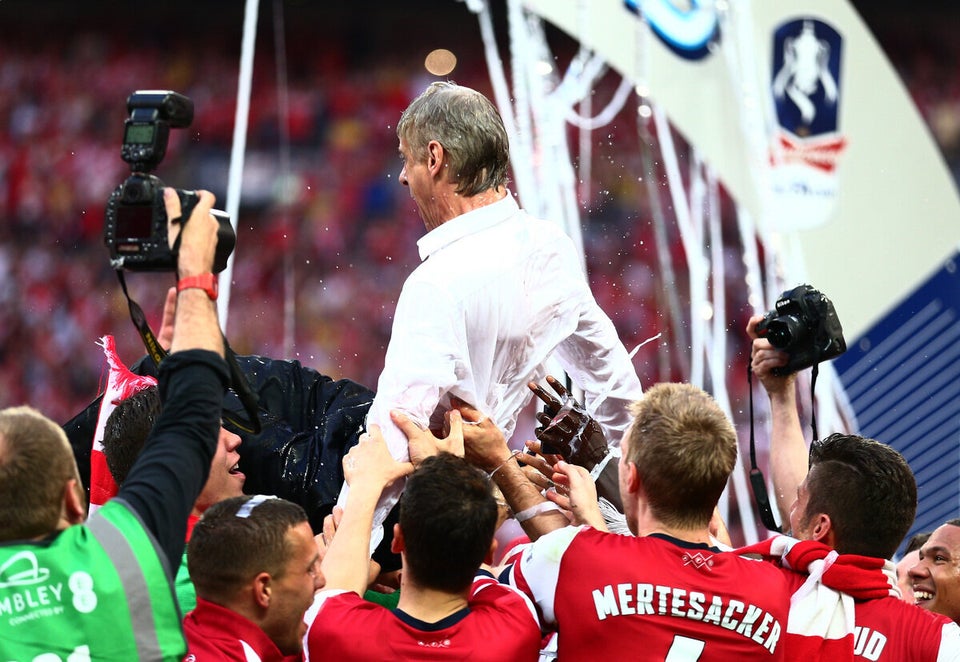 Wenger celebrates FA Cup win
And will he sign a new contract now?
"Look, that normally should happen, yes."
There is absolutely no chance of you walking away?
"It was never a question of leaving, it was a question of doing my job for this club."
He did, somewhat predictably, quell supporters' enthusiasm ahead of a credible title assault next season, though.
"You have to accept that in England the Premier League is very tough," Wenger warned. "You look at the top four this year, you have no Man United, no Everton, no Tottenham, these clubs have invested a huge amount of money and the club that have won the Premier League have invested an incredible amount of money, so it's difficult to beat them. But we'll try."
Despite the applause, he could not resist questioning those who have questioned his tenure on a monthly basis this campaign.
"Aaron Ramsey was not in the team of the year in England, and not even the writers' team of the year," Wenger added. "I think he deserved to be in and he popped up at the right moment in the game today."