Miley Cyrus is showing no signs of calming down her antics on her 'Bangerz' tour and at her latest concert the 'Wrecking Ball' singer divided fans when she declared that Birmingham was "the sluttiest city in the world".
Miley wa performing at the NIA arena when she reportedly made the claim, which has divided fans on Twitter.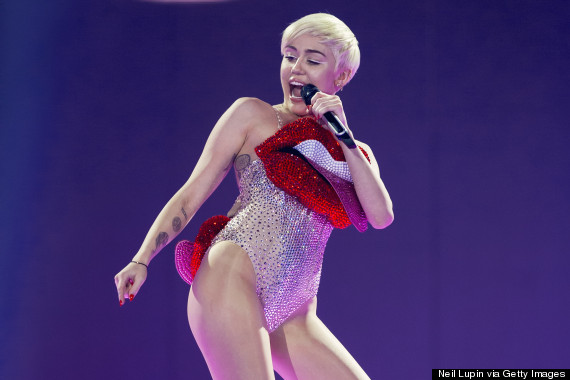 Miley Cyrus
"Dunno whether to feel chuffed or embarrassed that miley cyrus said Birmingham is the sluttiest place in the uk, amazing concert tho," wrote one fan, while another posted: "Miley cyrus said Birmingham is the sluttiest place she has ever been. That's lows of low".
Miley's latest comment is one of many controversial moments on the 'Bangerz' tour.
Despite having to cancel a number of concerts after being hospitalised, Miley has thrown herself into the European leg, showing off new raunchy costumes at her London gig, before dancing with an inflatable penis during a surprise appearance at G-A-Y.
There have also been a few emotional moments including tears over her dead dog Floyd and an incident which saw one of the tour buses go up in flames.
The 'We Can't Stop' starlet hasn't been using her time off to relax, instead she's been spotted partying in Soho and enjoying a night out at a strip club.
LIKE US ON FACEBOOK | FOLLOW US ON TWITTER