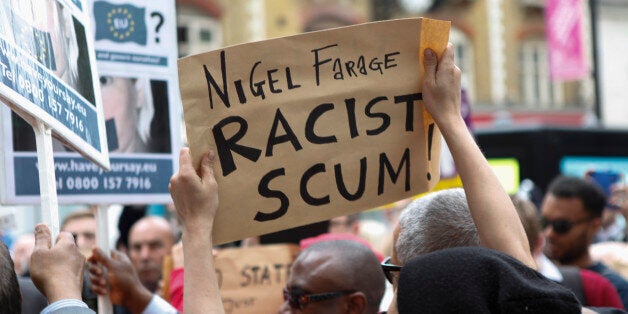 Here are the five things you need to know on Wednesday 21 May 2014...
They planned a 'carnival of colour' in Croydon, south London, to prove their anti-racist, pro-diversity credentials. There'd be a steel band providing the 'ethnic' music and lots of candidates from BME communities. Nigel would address the adoring crowds. What could go wrong, eh? Well, um, er, everything.
My HuffPost colleagues Ned Simons, who was on the ground in Croydon, and Jessica Elgot report:
"The chaos began when Marlon Hibbert, whose band Endurance Steel had been hired to play at the Croydon carnival by McKenzie, told HuffPost UK that the band had not been aware that the booking had been made by the anti-Europe party. 'My parents are from Jamaica, I'm really upset about this situation' the band's 22-year-old musical director told HuffPost UK, shaking his head. Within minutes, the band stopped playing for the assembled crowd of supporters, protesters and bemused locals, packed up and moved on. Dozens of anti-Ukip protesters had assembled for the carnival, with one holding up a sign saying: 'We are Romanians and we don't feel comfortable with your racism.' Chants rang out of 'racist, racist' and 'Nigel's bottled it' as it became apparent the Ukip leader was nowhere nearby."
Farage, doing his best imitation of 'brave Sir Robin' from 'The Life of Brian', decided not to show up at the Croydon carnival, citing a lack of time and "safety" concerns. As Donald Macintyre notes in the Independent: "Say what you like about the Ukip leader. There are few British politicians who could arrange such an interesting afternoon by not showing up."
To add insult to injury, incidentally, Ukip's local organiser Winston McKenzie - who has been a member of the Tories, Labour and the Lib Dems - told reporters that Croydon was an unsafe "dump" as he vented his frustration with protesters. McKenzie is a former Ukip parliamentary candidate for.. wait for it.. Croydon North.
2) THE PLOT TO TOPPLE THE GOVERNMENT?
John Le Carre would have difficulty topping the twists, turns, claims and counter-claims of 'Plebgate'. From the Times front page:
"A police constable at the heart of the Plebgate row that led to the resignation of a cabinet minister boasted of being able to 'topple this government', it was claimed last night. Andrew Mitchell alleged that the officer, who was on duty at the gates of Downing Street, texted a friend two days after the row that forced him to quit and boasted of destroying those in power. Mr Mitchell has claimed that he was set up by police after an angry altercation in September 2012. The former minister was alleged to have called the officers "f***ing plebs" after he was told he could not wheel his bicycle through the gates. He admits swearing but denies calling the officers plebs. In a letter sent to the Metropolitan police commissioner yesterday and leaked to the media, Mr Mitchell said that the officer's comments were revealed during a private disciplinary hearing.. He took notes at them, and urged Sir Bernard Hogan-Howe, the Met commissioner, to publish full transcripts."
The Mail calls this latest revelation "the clearest evidence yet to support Tory suspicions that Mr Mitchell was targeted by officers as part of a politically motivated campaign".
"Britain's status as an open free-market economy is at risk for the first time in a generation, George Osborne will warn on Wednesday. Business leaders must speak up for the free market and free trade or risk seeing the country slide into an 'anti-business' era of high taxes, regulation and trade barriers, the Chancellor will say. Mr Osborne will tell the CBI that the prospect of a Labour government and the rise of the UK Independence Party both threaten the British 'consensus' that governments should try to stay out of markets and help companies do business."
"Labour and Conservative polling is showing that attacks claiming Nigel Farage is a racist have backfired since voters do not regard him as such and see the assaults as a sign members of the political establishment are ganging up to undermine him. The apparent backlash is coming to both parties from telephone polling and focus groups, which say that the attacks have raised Farage's profile and confirmed him as the anti-establishment candidate. It does not tally with published opinion polls that show the Ukip lead in the European elections narrowing slightly."
Oh dear. Farage, in fact, is so confident - despite the Croydon farce yesterday and the ongoing racism rows - that he claimed on the Today programme this morning that his party would force Labour to switch its position on an in/out EU referendum and predicted Ed Miliband would have to make his U-turn, "and match a [EU] referendum pledge", at his conference speech in Manchester in September. He also said he was planning to appoint a variety of new spokespersons and media representatives for Ukip once the new Ukip MEPs are elected on Sunday in order to avoid the perception that his party is a "one man band".
Farage also pledged "to do a deal with the devil" and prop up a "minority government" in the wake of the next general election and a hung parliament, as long as he could get his much-cherished referendum...
BECAUSE YOU'VE READ THIS FAR...
Watch the video of Jeremy Paxman on Newsnight asking former Italian premier Silvio Berlucisconi if he once called Angela Merkel an 'unf*ckable lard-arse'. Stay classy, Paxo!
4) COST OF LIVING? DUNNO MATE
Ed Miliband has been going on about the 'cost of living' crisis for several months now so you might think that the Labour leader knows.. y'know... the cost of living. Well, he doesn't. And he didn't even have his aides brief him in advance so he could avoid the inevitable 'gotcha' question on morning television - from the Guardian:
"Ed Miliband has insisted he is well placed to focus on the cost of living crisis in Britain even though he appeared to under-estimate his family's weekly grocery bill. The Labour leader, who said it is right to place the issue at the front of his general election campaign even though he is 'relatively comfortably off', told ITV's Good Morning Britain that his family spends at least £70 to £80 a week – and probably more – on groceries. When he was told that the average weekly bill for a family of four was more than £100, he said: 'Right, well it [the grocery bill] is more than £100.'"
The rest of the day didn't see much of an improvement in Miliband's fortunes. The Mail reports on his "day from hell":
"Mr Miliband's day then got worse during an interview on BBC Radio Wiltshire in which he was shown to lack knowledge of local politicians. Ben Prater, the interviewer, asked him what he made of 'Jim Grant' without saying who he was. Mr Miliband asked him to repeat the question but then admitted he had no idea who he was talking about, and asked the presenter to 'enlighten' him. In a toe-curling exchange, Mr Prater told him Mr Grant was the Labour leader on Swindon council. Mr Miliband then blundered again by referring to Mr Grant as the leader of Swindon council, when in fact the council is controlled by Conservatives. Flailing, Mr Miliband said: 'I think he is doing a good job for Labour on the council.'"
It isn't the first time he's suffered from short-term memory loss when it comes to Labour candidates - in 2011 he was unable to name the three candidates in the race to become leader of the Scottish Labour party.
5) CHARLES GOES ALL GODWIN ON VLAD
The Daily Mail splashes on the latest outburst from the Prince of Wales:
"Prince Charles has sensationally likened Vladimir Putin to Adolf Hitler. In a withering verdict on the actions of the Russian president in Ukraine, he told a woman who lost relatives in the Nazi Holocaust: 'And now Putin is doing just about the same as Hitler.' The prince's extraordinary intervention is certain to cause international controversy."
"Charles, who is scheduled to meet Mr Putin at the D-Day commemorations in France on June 6, made his well-intentioned but unguarded comment during a visit to the Canadian Museum of Immigration in Halifax, Nova Scotia."
The apolitical king-in-waiting, eh?
"First they ignore you, then they laugh at you, then they attack you … then you win." - Nigel Farage channels Mahatma Gandhi on the campaign trail in Hampshire.
From today's Sun/YouGov poll:
That would give Labour a majority of 10.
Zoe Williams, writing in the Guardian, says: "Green party support is surging – but the media prefer to talk about Ukip."
Allister Heath, writing in the Telegraph, says: "Voters have had enough of bloated and dysfunctional governments."
Matthew Norman, writing in the Independent, asks: "Does Miliband really want to win the election?"
Got something you want to share? Please send any stories/tips/quotes/pix/plugs/gossip to Mehdi Hasan (mehdi.hasan@huffingtonpost.com), Ned Simons (ned.simons@huffingtonpost.com) or Asa Bennett (asa.bennett@huffingtonpost.com). You can also follow us on Twitter: @mehdirhasan, @nedsimons, @asabenn and @huffpostukpol