The father of one of the men onboard made a tearful plea on television on Monday for the search to continue.
David Bridge said "devastated" to hear the US Coastguard had called off the rescue mission because of bad weather conditions, saying he still believes his son Andrew is alive.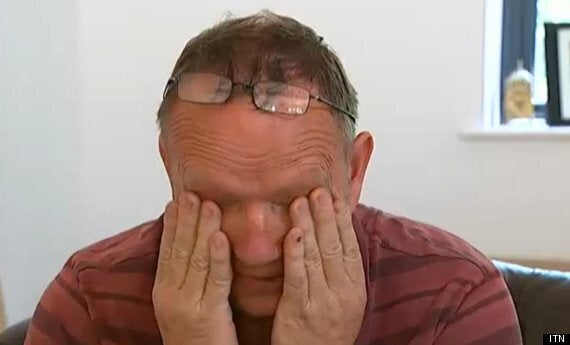 David Bridge, the father of one of the men onboard made a tearful plea on television
"The longer they leave it the less likely it is that they are going to be found," he said.
Health Secretary Jeremy Hunt, the local MP for one of the missing men, has appealed to the US Coast Guard not to give up and entrepreneur and adventurer Sir Richard Branson has called on vessels near the area to keep a lookout.
The crew of the 40ft Cheeki Rafiki ran into difficulties about 620 miles east of Cape Cod in Massachusetts on Thursday while returning to the UK from a regatta in Antigua. Contact with the yacht was lost in the early hours of Friday when they diverted to the Azores.
The coastguard, Canadian aircraft and three merchant vessels searched for them throughout Friday and Saturday but called off efforts on Sunday at 5am local time amid treacherous weather.
Some 4,000 square miles were scanned for the "very well-equipped" vessel's two personal location GPS beacons until no more transmissions were received from the small devices, which have a short battery life.
On Saturday, a cargo vessel which was helping with the search spotted and photographed an overturned hull which matched the description of the Cheeki Rafiki but reported no signs of people on board or a life raft.
The crew were experienced captain Bridge, 22, and crew members James Male, 23, Steve Warren, 52, and Paul Goslin, 56.
Bridge, from Farnham, Surrey, was being paid by Southampton-based yacht training and charter company Stormforce Coaching for his role as captain, a spokeswoman for the firm said.
He had taken part in Antigua Week together with Goslin, from West Camel, Somerset, Warren, from Bridgwater, also in Somerset, and Male, from Southampton, all described as "very experienced offshore yachtsmen".
Hunt, MP for South West Surrey, the constituency in which Bridge lives, tweeted his support for the search to restart.
Sir Richard told the BBC: "There are a lot of yachts, both sailing yachts and motor yachts, that are crossing the Atlantic this time of year and I think if they could just go off course a little bit, keep their eyes open, a lot of merchant ships, that would be great and I think the family would be incredibly grateful."
Goslin's daughter Claire wrote on the Change.org petition: "One of the sailors is my dad and we cannot give up! He is my world and we need to start this search again!!!"
Gemma Townsend added: "My uncle is on board. We mustn't give up. Two days searching is not enough. When people have survived many months on life rafts."
Kay Coombes, the sister of Warren, a project manager for an electrical company, said that she and their mother, Margaret Warren, were convinced that he was still alive.
The 46-year-old said: "It's an utter nightmare, we are grateful for the US and Canadian coastguards for what they have done so far, but it's stopped too soon after two days, it's not long enough, we believe they are still alive.
"They are four strong-minded, physically strong sailors, they knew they were in difficulties and had every opportunity to get into the life raft which would have had provisions for several days. But if no-one is looking for them, they won't be found."
She added: "Everyone is just trying to put pressure on the US Coast Guard using every channel possible. They said they would only continue the search when any debris was found but if no-one is looking how can they find it? There are only passing ships in a very big ocean."
Related