Nissan will take on the might of Audi, Toyota and Porsche for full honours at next year's Le Mans after announcing a factory return to sportscar endurance racing.
At its launch on Friday, the Japanese manufacturer, which has had an on-off involvement with sportscars for many years, revealed it will also contest the 2015 FIA World Endurance Championship with a full factory effort of two LM P1 cars.
Nissan's new car will be called the Nissan GT-R LM NISMO and for NISMO President Shoichi Miyatani, the return to the legendary 24 Hours is a chance to complete unfinished business.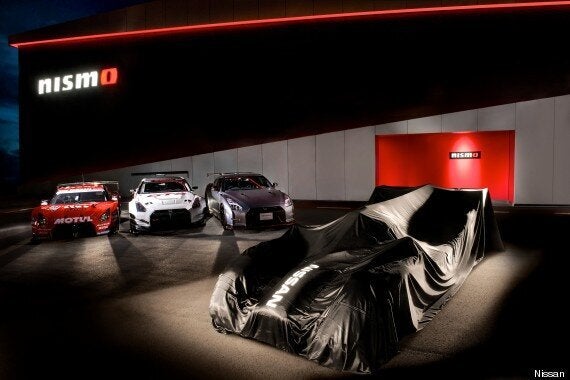 The wraps have not yet come off the new Nissan GT-R NISMO
"We have chosen to take the GT-R name to Le Mans as the GT-R symbolises the ultimate in Nissan's performance," Mitiyani said. "It is a true aspirational brand; a car our fans, our customers love to drive, and love to own. We have been using GT-R in motorsport for many years now, in Super GT and GT3.
"For us LM P1 is the ultimate test. We have unfinished business at Le Mans and now we have our chance to target victory... Our record is third place so a lot of Nissan and NISMO employees are looking for the overall victory. If we achieve it, it would be a big thing."
Nissan has taken a different approach to motorsport. It's already involved in Formula 1 through its Infiniti brand and Red Bull and will be following a similar approach to the WEC.
"We applaud the ACO and FIA for the work they have done to get the rules right," said Nissan Executive Vice-President, Andy Palmer.
"LM P1 is not just an arms race – all our rivals in the class have taken different technical approaches and we will be doing the same. We want to win in a very different way to that of our rivals. We won't be turning up in a vehicle which is a basically another hybrid that looks like another Porsche, Audi or Toyota - they all look the same to me - our intention is to do something that is a little bit different."
"We're not going to go to Le Mans to compete in this historic race with the intention of just turning up and making a nice marketing sideshow. Our intention is to win.
"We want to be the bad boys."
The company has steadily increased its participation in motorsport in recent times through innovative programs such as Nissan PlayStation GT Academy and the ACO's Garage 56 initiative.
Although Nissan has not revealed the new car or any images, it intends to test the car in October. Drivers have not yet announced but are expected to come from within the "Nissan family". This could include current drivers Lucas Ordonez, Wolfgang Reip and Satoshi Motoyama, who are competing at Le Mans next month in the experimental Zeod RC.
Popular in the Community