Germany World Cup squad members Benedikt Höwedes and Julian Draxler have been involved in a car accident in northern Italy.
The Schalke duo, in the region for Germany's pre-tournament training camp, were reportedly passengers in German racing driver Pascal Wehrlein's car but were unhurt.
Nico Rosberg, who leads the Formula One drivers' standings after his win in Monaco over the weekend, was participating at a Mercedes event Draxler and Höwedes had attended.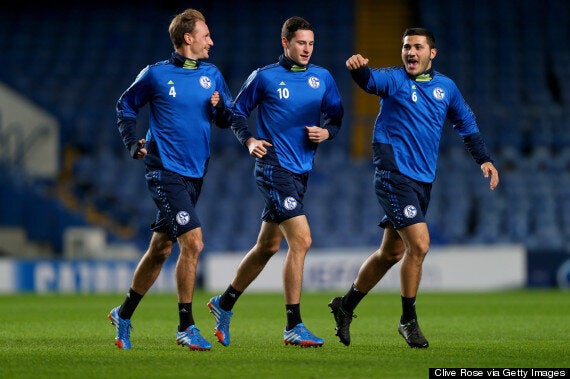 Höwedes (left) and Draxler (middle) are both believed to be unhurt
Rosberg said on Twitter: "I am shocked by the accident. My thoughts are with the two people who were injured and I wish them a fast recovery."
German daily Bild reported Rosberg slowed his car to avoid hitting a spectator who had walked on to the track, followed by a marshal, and Wehrlein swerved to avoid him but hit the two people, one of whom was air-lifted to hospital shortly before 3pm local time on Tuesday.
A statement on Mercedes-Benz Motorsport's Facebook page said: "An accident occurred during a visit to the training camp of the German National Football Team: while driving on a closed circuit, DTM driver Pascal Wehrlein injured two people whom he unexpectedly encountered walking on the closed course.
"We cannot offer any statement concerning the severity of injuries, as both injured parties are currently undergoing medical treatment.
"Pascal Wehrlein was uninjured in the accident. We deeply regret this accident and send wishes of quick recovery to the injured. We will work in full cooperation with the authorities in determining the exact circumstances of the accident."
Höwedes and Draxler trained with the team as normal later in the afternoon.
Arsenal were mulling over a transfer offer for Draxler, 20, in January and could revive their interest in the summer transfer window.
Germany's World Cup preparations have been marred by injuries to key figures, such as Sami Khedira, Bastian Schweinsteiger, Marcel Schmelzer throughout the season.
Last week, Bayer Leverkusen midfielder Lars Bender withdrew from the squad with a thigh injury and Borussia Dortmund midfielder İlkay Gündoğan has not played since August.
Popular in the Community