Rickie Lambert's rise appeared to have peaked last year, when he received a first England squad call-up at the age of 31. On the same, day his wife gave birth to his third child, Bella Rose. Could it get any happier? Yes, it could.
Lambert scored the winner on his England debut against Scotland in one of the more watchable friendlies Wembley has hosted since it re-opened in 2007. He attained three more caps last season, and his good form for Southampton, coupled with Andy Carroll's injury woes and form, have booked Lambert a place on the plane for Brazil.
And now he has received arguably the best send-off of them all. He will join Liverpool, his boyhood club, 17 years after he was released by them as a 15-year-old.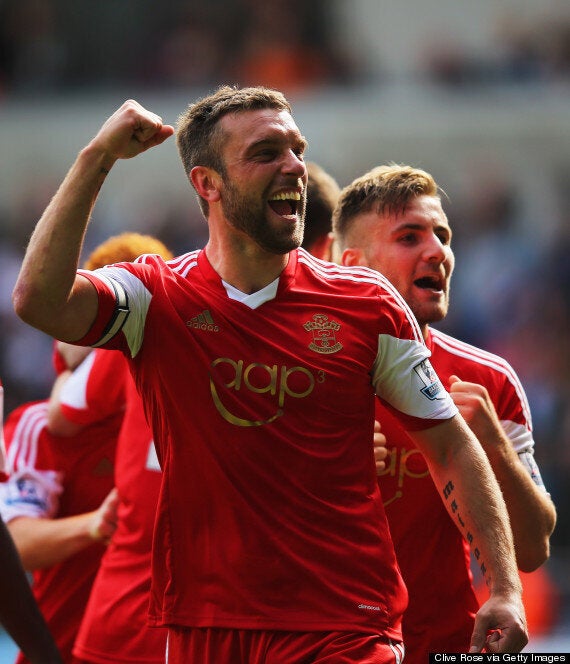 Lambert will sign for Liverpool before the World Cup
Whatever your allegiance, it is a heartwarming story. In this cynical footballing age, Lambert stands out as an everyman with a beaming perma-grin that suggests he is constantly pinching himself. You can hardly blame him. He was working in a beetroot factory at the age of 18 after Steve McMahon released him from Blackpool, and
"After leaving Blackpool there was a period without a club," he said. "I didn't have a contract, so I wasn't getting paid for four or five months. It was a very difficult time. I was debating what I could do outside the game. But I didn't want to do anything outside of football.
'"So I was trying my best to get to training at Macclesfield because it wasn't close.
"I had to get a job and that one in the beetroot factory was one of the only jobs I could get at the time. I was putting lids on jars, getting paid £20 a day. I would work in the day and go training in the evening."
He has worked his way up the Football League ladder via Macclesfield, Stockport, Rochdale and Bristol Rovers, and his five years at Southampton have coincided with some of the happiest in the club's history. Back-to-back promotions, survival in the Premier League, goals against Manchester United, Manchester City, Chelsea and Liverpool, as well as a top 10 finish, it has all been a Cinderella story, yet the clock has struck midnight.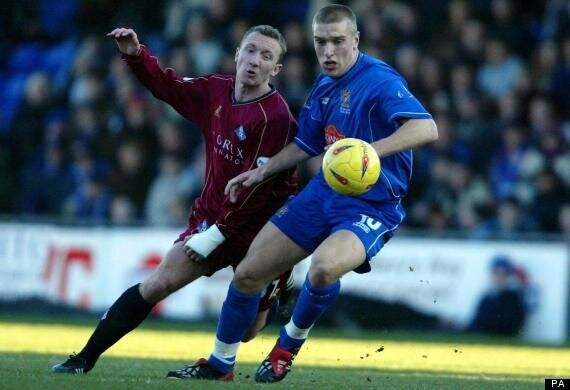 Lambert in Stockport blue at Edgeley Park in 2003
Lambert is leaving at the right time. Mauricio Pochettino's departure 16 months after he began his Premier League managerial career could precede a fire-sale. Southampton have rejected bids from Manchester United and Liverpool for Luke Shaw and Adam Lallana, yet the expectation was Lambert, 32, would stay as the younger and starrier players left St Mary's.
In Daniel Sturridge and Luis Suárez, Brendan Rodgers boasts the most potent strike partnership in the Premier League, possibly in Europe. Liverpool's attacking vibrancy has been an antidote in an age where starting just one striker is in-vogue, and Lambert is a curious alternative.
However, Liverpool have European commitments again next season, and Sturridge and Suárez need to be supplemented. Liverpool played just two Capital One Cup games last season, ending the campaign having fulfilled 43 fixtures. They are already guaranteed to play more than that next season, following automatic qualification for the Champions League.
Rodgers will have noted how well Lambert adapted to Pochettino's continental coaching after working with Nigel Adkins for three years on the south-coast. Although it is easy to regard him as England's battering ram in Brazil, he is an accomplished footballer adept on the deck and, crucially for two avaricious strikers like Sturridge and Suárez, selfless.
Lambert might lose his England squad berth, but it is sacrifice he will argue is worthwhile. There is an outside chance he could represent his country at the 2016 European Championship, yet the peak for any international footballer is a World Cup, and Lambert has a vital role to play in Brazil.
His return to Merseyside is akin to Robbie Fowler's in 2006. A signing that reflected Rafael Benítez's iffy record in transfer windows, Liverpool supporters were nevertheless overjoyed at the return of "God" and Lambert can expect his own unique homecoming, despite having never played for the club. Things can only get better.