You may not be aware but there are quite a few zombies that hang around near Wembley Stadium. Seriously.
Well not quite but there are a lot of dedicated folks who attend zombie acting classes and don bloody makeup all to give you a terrifying evening of entertainment.
It's called '2.8 Hours Later' and the premise is simple - using a map you and seven or eight others have to find a clean water source somewhere in North London via a number of consoles that give you coordinates of where you have to go.
Story continues after slideshow...
Only thing is, there a loads of zombies all along the way.
I have to admit to being slightly sceptical of how scary a bunch of actors doused in fake blood would actually be.
Turns out even though it's all fun and games it is genuinely blood-curdling.
The course takes you around Wembley Stadium, through a number of warehouses and even a multi-storey car park.
It was rather surreal to be walking through London listening to the screams of the undead coming from the 6th floor up - even weirder for the general public with no idea what's going on.
It was here that we ran into this chap...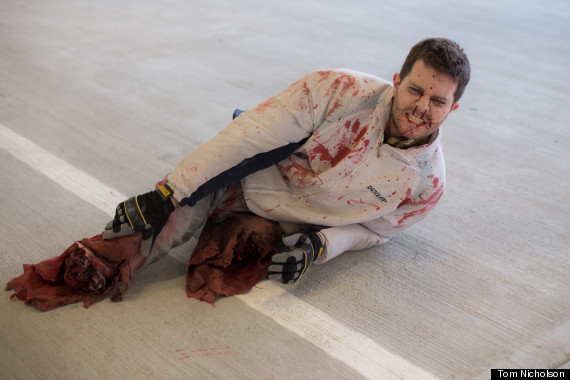 Yup that's right, for added realism one of the actors is an amputee. He was guarding one of the consoles and as I punched in a code while keeping one eye looking over my shoulder my hand was actually shaking.
Along the way there are a number of characters tasked with helping you survive, although one wouldn't let us pass until we'd serenaded the ladies in our group with a collective love song.
As the evening goes on the zombies become more and more active to the point where a few actually sprint after you - you'll surprise yourself at how fast you can run when tailed by the undead.
Eventually we make it to the water source, fill up a bottle and make our way back - but not before having to negotiate a police barricade and a few more zombies for good measure.
Upon returning those who managed to get through unscathed are allowed into the 2.8 Hours Later nightclub and those who were 'got' have to smear themselves in fake blood before allowed in.
2.8 Hours Later is touring around the country. Seek it out and have a go. It's definitely one of the more interesting ways to spend an evening.
Watch the video at the top which was filmed by Yasmin Curren who was in our group.
To buy tickets for 2.8 Horus Later in Sheffield, Glasgow or Edinburgh, please visit www.2.8hourslater.com