It is a strict boycott observed by the Hollywood and fashion elite, from Vogue's Anna Wintour, to Richard Branson, Paul and Stella McCartney and Stephen Fry. But the boycott of The Dorchester hotel is not, it seems, observed by the Duchess of Cambridge.
Her visit to the hotel to attend the wedding of a close relative has been deemed "particularly offensive" and a legitimisation of the hardline Brunei regime, whose ruler owns The Dorchester. The veteran gay rights campaigner Peter Tatchell told HuffPost UK that Kate's attendance was "hugely disappointing".
It was an extremely low-key breach. Kate slipped into The Dorchester, owned by the controversial Sultan of Brunei Hassanal Bolkiah, inside a blacked-out people carrier and entered through a side door to attend the wedding on Friday, according to the Daily Mail.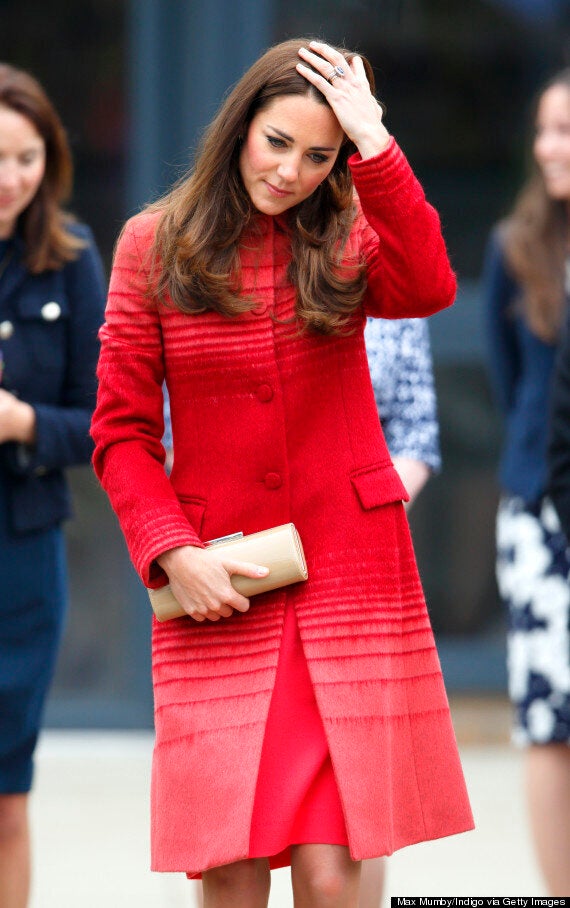 Kate attended the wedding of her cousin at the hotel (file photo)
The boycott of the Mayfair hotel by a host of celebrities (for indeed, they are some of the only people who could afford to ACTUALLY, rather than theoretically boycott) is in opposition to new hardline Islamic laws in Brunei, which include punishing gay people with death by stoning. Other Brunei-owned hotels being boycotted include LA's Hotel Bel-Air and the Beverly Hills Hotel, as well as Paris' Le Meurice.
Kate was at The Dorchester to attend the wedding her first cousin Adam Middleton to interior designer Rebecca Poynton, along with her parents and brother James and sister Pippa. Her father Michael is the brother of the groom's father Richard.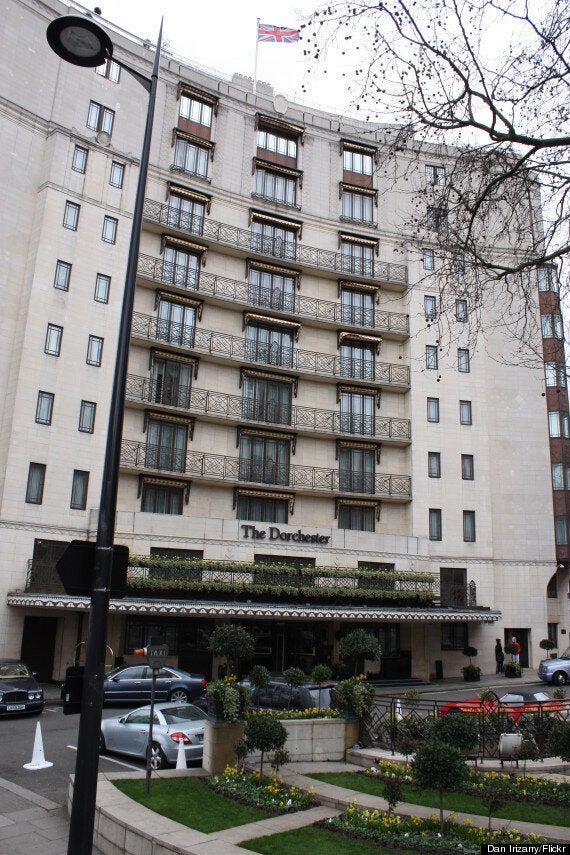 The hotel hosted the wedding of the Duchess' cousin Adam Middleton
Campaigners are furious. "It is hugely disappointing that the Duchess is still going to the Dorchester while so many other public figures are boycotting it," Tatchell told HuffPost UK.
"She's sending the wrong signal. The Sultan will take comfort in the fact that Kate continues to give her de facto stamp of royal approval to his hotel and is not supporting the boycott. Many gay and human rights campaigners feel let down. She could have taken a stand but declined to do so."
"How can anyone go to The Dorchester knowing it is owned by a man who has brought stoning to Brunei? Maryam Namazie, founder of the Council for Ex-Muslims, told HuffPost UK.
"It's particularly offensive when it is done by those in the public eye like the Duchess of Cambridge, who should be setting an example rather than ignoring and thereby legitimising this heinous punishment. We owe it to the many victims who have been stoned to death or awaiting death by stoning across the world to end it without delay.
"That people can still be buried in a ditch and have stones thrown at them until they are dead should be deemed so abhorrent that ignoring it would be considered unthinkable. That it is perfectly legal in some countries like Brunei is even more abhorrent. Everyone with an ounce of humanity should boycott the Dorchester and help bring an end to this practice once and for all."
Sultan Hassanal Bolkiah, an honoured guest at the wedding of William and Kate, has introduced a number of harsh Islamic laws to the southeast Asian nation, including amputations for theft, and the death penalty for adultery. Protests against the regime have been held in Los Angeles, with Jay Leno and Ellen Degeneres attending.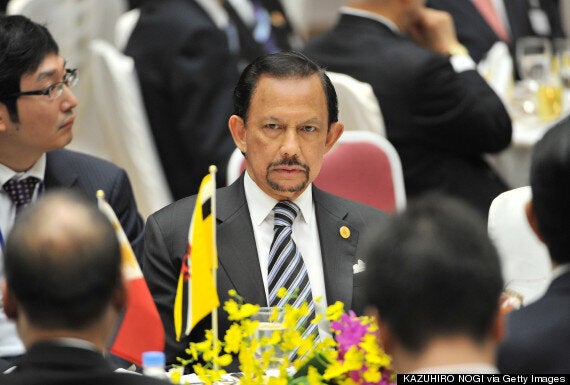 Brunei Sultan Hassanal Bolkiah has introduced hardline new laws
Yves St Laurent is one of a number of designers who has said that its staff will not stay at any of the Brunei-owned hotels until the law is repealed.
Anna Wintour, Vogue's editor, has said that she and Conde Nast's staff will not be staying at Le Meurice, her favourite spot for Paris Fashion Week. She told the New York Times. "While I am sensitive to the potential impact that this issue may have on the wonderful staff at Le Meurice, I cannot in all good conscience stay there, nor can Vogue's editors."
Other hotels which are part of The Dorchester Collection are 45 Park Lane and Coworth Park in Windsor, where Stephen Fry cancelled plans to stay in support of the boycott. But Prince William and Harry both played polo there just last week.
Jay Leno watches as his wife Mavis speaks at a protest across from the Beverly Hills Hotel, owned by the Sultan of Brunei, demanding he rescind a Taliban-like Brunei penal code
The British Royals are not the only ones to happily ignore the boycott. Mariah Carey sang at a New Year's party for the sultan's son, and Russell Crowe was inundate with abuse on Twitter for his stay at the Beverly Hills hotel.
In response to the boycott, the hotel chain said it has "no involvement in this religious and political issue."
"We continue to abide by the laws of the countries we operate in and do not tolerate any form of discrimination of any kind," the spokesperson added, according to WWD. "The laws that exist in other countries outside of where Dorchester Collection operates do not affect the policies that govern how we run our hotels."
Stonewall, the gay rights pressure group, has said it will not endorse the boycott. Its acting chief executive Ruth Hunt told the Telegraph: "I do not believe the somewhat beleaguered Christopher Cowdray, Chief Executive of the Collection, can somehow influence the implementation of Sharia criminal code in Brunei.
"He can't. I do, however, fear that the boycott could do very real harm to the lesbian, gay, bisexual and trans people of Brunei by turning the issue into a battle between gay people and the Sultan – which it isn't. [This is ] a group of people, I hasten to add, who've yet to publicly call for a boycott.
"Stonewall's plan is to instead work with groups, like The Dorchester, rather than against them. Companies have enormous power to change and challenge cultures and we help them utilise that influence."
Related