England captain Alastair Cook believes the furore over Jos Buttler's controversial run out at Edgbaston will rage on into the Test series with Sri Lanka.
Cook claims the tourists "crossed a line" at Edgbaston on Tuesday when bowler Sachithra Senanayake ran out Buttler, who was backing up at the non-striker's end. In only the eighth similar incident in international cricket history, Sri Lanka captain Angelo Mathews enforced the dismissal.
Mathews and batsman Mahela Jayawardene stressed they had no regrets after their victory - having been convinced Buttler was trying to steal yards unfairly.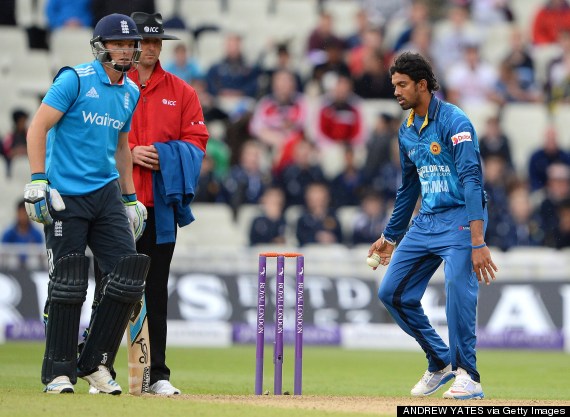 Buttler is caught out - and run out - by Sachithra Senanayake at Edgbaston
Cook, however, feels the ill-feeling will linger, and when asked if that might be the case in a Test series starting next week, he said: "Probably, yes. It will spice it up a bit - nothing wrong with that."
England were dismissed for 219 in 48.1 overs, with Sri Lanka able to ease to a six-wicket victory in the ODI decider for a 3-2 series win.
The Buttler incident, fortunately for Cook, will initially mask another setback for his captaincy, and he was busy reflecting on another "spirit of the game" sub-plot following the winter Ashes flashpoints.
He added: "It's just important you let your cricket do the talking as well, and you back up words. If he [Mathews] says he's going to do it again, it's up to him.
"As captain of your country, there are certain ways you want your team to operate."
Senanayake, reported after Sri Lanka's series-levelling win at Lord's for a suspect action, will play no part in the two Tests - because he has not been selected by Sri Lanka. Buttler, sensational in the limited overs game, is yet to make his Test debut for England.
Either way, Jayawardene is unrepentant.
Jayawardene added: "We gave him [Buttler] a fair chance twice - before the first warning as well, we told the umpires that they're taking too much of a lead.
"We had to do that, because they kept doing it. At Lord's, they took 22 twos in the last 12 overs. Ravi (Bopara) and he ran riot, and most of the time they were taking starts - which was not legal by the written law.
"We warned the umpires, warned them. They didn't listen to us, so we had to take the right steps.
"The umpires said they would handle it ... but obviously didn't.
"We have always tried to play in the right spirit. But if the other teams are not playing with the right spirit, by the law, we had to do this unfortunately."