Cesc Fàbregas will complete a €33 million transfer to Chelsea, according to Spain teammate Gerard Piqué.
Piqué was speaking to Spanish coach Vicente del Bosque at a press conference on Wednesday and even though both covered their mouths, TVE and AStv managed to record the conversation.
The Barcelona defender told Del Bosque he had supported Fàbregas, to which the Spain manager replied: "The president [of Barcelona, Josep Bartomeu] isn't going to be happy. You're going to drive him mad, poor guy. You're going to upset him."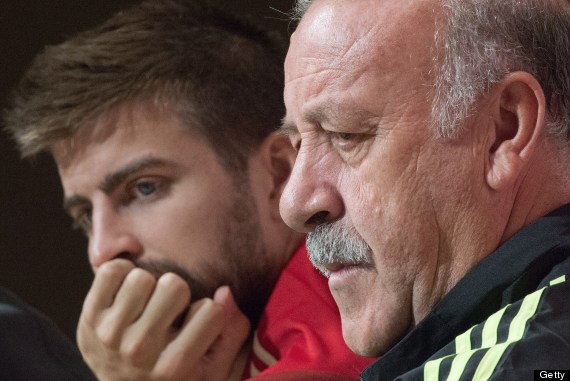 Piqué and Del Bosque's conversation about Fàbregas was picked up by media microphones
Piqué replied: "He [Cesc] told me it's all done. He's going. €33m he told me." Chelsea are believed to be Fàbregas' next destination.
Piqué had earlier said Fàbregas was "going through a difficult situation" and Barça had "never valued him as highly as they should have done. He would fit into any side."