For anyone already tired of World Cup fever, this video clip could help show you're not alone in your bid to avoid the round ball action: Formula 1 drivers talking football.
F1 press conferences can often be a tad underwhelming, with drivers looking as though they would rather have their teeth pulled than sit in front of the media, so it's always nice when a little gem appears. Step forward Caterham's Kamui Kobayashi.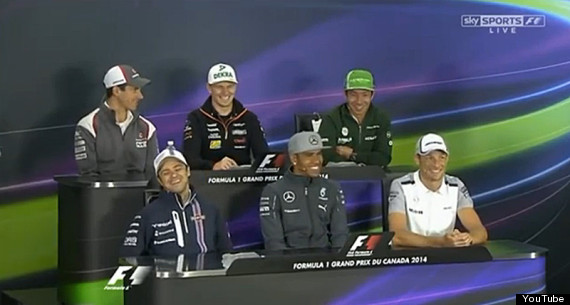 Kamui Kobayashi (top right): not a football fan
With only a week to go until the World Cup kicks off in Brazil, it was perhaps inevitable Thursday's line-up of Adrian Sutil and Nico Hulkenberg (both Germany), Lewis Hamilton and Jenson Button (both England), Felipe Massa (Brazil) and Kobayashi (Japan) would all be quizzed about the event, as all their countries have qualified.
Massa did a great job of bigging it up for the host country, exclaiming "I love football!... To win the championship at home would be fantastic, so I will be there watching and supporting Brazil."
SEE ALSO:

Hamilton and Rosberg Set For 'Titanic' Battle At Canadian GP
Hamilton flew the flag for England and was keen to jet off to Brazil to catch a game - much like we all wish we could - while Button backed his old teammate on the England support but didn't really follow the game.
Hulkenberg showed a distinctly un-Germanlike disinterest while compatriot Sutil hedged his bets thanks to mixed German and Uruguayan parentage.
But it was Kobayashi who provided the laughs. Watch his - and everyone else's - reaction in the video above (from 16min33).