When 'Rather Be' stormed to the top of the Official Singles Chart in January, Clean Bandit went from being a band familiar with late night sets on slightly obscure festival stages to one of the UK's most-talked about acts.
To call them 'newcomers' wouldn't be fair. In the five years running up to the release of their hit single, the quartet have been busy performing across Europe and slowly building their unique classical-meets-electro sound, releasing a series of EPs along the way.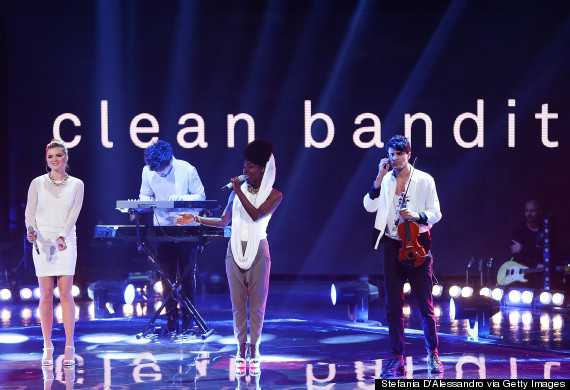 Clean Bandit
This summer, Clean Bandit are likely to experience a festival season that's slightly different to those that have gone by before - so how do they plan to respond to their new music's huge success?
We caught up with the band's violinist Neil Amin-Smith, to hear about all their plans - including their hopes to collaborate with Beyoncé…
Congratulations on the release of 'New Eyes'. You've been making music together for a long time... How does it feel to finally have your debut album out?
It's a great feeling that people are finally listening to it. We finished it at the beginning of February and it has felt like such a long wait between then and now.
Has the success of 'Rather Be' made you less, or more, nervous about releasing the album?
I suppose a bit of both. We were quite lucky in that the album was pretty much finished before Rather Be really took off and as a result there wasn't the pressure there might have been on the actual writing process. The main thing for us is that the success of Rather Be means that far more people will listen to the album than otherwise would have, and that's ideal really.
Did you have any idea how successful - both in terms of commercial success and critics' reviews - 'Rather Be' would be?
Not at all. The track was actually completely written by the beginning of last summer, and we played it at a lot of festivals before we even recorded it. It always seemed to get crowds singing along even though they'd never heard it before which was definitely a good sign, but there's no way we would ever have expected it to do what it has.
You've mentioned before that 'Rather Be' got a really great response at festivals last year, how will its popularity change your set-list plans for this year's big events?
It's quite funny because we've recently been doing it as our encore, which works perfectly but is also a bit silly because no-one has any doubt that we are coming back on stage if we haven't played 'Rather Be' yet.
There's also the fact 'New Eyes' is out, whereas before concert-goers have probably had less of an idea of what to expect from your sets. Are you glad to be 'touring an album' now?
Definitely. We've had an amazing set of gigs so far this year anyway, but gigs are without a doubt more fun for the crowd and us when the crowd are familiar with the songs.
Music Festivals 2014: 15 UK Events Worth Donning Your Wellies For
There's been a lot of talk about the fact Lily Allen has said she wants to write with you, but who would you like to work with and collaborate with?
We'd love to write with Lily Allen if the opportunity arose, but also people like Banks, Kwabs, and, in an ideal world, Beyonce.
Has word reached you of any other artists who want to work with you?
We hear a lot of rumours…but let's see what materialises.
Which guest vocalists will be joining you on-stage this summer? Will there be any surprises?
Well we have two amazing vocalists who front our live show, one of whom, Elisabeth Troy, is on our album, but hopefully some of the other guys, like Jess Glynne and Rae Morris, will make some cameos if we cross paths at any festivals.
Which acts are you most excited to share a stage with this summer?
So many! I'm looking forward to seeing Chromeo who are on the same stage as us at Glastonbury, and we recently played on the same stage as Lorde at Radio One's Big Weekend. She was intensely brilliant.
See Clean Bandit at Parklife Weekender in Manchester and at Unknown Festival in Croatia.
LIKE US ON FACEBOOK | FOLLOW US ON TWITTER