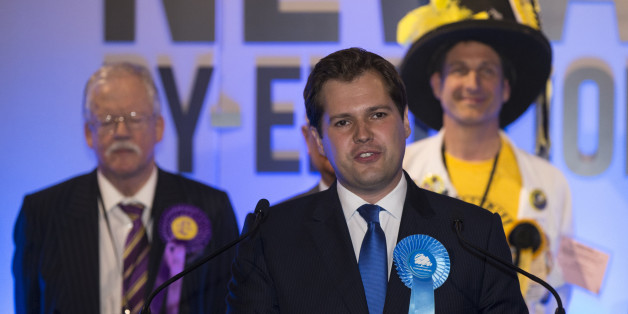 Oli Scarff via Getty Images
Here are the five things you need to know on Thursday 5 June 2014...
1) NEWARK SAYS 'NO' TO NIGEL
The Newark by-election results are in and, as expected, it's a win for the Tories. My HuffPost UK colleague Ned Simons reports:
"The Ukip earthquake failed to shake the Conservatives out of Newark on Thursday, after Nigel Farage's party was unable capitalise on its stunning European election success by winning the parliamentary by-election in the Nottinghamshire constituency. But the ground did move a bit. Roger Helmer, Ukip's candidate who currently represents the area as an MEP, came in second place with 10,028 votes (25.91%). Robert Jenrick, the Tory candidate, held on to the seat for the Conservatives after winning 17,431 votes (45.03%). A majority of 7,403 votes. Ed Miliband's Labour Party candidate came in third place with 6,852 votes (17.68%). The result was another disaster for Nick Clegg, as the Lib Dem candidate finished a distant sixth with just 1,004 votes (2.59%)."
The poor ol' Lib Dems lost their deposit for the ninth time in a by-election since 2010. The Tories, as George Osborne put it on the radio this morning, enjoyed a "strong win" - though it was their seat to lose. Having said that, despite being a safe Tory seat now, back in 1997, Tony Blair's New Labour won Newark. Ed Miliband's One Nation Labour didn't come anywhere close in this by-election. Osborne called it a "disastrous" night for Labour.
Meanwhile, the big question is this: has the Ukip bubble been burst? Second-place isn't a bad result, of course, but the party did top the poll in Newark during the recent Euro elections so expectations were high. There does seem to be some evidence that locals voted tactically to keep Farage's 'People's Army' out. Those who argue that the voters are savvy enough to be able to distinguish between a protest vote for Ukip at the European elections and a vote for the next government at a general election do seem vindicated by yesterday's Newark by-election. Nigel Farage, meanwhile, may have to re-think his whole 'insurgent' strategy when it comes to parliamentary seats.
Bring on 2015...
2) MAY V GOVE, DAY 3
The chancellor of the exchequer has been weighing in on the row over extremism policy between the home secretary and the education secretary. Speaking on the Today programme, Osborne confirmed that Sir Jeremy Heywood, the cabinet secretary, is now investigating the spat between the PM's two key lieutenants in cabinet. He said:
"The prime minister has asked Downing Street – and that includes the cabinet secretary – to establish the facts of who said what to who in the arguments we've seen over the last few days. We absolutely don't want a distraction from the central issue here, the issue which the government is absolutely united on and the people listening to this programme I'm sure are concerned about, which is the infiltration of schools by Islamic extremists."
You'll note that Osborne didn't use the word 'alleged' before 'infiltration'. Talk about pre-judging the results of an official inquiry...
On a related note, a spokesman for the Department of Education yesterday told HuffPost UK: "The secretary of state does not support a ban on religious headwear for pupils in all state-funded schools."
Not in 'all' schools? Does that mean he's fine with it in some schools?
3) 'I WON'T GET ON MY KNEES FOR DAVE'
From the Guardian's splash:
"Jean-Claude Juncker, the embattled frontrunner to head a new EU executive, delivered a bitter attack on Britain on Thursday, vowing he would not get on his knees to secure backing as next president of the European commission. He also strongly criticised European leaders, complaining he was being ignored after the grouping of Europe's centre-right parties won the European election. Strongly opposed by David Cameron in his ambition to become the next president of the commission, Juncker declared he would not genuflect before the British, lambasted what he described as a British press campaign against his candidacy, and warned that he was running out of time to secure the most powerful post in Brussels... 'It is wrong if we give in to the British here," Juncker told a closed meeting of the EPP in the parliament in Brussels on Thursday. 'I will not be forced to get on my knees before the British.'"
BECAUSE YOU'VE READ THIS FAR...
Check out this YouTube viral video, 'Brozen' - two brothers lip-synching to the song, 'Love Is An Open Door', from the Disney hit movie. It'll make you smile.
4) OBAMA IMPERSONATES DARLING
The 'Better Together' campaign must be delighted - the US president is their latest recruit. Will the 'cybernats' now go for Barry? From the FT:
"Barack Obama has waded into the fraught debate about Britain's constitutional future by stressing US interest in a 'united' kingdom that remains a full member of the EU. With just over three months to go before the Scottish vote on independence, the US president stood beside David Cameron, Britain's prime minister, to praise the UK as an 'extraordinary partner' that looked from the outside like it had 'worked pretty well'."
The paper adds:
"Alex Salmond, Scotland's first minister, who is leading the independence campaign, shot back saying "yes we can", in an echo of Mr Obama's electoral slogan. "When Scotland becomes independent, America will have two allies instead of one," he added."
5) GOODBYE WILLIE?
From the Times:
"William Hague has said that he hopes to have achieved his 'central mission' at the Foreign Office by next year in the strongest hint to date that he is considering stepping down from frontline politics. Mr Hague said the restoration of the Foreign Office's reputation as one of Whitehall's greatest departments was "well advanced and on track"... Asked directly about whether he wanted to remain foreign secretary in a Conservative-led government, Mr Hague said: 'I came back into politics specifically to do this job and I regard it as my last big job in politics. But I don't think any of us should be speculating about what happens after 2015 until we've won the election.'"
Does "last big job in politics" mean British politics? Could it be Hague, rather than Lansley, who Cameron nominates as Britain's next EU commissioner?
PUBLIC OPINION WATCH
From today's Sun/YouGov poll:
Labour 37
Conservatives 31
Ukip 15
Lib Dems 8
That would give Labour a majority of 76.
900 WORDS OR MORE
Philip Collins, writing in the Times, says: "The Tory split on Europe can't be reconciled."
David Edgar, writing in the Guardian, says: "Labour should be chasing Green voters, not Ukip supporters."
Fraser Nelson, writing in the Telegraph, says: "You can't reduce a 300-year-old union to a mushy peas analogy."
Got something you want to share? Please send any stories/tips/quotes/pix/plugs/gossip to Mehdi Hasan (mehdi.hasan@huffingtonpost.com), Ned Simons (ned.simons@huffingtonpost.com) or Asa Bennett (asa.bennett@huffingtonpost.com). You can also follow us on Twitter: @mehdirhasan, @nedsimons, @asabenn and @huffpostukpol