David Bentley broke down in tears as he announced his retirement on live television aged 29, insisting the game has become "robotic and boring".
The former England winger, who was once dubbed the natural heir to David Beckham due to his crossing ability, played for seven different clubs including Tottenham, where he moved for £15 million in 2008.
The former Arsenal trainee struggled to establish himself at White Hart Lane, and was sent on loan to Birmingham, West Ham, FC Rostov and Blackburn before he was released last year.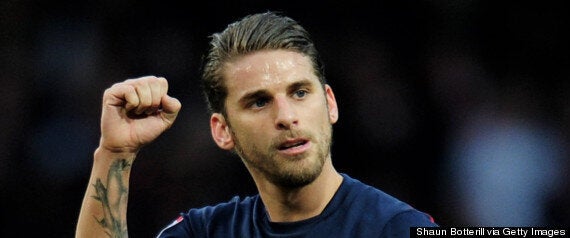 Bentley spent the best spell of his career at Blackburn under Mark Hughes
"I've fallen out of love with the game," Bentley told Sky Sports News. "The game has changed a lot - when I first started playing it was more about enjoying it, you went into work every day and it was brilliant.
"Now it's a little bit robotic - with the social media side of it and the money that has come into the game - I hate to say it but it's made it boring, it's made it predictable and a bit too calculated.
"To sign on for another four or five years into that isn't really an option for me."
Bentley's 12-year career included seven caps for England. He scored the first England goal at the new Wembley stadium in 2007 during the Under-21s' 3-3 draw with Italy.
His major career highlight was a hat-trick against Manchester United in Blackburn Rovers' 4-3 win over the Reds in February 2006.