Iraq is on the brink of civil war and risks completely breaking apart after one of the country's most prominent clerics made a rare intervention to call on people to take up arms "in defence of their country" as terrorist group ISIS continues to tear through it.
The country's top Shia cleric, Grand Ayatollah Ali al-Sistani, used Friday prayers today to call for those "capable of carrying arms" to standing up to the Sunni militants, who took two more towns overnight and reportedly fighting just 50 miles from Baghdad.
"People who are capable of carrying arms and fighting the terrorists in defence of their country ... should volunteer to join the security forces to achieve this sacred goal," said Sheikh Abdulmehdi al-Karbalai, delivering Sistani's message.
The US is now weighing up its options. Secretary of State John Kerry told an audience in London: "Given the gravity of the situation I would anticipate timely decisions from the President regarding the challenge."
Barack Obama has ruled out sending in combat troops to Iraq.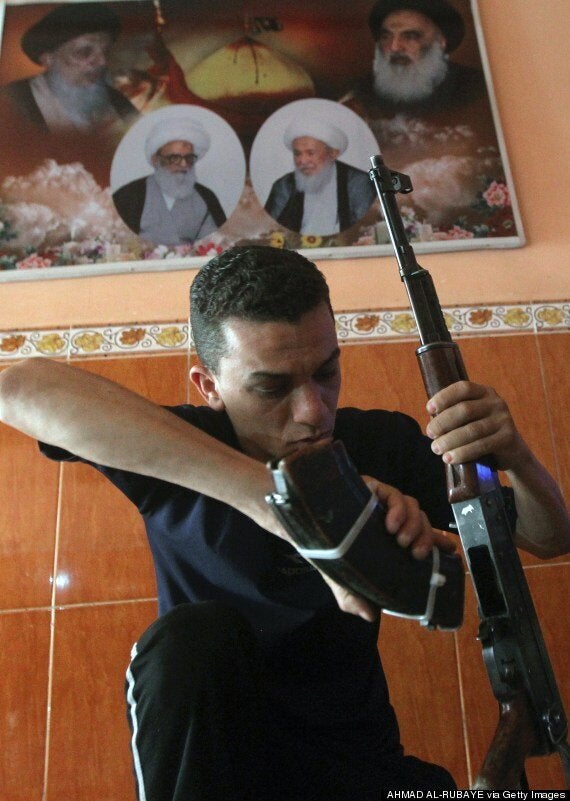 An Iraqi Shiite man loads a rifle after al-Sistan's (portrait top right) call to arms
One commentator described the call as the beginning of a "sectarian war" in the country.
ISIS fighters have already taken Mosul, the country's second city, and Tikrit, Saddam Hussein's birthplace and stronghold.
The group, which is so extreme it has been disavowed by its former allies al Qaeda, has committed beheadings and crucifixions.
The group is determined to create a Islamic caliphate state in Syria and Iraq and pictures have emerged of the group literally bulldozing the border between the two countries.
Sistani is the spiritual leader of Iraq's Shia Muslims, who make up more than half the population.
Commentator Arash Karami said his intervention was unprecedented and its importance "cannot be overstated". Sistani's call for his followers to defend Iraq from ISIS is unprecedented, commentators have said
Many Iraqis no longer trust their national army after soldiers retreated from the ISIS advance. Some have even called for people to instead join militias to defend cities and holy sites, BBC reporter Feras Kilani said from Baghdad.
It's certainly not the same Baghdad it has been in the last few years."