Until we see the dish placed in front of us.
Resting on a piece of slate, the dish features two meaty, hand-caught scallops from Devon, wrapped up in an intricate orchestra of cauliflower puree, maple pancetta that adds a smoky undertone, crumbs of walnut streaking across diagonally and salty tentacles of samphire.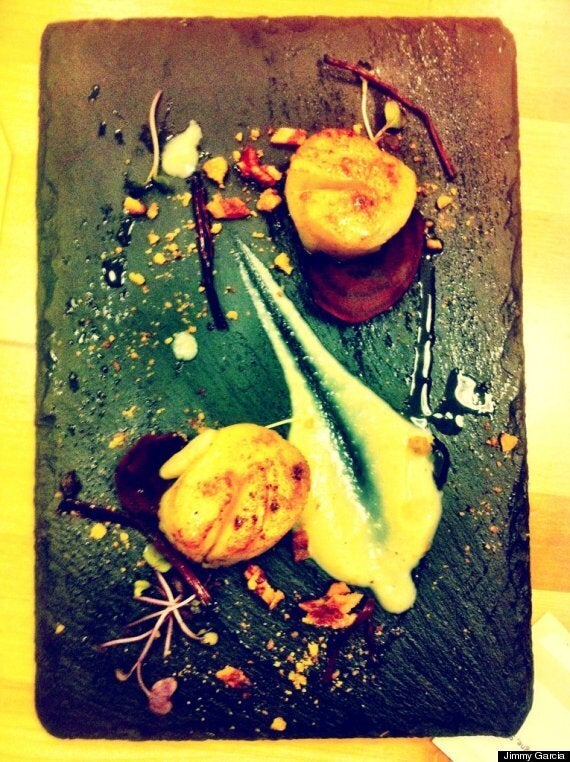 It not only looks good, but tastes like a dream: so many different flavours launching like fireworks in my mouth at the same time: salty, earthy, creamy and nutty.
We're here at Jimmy's latest pop-up 7 Plates Of Summer, which celebrates small plates and ethically-sourced food. Considering the level of detail, £7 per plate is good value, and he recommends four plates per person for £25 (although I end up absolutely stuffed by the end of it).
"I think it's romantic knowing where it comes from," he says, talking to HuffPost UK Lifestyle about the ethical aspect of the menu.
"The duck is Barbary duck breast, the scallops are hand caught in Devon, the mushrooms foraged in Epping Forest and Heritage tomatoes - everything has a background to it."
The duck he speaks of is a duck breast and foie gras bon bon - which is like the world's most fabulous Scotch Egg (minus the egg). The meat inside is minced and flavoursome with a nugget of foie gras in the centre. A ribbon of smoked duck breast marries nicely with orange and Earl Grey chutney.
Jimmy started cheffing at the very young age of 15 as a starter and dessert chef at the Waterton Park Hotel in Yorkshire.
Although he studied business and economics, he spend his uni years working the ski season and on a luxury yacht for an Arab royal, where he could flex his cooking muscles. "We had no budget and fresh ingredients," he says.
He says his pop-up ventures are a showcase for his catering business, which already takes him far and wide including his imminent gig in the Loire Valley. Jimmy already has 20 weddings this summer and will be doing the backstage catering for V festival and the Henley festival .Dubbed the 'king of pop-ups' by the Times, last year his three-month food events were sold out.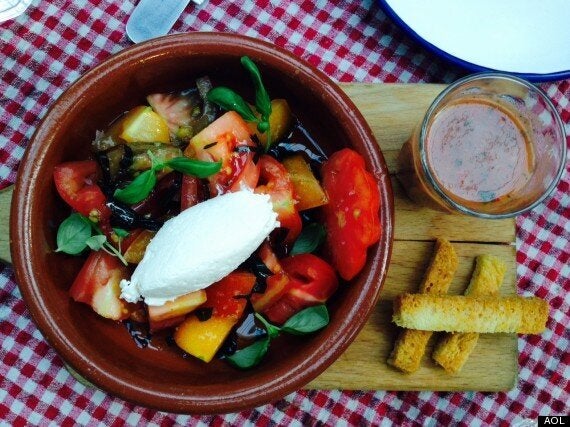 Heritage tomatoes and goat curd
The pressure of small plates is not to be sniffed at however. Jimmy's day starts at 6.30 when he picks up supplies. The fish arrives at 10.30 and he gets the meat - at a special rate - from Gary in Moens' butchers in Clapham. Give or take a few meetings, there is prep in his kitchens at Clapham Old Town and then everything is transferred to Brixton.
"It's quite intense, but fun," he says. "You're making them all quite quickly – in essence we choose the order it goes out in. The veg comes out first, then the fish followed by the meat."
The veg is a glorious dollop of goat curd with yellow and red Heritage tomatoes flanked by a shot of gazpacho. It's fresh and lovely - just right for a summery dinner. A heavier dish is the wild mushroom and truffle mac and cheese which has just about ruined all other mac and cheese for me for life, with a poached duck egg on top.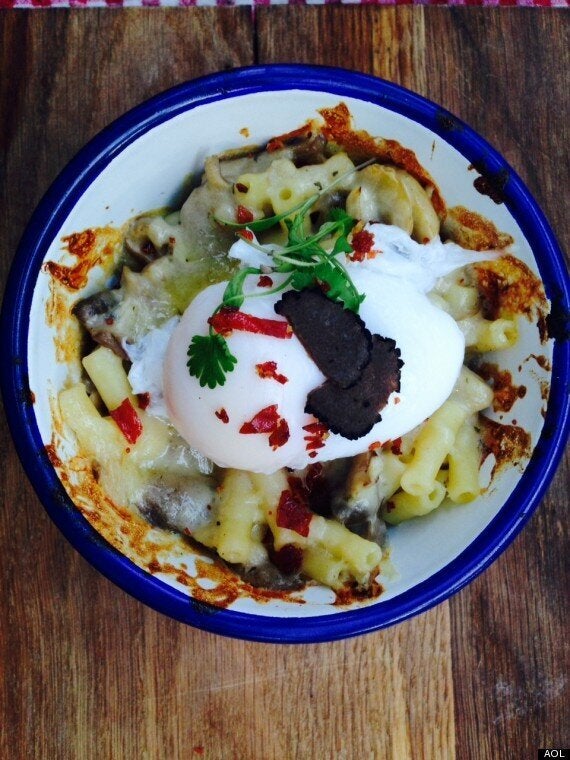 Wild mushroom mac and cheese
There are only a couple of grumbles - the duck egg could do with some seasoning and the wait between plates is a bit longer than you'd normally expect with small plate service - but then again this isn't La Tasca in downtown Croydon. Each dish looks beautiful - artistic, even - and the food is still hot despite the time it must take for decoration.
He's got a knack for putting on events that make you want to try everything including Burgers and Bordeaux (how nice does that sound?) and watch this space for a fondue and hot toddy night in October. He's working with a set designer to recreate an Alpine lodge. There also may be a cookbook in the offing.
Sadly there are no plans for a permanent restaurant (and we don't blame Jimmy considering all the cool things he gets to do at the moment) so for now, we'll content ourselves with his brilliant pop-up nights.