If you ever wondered how the other half live, just go eavesdropping in Waitrose, otherwise known as 'Britain's Poshest Supermarket'. Or actually, it's officially now known as Britain's 'best' supermarket, according to Which? magazine which just crowned it winner of their awards.
Unlike the riff-raff milling around ASDA or Tesco, these well-to-do customers can often be found around the deli counter fretting over one of their many middle class dilemmas.
Yup according to our favourite new Facebook page Overheard In Waitrose, shoppers can be forced to deal with a number of stressful situations - such as overindulging of manchego cheese, running late to meet the swimming pool cleaner or the ineffectiveness of their latest au pair.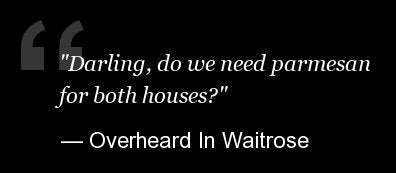 Overheard in Waitrose