If the thought of camping throws up memories of baked beans on toast and Pot Noodles, think again.
Camping food has grown up and the man at the forefront of this culinary coming-of-age is Josh Sutton, author of cookbook Guyrope Gourmet.
His book features more than 90 delicious recipes - most of which can be prepared on a two-hob gas burner - and offers tips and advice for cooking in the great outdoors.
Enjoy.
Grilled sardines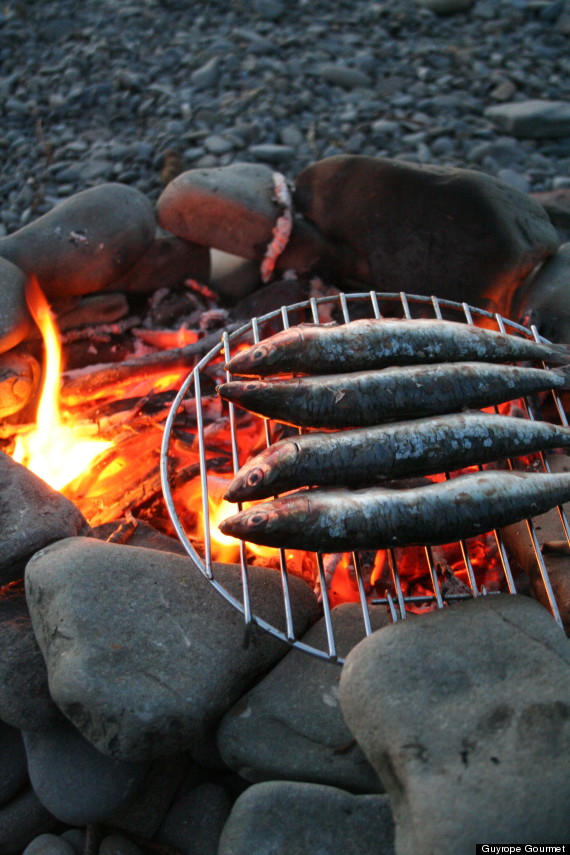 The aroma of freshly grilled sardines always transports me to a chiringuito on a sandy Spanish beach. Seasoned with rock salt and lemon juice, the humble sardine is one of my favourite fish, and because they're naturally oily, they're ideal for the barbecue or an impromptu campfire.
Ingredients
Use 2 or 3 fish per person
Sardines (gutted and cleaned is best)
Rock salt
Lemons
Equipment
A barbecue. If you're cooking on an open fire, be sure to cook over the embers and not on a roaring flame.
You can get away with barbecuing sardines whole, but you'll need to take a little care when eating them so as not to take a bite of the less than palatable insides. Ideally I'd recommend gutting and cleaning the fish first (you can ask the fishmonger to do this – it's a bit messy and not much fun on a campsite!).
Set up your barbecue, and wait until the charcoal has turned grey before cooking. Place the sardines on a grill over the coals and cook for 3 or 4 minutes on each side. Remove to a plate, and dress with a pinch of rock salt and freshly squeezed lemon juice.
Eat the sardines with your fingers, starting at the tail end and working your way towards the head. That way you can simply slide the flesh off between your teeth, leaving the spine and the rest of the bones intact.
Drink suggestion If you want to avoid a horrible metallic clash, steer clear of assertive whites like Sauvignon Blancs. A dry rosé from Portugal or Provence, or a Spanish Rosado, will taste much better.
Tomato salsa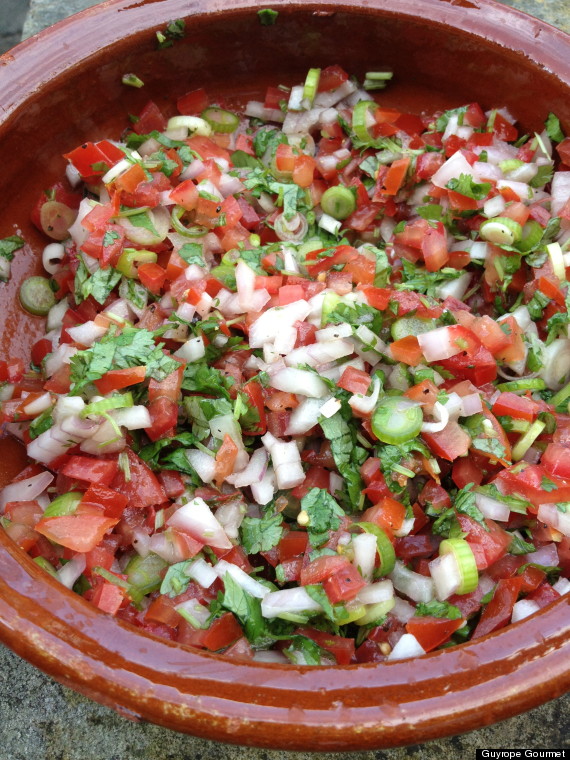 A bit on the faffy side, to use a technical term, but well worth the effort. Tomato salsa is brilliant with snacks, and if you're cooking tuna steaks (see p139) you'd be daft to ignore it. The longer the salsa gets to sit, the more delicious it is, and the key is to chop everything as fi nely as you can. That's why it's faffy, but all that chopping is essential for a good end result.
Quarter and de-seed the tomatoes. Chope them very finelsy and throw them into a bowl together with finely sliced spring onions.
Peel and very finely chope the red onion. Very finely chop the de-seeded chilli and the garlic (notice the word very, in all cases).
Twiet in a good grind of fresh milled black pepper and a pinch of flaked sea sald.
Add the olive oil and the lime juice.
Throw the finely chopped coriander into the bowl.
Stir well and leave to sit for at least 1 hour before serving.
Grilled halloumi with lime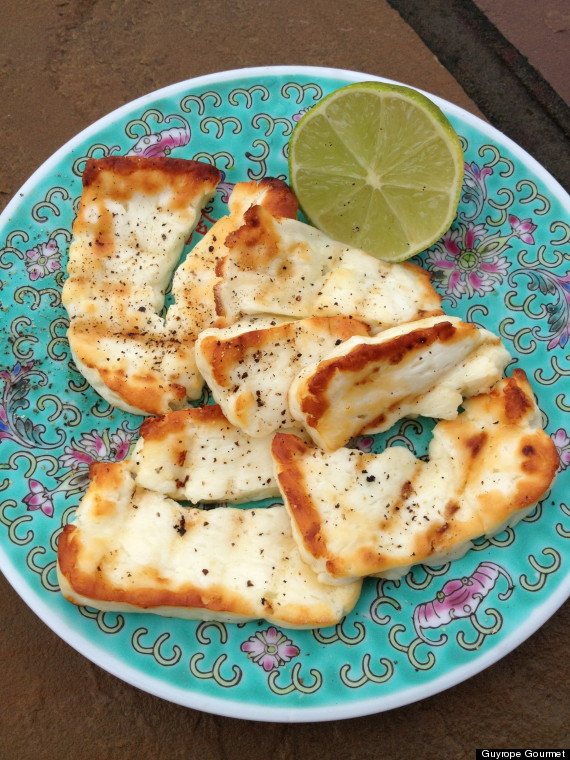 Something magical happens to halloumi when you toast or fry it. It's culinary alchemy, as far as I'm concerned. Virtually inedible in its raw state, the salty Greek cheese transforms into something incredible when cooked and dressed with lime juice. The semi-sweet zing of the citrus cuts through the salt of the cheese to create a mouthwatering delight. A great little tapa!
Serves 4
Ingredients
250g halloumi cheese
1 fresh lime
Fresh ground black pepper
Equipment
Sharp knife, grill
Drink suggestion
A Mexican beer with a wedge of lime in the neck
Slice the cheese and brown it under the grill for a few minutes on each side. Serve warm, drizzled with the juice of the lime and sprinkled with fresh ground pepper.
Linguini "salad" with rocket, toasted garlic and pine nuts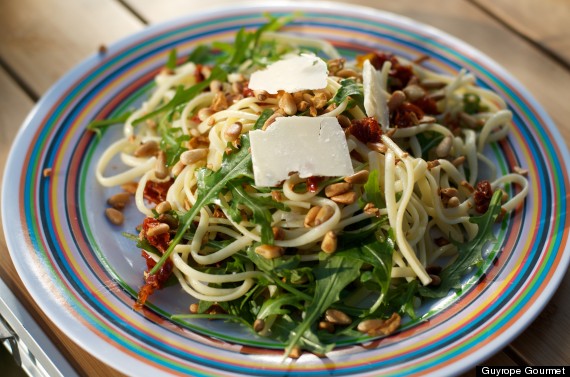 There's something about warm pasta and fresh wilting rocket leaves that I really enjoy. I think it's the peppery bite of the leaves that does it and, when you add the flavours of toasted garlic, the odd pine nut and a few sun-dried tomatoes, this dish really starts to soar.
Serves 2
Ingredients
A glug of olive oil
4 garlic cloves, chopped
50g pine nuts
250g linguini
Sea salt & fresh ground
black pepper
8 fresh basil leaves, ripped
A bag of rocket leaves
4 or 5 sun-dried
tomatoes, fi nely chopped
Shaved Parmesan
Equipment
Saucepan, non-stick frying pan, kitchen paper, large bowl, sieve or colander
Method
Put a pan of salted water on to boil for the pasta.
Heat a tiny glug of olive oil in a non-stick frying pan and add the chopped garlic. Cook gently until the garlic turns golden brown, but be careful not to burn it. Turn out onto a plate and set aside.
Give the frying pan a quick wipe with kitchen paper and toast the pine nuts in the dry pan over a moderate heat. Shake from time to time until the nuts darken, but again don't overdo it. Set the nuts aside with the garlic.
Add the pasta to the boiling water and cook according to the instructions on the packet. When cooked, drain thoroughly and place in a bowl. Season well.
Scatter pasta with the ripped basil leaves and a handful of the rocket and turn with a couple of forks. The heat form the pasta will wilt the leaves and bring out the flavour of the fresh basil. It will smell wonderful.
Next, scatter the garlic and pine nuts over the pasta, together with the chopped sun-dried tomatoes and a twist of black pepper for good measure. Throw another handful of rocket on top and drizzle with a little olive oil from the jar of sun-dried tomatoes. Top with shavings of good Parmesan.
Drink suggestion
Enjoy with a crisp white wine. A Sauvignon Blanc, perhaps.