Love them or hate them, pretty much all tennis observers agree that Venus and Serena Williams have transformed the women's game in a way unseen since Suzanne Lenglen flashed her knickerbockers back in the 1920s.
Now this revealing documentary (an abridged version shown on TV last Sunday, extended version in cinemas from Friday) shows how much work both girls have expended over two decades to maintain their position at the top of the sport.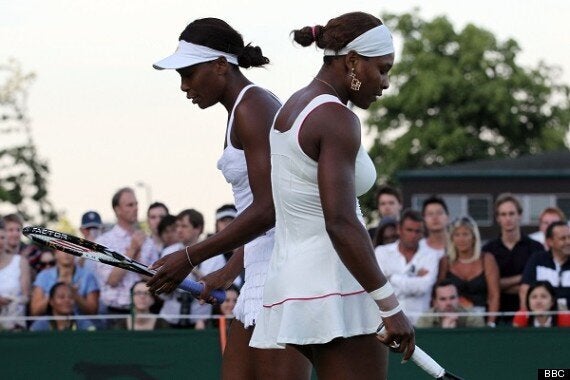 Two sisters who have changed the face of women's tennis
This engrossing tale traces the story from the time two tiny girls started bashing tennis balls around, under the all-seeing eye of father Richard, who'll tell anyone who'll listen that his two daughters are going to be the best in the world.
The film doesn't shirk from the darker sides of the fairytale, including rucks with umpires and playing partners, affording us the sight of John McEnroe offering calm counsel to Serena, advising her to apologise after a particularly truculent court tantrum - probably not something we would have considered likely three decades ago.
There is also mention of the shocking death of sister Yetunde in a 2003 shooting, and the divorce of parents Richard and Oracene, replaced at his side by a Rihanna look-alike. In one of history's great put-downs, all Oracene has to say about her young replacement is a bit of advice - "Run, do not pass go, do not collect $200." Ouch!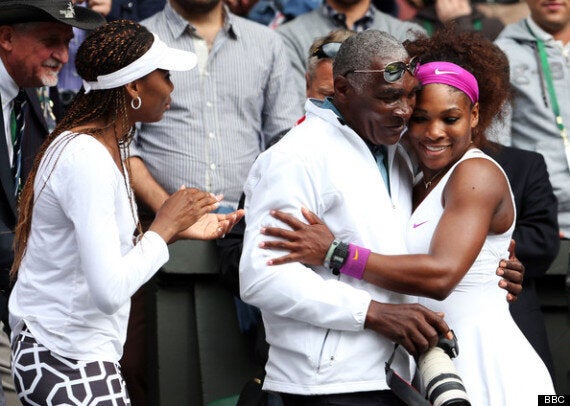 Credit for the girls' stunning success goes for the most part to their tireless father Richard
However, amidst what could easily be a catalogue of distraction - fashion, music and more money than you could shake a racquet at - there is no doubting the girls' commitment to their sport.
The programme charts the gargantuan efforts of both to overcome injury in 2011, in Serena's case a stunning comeback from a near fatal illness. "I hate losing more than I like winning," she explains.
Of the two, it is clear she has more of the killer gene, the rare ingredient needed to be an enduring champion, even if she needed the older Venus to imitate and copy all the way. As she said on collecting her fifth Wimbledon trophy, the same number as Venus, "I've always wanted what she had, always had to copy. Sorry."
While both girls are, separately, a joy to watch, undoubtedly the myth-making aspect remains the sibling rivalry, observing their mother in a no-win situation at court side, as she describes her guilt rooting for one rather than the other, as as no less a luminary than President Clinton vocalises, the pure psychological thrill of watching two sisters play each other.
This was brought home in 2001 when both girls made it to the US Open final and, television chiefs recognising the Shakespearean quality of the occasion, scheduled the women's match in prime time, something unprecedented.
Amateur psychologists can enjoy speculating on the emotions involved, with veterans John McEnroe and Billie Jean King joining in the fun. According to the therapy-speak of BJK, Venus is a protector, a nourisher, thinking, "I know you need this, go for it" about her younger sister.
Meanwhile, McEnroe, who always eclipsed his own brother Patrick, is more succinct, admitting, "I could take lessons from them."
'Venus and Serena' is currently available on BBCiPlayer, and on sale on DVD.