Challenge 2 - The Double Pork Knuckle Challenge.
This mountain of food is laid on at Fulham's Octoberfest Pub, although unfortunately on the day in question there was also a generous helping of obscenely drunk Australian football supporters.
Anyway, back to the food. The challenge consists of two slow-cooked pork knuckles, a mountain of chips, a bowl of potato salad, a bowl of sauerkraut and a litre of lager to be consumed in 45 minutes.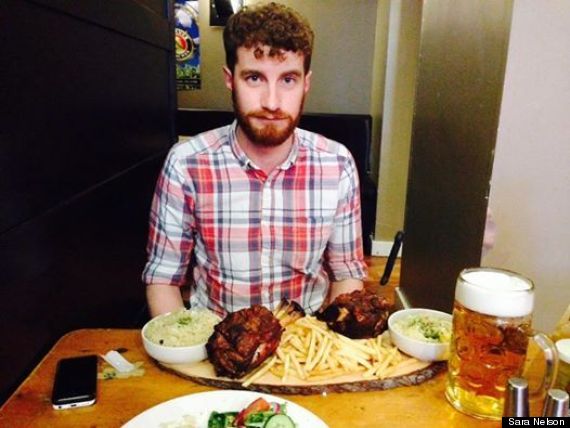 That's a lot of food
That's three kilos of food plus the drink, so much it's basically served on a cross section of a tree trunk rather than a plate.
Did I complete it? Not even close.
I'm afraid after my heroics at the Red Dog Saloon's Naga Viper Hot Wing Challenge, this affair was quite frankly pathetic.
I didn't even feel particularly hungry before the challenge so when it all appeared before me I didn't feel too positive but I gave it a shot.
My plan was to nail the chips first, get the bland stuff out of the way then tuck into the lovely, lovely juicy pork.
Trouble is though, after so many chips everything tastes a little bland - especially sauerkraut and potato salad.
SEE ALSO:

Best Pinterest Fails: These Won't Make The Great British Bake Off
Despite unbuttoning my belt I was defeated just over halfway through - one pork knuckle, most of the chips and the potato salad.
It was a pitiful attempt but I couldn't quite work out if I was truly full or just bored of eating pork.
Turns out I'm not alone though - apparently of the 200 or so people to attempt the challenge only five have ever finished it.
That made me feel a little better as consoled myself with my beer and let out a few porky belches...