Luis Suárez has sensationally bitten an opponent for the third time in four years, after he appeared to sink his teeth into Italy defender Giorgio Chiellini during Uruguay's World Cup Group D win.
Suárez, during a scuffle with Chiellini in the 79th minute, appeared to bite and headbutt the Italian defender, who pulled his shirt up to display bite marks.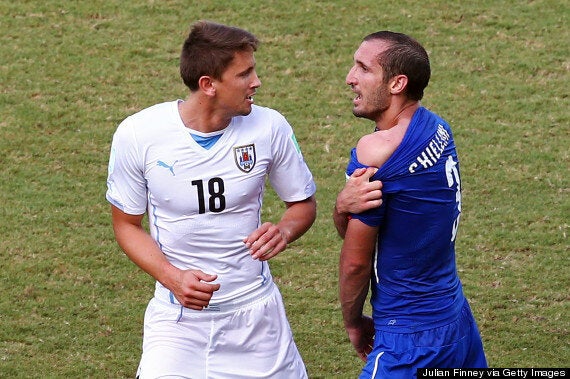 Chiellini shows off his bite marks after his altercation with Suárez
Chiellini elbowed Suárez in retaliation and the Liverpool striker ironically clutched his teeth in agony. Neither player was booked following the melee.
In 2010, Suárez bit Otman Bakkal whilst playing for Ajax against PSV Eindhoven and received a seven-match ban and last year he was banned 10 matches for gnawing at Branislav Ivanović's arm during Liverpool's 2-2 draw with Chelsea.
"It was ridiculous not to send Suarez off. It is clear, clear-cut," Chiellini told Italian television station Rai TV.
"Then there was the obvious dive afterwards because he knew very well that he did something that he shouldn't have done."
Fifa will come under intense pressure to suspend Suárez for the rest of the World Cup after Uruguay defeated Italy 1-0 to qualify for the last 16. The South Americans can play a maximum of four games now they have qualified for the knockout stage.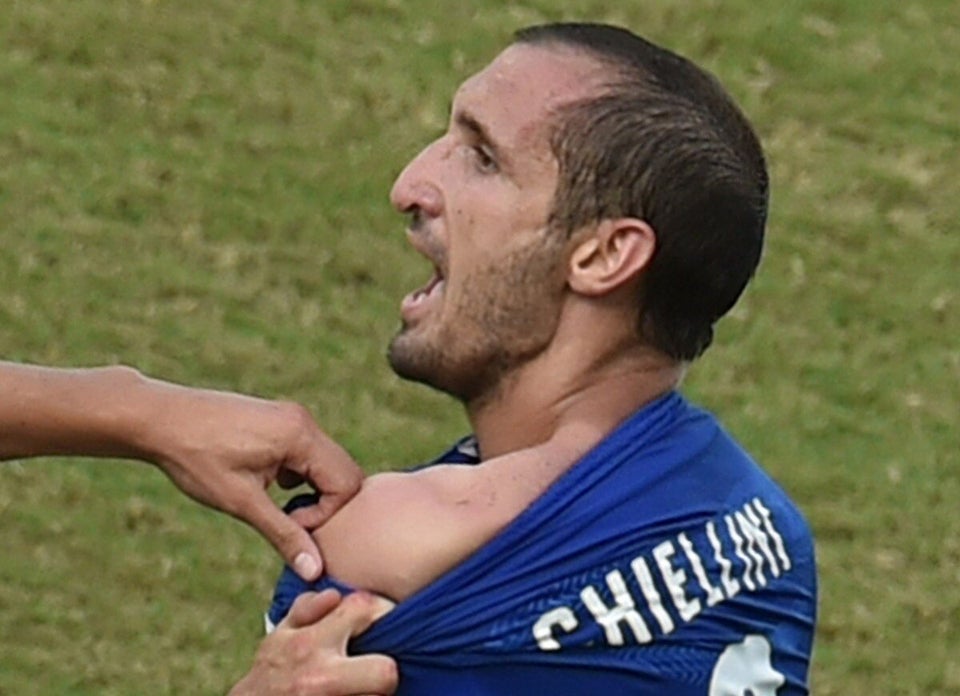 Suarez and Chiellini
Italy midfielder Daniele de Rossi missed four games at the 2006 World Cup for elbowing USA striker Brian McBride and Fifa can take retrospective action against Suárez.
"We're awaiting the official match reports and will gather all the necessary elements in order to evaluate the matter," Fifa said in a brief statement.
Diego Godín headed in Uruguay's winner shortly after Suárez and Chiellini's altercation as Uruguay finished second behind Costa Rica.
Suárez's reaction at the final whistle was telling. The majority of his teammates were jubilant at progression yet the No.9 looked notably subdued.
Only this week Suárez gracelessly suggested after his match-winning display against England that "too many people in England laughed about my attitude over the last few years."
"You should know what happened and I think it was nothing more than the papers," Suárez told an English journalist. "Because everybody knows that I was elected the best player of the year. Even the people in the Premier League voted for me."
Suárez's latest transgression is just the latest in a controversial career which began when he headbutted a referee aged 15. The 27-year-old, who joined Liverpool in January 2011, racially abused Patrice Evra later that year and has served 19 matches worth of suspensions in English football.
The Uruguayan has admitted to diving during his time at Anfield and last summer angled for a transfer away from the club, only to sign a new contract.
However, that has not stopped recent rumours suggesting Suárez is keen on a move away from Merseyside after a fraught three-and-a-half years.