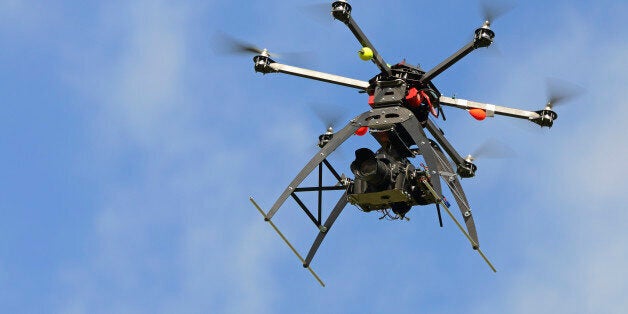 Ordinarily we think of drones in terms of their military application but more recently developers have been assimilating the use of drones into everyday life.
Last December Amazon's Chief Executive, Jeff Bezos, revealed plans to deliver packages with the aid of drones. In May 2014 the BBC reported Easyjet were developing drones to inspect potential damage to their aircrafts, using drones which can create a 3D map of the fuselage to highlight any irregularities. Now the latest development in the drone market comes from the educational sector.
In the Autumn term American students at the University of South Florida (USF) will be allowed to check out drones from their library. So what kind application could they have? In a WFTS News report USF Academic Services Director, Nancy Cunningham suggests: "For example, in architecture, [students] could go over a structure and understand the various dimensions of it without having to look at drawings."
Not everyone though is pleased to see the introduction of the technology at the university. The drones are notoriously difficult to control and often crash. USF student Hermes Milanes said he suspected his peers would "crash it somewhere or cause some sort of accident".
Beside the safety concerns, some students of UFS consider the drones to be a potential intrusion of privacy. Micaela Martinez, a USF student, is worried that the drones may used inappropriately for "creeping on other people".
However, Nancy Cunningham dispels the students concerns, insisting 'you can't just take a drone, check it out and do whatever you want. They're going to be heavily controlled by our library staff.'
William Garrison, USF Libraries Dean, welcomes the addition to university's library, saying, "This renovation moves us into a 21st century library. We're able to provide the latest technology to facilitate student learning and success"
Are the drones really beneficial to learning or are they simply just a gimmick to bolster the university's reputation? I do not subscribe to Nancy Cunningham's suggestion that a student could learn more about the dimension of a building from a drone as opposed to a drawing but there are plenty of legitimate applications for the technology in education. In geography, perhaps students could safely monitor the cycles of active volcanoes or a history student could be taken on a tour of a Medieval castle and ancient ruins from the comfort of the lecture theatre.
Who knows where the drone technology will venture next? One thing is clear; drones are becoming ever more safe and cost-effective ways of mapping the world.
Popular in the Community