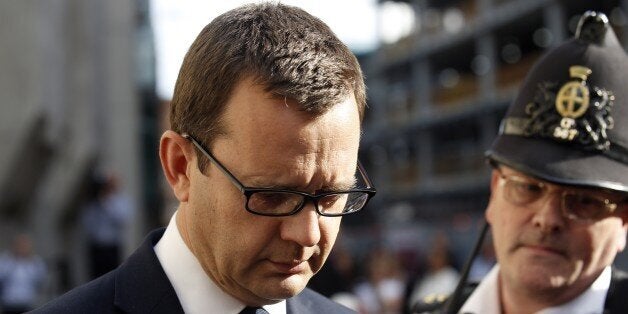 The five things you need to know on Wednesday 25 June 2014...
The (partial) verdicts on the phone-hacking trial dominate the front pages of the papers - but in a (partial) way. The Rupert Murdoch-owned Sun splashes on 'Great Day For Red Tops' over a photo of Rebekah Brooks, who was found 'not guilty' on all charges. There's no mention at all of former News of the World editor and ex-communications director for David Cameron, Andy Coulson, being found guilty of of conspiring to hack into phone messages. The Rupert Murdoch-owned Times goes with 'Brooks not guilty', with only a tiny mention of Coulson on its front page.
The Guardian, on the other hand, which did so much to expose this story, splashes on 'Coulson: the criminal who had Cameron's confidence'. The paper reports:
"Seven years of deceit by David Cameron's former director of communications were undone in the Old Bailey on Tuesday, when a jury found Andy Coulson guilty of conspiring to hack into phone messages... [T]he jury's decision in Coulson's case prompted Cameron to make a rapid and unreserved apology – while Ed Miliband countered that the verdict demonstrated that 'a criminal' had been brought into "the heart of Downing Street"... In a statement, Cameron said: 'I take full responsibility for employing Andy Coulson. I did so on the basis of undertakings I was given by him about phone hacking and those turned out not to be the case. I always said that if they turned out to be wrong, I would make a full and frank apology and I do that today. I am extremely sorry that I employed him. It was the wrong decision and I am very clear about that.'"
The paper also reports that Rupert Murdoch has been "officially informed by Scotland Yard that detectives want to interview him as a suspect as part of their inquiry into allegations of crime at his British newspapers. It is understood that detectives first contacted Murdoch last year to arrange to question him but agreed to a request from his lawyers to wait until the phone-hacking trial was finished... The verdict on Coulson also means that Murdoch's UK company is now threatened with a possible corporate charge..."
Cameron, meanwhile, will have to defend his clearly dodgy judgement on all of this - especially at today's Prime Minister's Questions in the Commons at noon. He has some serious questions to answer. What level of official vetting did Coulson receive when he went from working in CCHQ to Number 10 Downing Street? What specific questions on hacking did Cameron ask Coulson? Why did the PM cling on to his under-fire comms director for so long?
For Ed Miliband, who's had a tough week, it's an open goal. He won't be forgiven by his backbenchers, or supporters in the country, if he misses.
For the Lib Dems, it's a moment for more differentiation. Business Secretary Vince Cable said this morning that he wouldn't have appointed Coulson to the Number 10 post. "The Conservatives make their own appointments in government," he told Sky News. "We're not in any way involved in it. But I think we now need to focus much more on the victims."
On a related note, this September 2010 New Statesman column by me, on Coulson, which concluded "Cameron would be well advised not to become too reliant on the services of this particular spin doctor", is worth a read. I think it's stood the test of time...
For years we've been told by eurosceptics that the '3m jobs depend on the EU' is a myth. Well, maybe not. From the Telegraph:
"Danny Alexander, the Liberal Democrat Chief Secretary to the Treasury, will today inflame tensions in the Coalition by disclosing Treasury figures showing how Britain relies on the EU. He will say that the Treasury has calculated that 3.3million jobs are connected to Britain's continued membership. The disclosure, which will anger senior Conservatives, comes the day before David Cameron travels to Brussels for a clash with EU leaders over the appointment of Jean–Claude Juncker as president of the European Commission. The Daily Telegraph understands that aides to George Osborne, the Chancellor, did not want Mr Alexander to make public the findings in the Treasury analysis.
3) ZERO TOLERANCE OF ZERO HOURS
Is the business secretary cracking down on zero-hours contracts? Labour has its doubts. The Guardian reports:
"Vince Cable has warned 'unscrupulous employers' that he would ban clauses in zero-hours contracts that prevent workers from accepting shifts with more than one employer. The business secretary said legislation to be introduced Wednesday would give more flexibility to workers currently forced by draconian contracts to work for a single employer even when they get few paid hours. But Labour and anti-poverty groups accused him of letting down people on the fringes of the workforce who suffer insecure employment, with plans for only limited improvements in workers' rights."
BECAUSE YOU'VE READ THIS FAR...
Watch this video of a Doberman versus a... kitten!
4) THE IRON (SHADOW) CHANCELLOR?
Ed Balls is intent on showing his critics he is prudent and responsible and restrained. Today, the shadow chancellor force a Commons vote on Labour's plan to have the Office of Budget Responsibility audit the manifesto pledges of any political party which has secured more than 5% of the vote.
In an article for PoliticsHome, Balls wrote: "In tough times it's even more important that the policies of all the parties are properly costed and funded. People rightly want to know that the sums add up."
Here in Britain we've had the discredited Tony Blair popping us up to lecture us on Iraq; in the US, the equally-discredited Dick Cheney has been re-appearing on the airwaves to lecture us (fear-monger?) on terrorism - from the Daily Mail:
"Former vice president Dick Cheney believes that a terrorist attack even worse than the destruction of the twin towers on September 11, 2001 is probable before the end of the decade. Cheney appeared on Hugh Hewitt's radio show on Tuesday and was asked if he thought the United States would 'get through this decade without another massive attack on the homeland.' 'I doubt it,' Cheney said. 'I think there will be another attack and the next time I think it's likely to be far deadlier than the last one. You can just imagine what would happen if somebody could smuggle a nuclear device, put it in a shipping container, and drive it down the beltway outside Washington D.C.'"
The fact remains that the biggest, deadliest terror attack on US soil happened on Cheney's watch...
From the Sun/YouGov poll:
That would give Labour a majority of 32.
Daniel Finkelstein, writing in the Times, says: "Cameron will pay a price for hiring Coulson."
Andreas Whittam Smith, writing in the Independent, says: "Rupert Murdoch should bear some responsibility for the crimes that the phone-hacking trial uncovered."
Mary Riddell, writing in the Telegraph, says: "The shockwaves of terror must not bend the sacred rule of law."
Got something you want to share? Please send any stories/tips/quotes/pix/plugs/gossip to Mehdi Hasan (mehdi.hasan@huffingtonpost.com), Ned Simons (ned.simons@huffingtonpost.com) or Asa Bennett (asa.bennett@huffingtonpost.com). You can also follow us on Twitter: @mehdirhasan, @nedsimons, @asabenn and @huffpostukpol
Popular in the Community