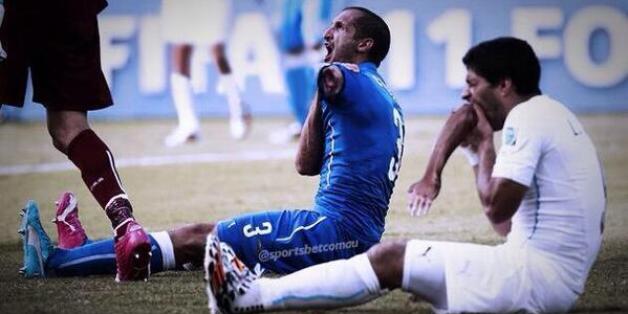 twitter.com/bigcreds
Now here was something for Twitter to get its teeth into (geddit?!). Uruguay's star player Luis Suarez biting Italy defender Giorgio Chiellini during their World Cup game on Tuesday night.
The event was like a red rag to a bull - or Suarez to a man's flesh - for the funny folk of Twitter. Photoshop gags ensued:
After unusual overnight deal with FIFA not to ban him from World Cup, a contrite Suarez appears at press conference. pic.twitter.com/UIzZCSmXRZ

— Brandy Snap (@Brandy_Snap) June 25, 2014
BREAKING: Luis Suarez has this morning been captured by Brazilian Police. pic.twitter.com/b4ap5TB9DN

— BBC Sporf (@BBCSporf) June 25, 2014
For me there are 3 options available to help Suarez -1.get him professional help 2.pull out his teeth & 3. see pic pic.twitter.com/NCEZn1j53s

— BK Matewe (@bkmatewe) June 25, 2014
Ha ha ha ha! This is a good one #Suarezpic.twitter.com/YcXKGD2nPY

— Neil Sanghavi (@NeilSanghavi) June 25, 2014
#SBNationNightmareFuelhttp://t.co/taeB6aYvnypic.twitter.com/Sr9sz8YBhl

— SB Nation (@SBNation) June 25, 2014
Here is a heartwarming pic of Luis Suarez getting ready for his 1st ever school trip. pic.twitter.com/acn4Fnzkc5

— Mike Toolan (@Toolyboy) June 25, 2014
Welcome to Chez #Suarez - we now have Italian on the menu. #ITA#URU#PlayersOnTheSuarezMenu#Chiellinipic.twitter.com/vJ8Qk44rVV

— Ryan Owen Gibson (@ryanowengibson) June 24, 2014
Finally, a picture of the Suarez incident that's not photoshopped. pic.twitter.com/xlMSi3YE5i

— Marco Credentino (@bigcreds) June 25, 2014
As did Gifs:
Luis Suarez's agent this morning... http://t.co/WfbCA5WeKI

— Paddy Power (@paddypower) June 25, 2014
Vines:
"Chiellini, what did Suarez do to you?!" http://t.co/o26ZnEoYuo

— Sunday League (@SundayShoutsFC) June 25, 2014
And of course, some witty one-liners:
Does that mean he's turned that other player into a Suarez now too?

— Gráinne Maguire (@GrainneMaguire) June 25, 2014
Luis Suarez is hoping that Uruguay meet Germany in the final as he said he would like to try a shoulder of Lahm.

— Dan (@ehdannyboy) June 25, 2014
They should THROW THE BOOK at Suarez. And see if he catches it in his mouth. And then returns it.

June 25, 2014
Suarez needs to go and lie down in his basket and think about what he's done.

— Moose Allain (@MooseAllain) June 25, 2014
Suarez needs to be walked often and he needs to be around other footballers more. This sort of behaviour is typical of a nervous footballer.

— Col (@Bigshirtlesscol) June 25, 2014
World Cup fact - Suarez will be able to continue playing but he might have to wear one of those big plastic funnels round his head x

— noel fielding (@noelfielding11) June 25, 2014
I hope Suarez is OK after being viciously shouldered in the teeth. #WorldCup

— Damien Owens (@OwensDamien) June 24, 2014
Imagine how bad Suarez's bark is.

— Jason (@NickMotown) June 25, 2014
Yeah, everyone's doingjokes about Suarez, but in 7 days time when every city is deserted and most of us are undead, who'll be laughing then?

— Lisa (@BiscuitAhoy) June 25, 2014
I once went fishing with Luis Suarez. Didn't catch any fish, but got plenty of nibbles.

— Adam Hills (@adamhillscomedy) June 25, 2014
More important than banning Suarez for a few matches is to give him anti-rabies vaccination before each tournament - so that others are safe

— The Bad Doctor (@doctoratlarge) June 25, 2014
When most men explain the off-side rule, it's usually the ketchup intercepting the salt. With Suarez it's the fava beans and a nice chianti.

— Mitten D'Amour (@PFPTMillsy) June 25, 2014
To be fair, it is lunchtime.

— HoustonDynamo (@HoustonDynamo) June 24, 2014
I imagine #suarez knew he was in trouble when Mike Tyson turned up outside his camp with a fishing rod and some chicken.

— @nd®é™ (@AndreTheViking) June 25, 2014
In fairness, if you had a child who repeatedly bit other children & refused to change their behaviour, you'd have no choice but to sell it.

— Colm Tobin (@colmtobin) June 24, 2014
'FIFA are launching an investigation into allegations that Suarez bit an opponent.'

Don't FIFA have a telly?

— rab livingstone (@rablivingstone) June 25, 2014
Suarez: If I was a betting man, my money would be on "FIFA Disciplinary Committee doesn't meet until the day after the World Cup Final"

— Alistair Coleman (@scaryduck) June 25, 2014
Following a full and transparent investigation, FIFA have announced that Luis Suarez will host the 2026 World Cup.

— Primly Stable (@PrimlyStable) June 25, 2014
Cameron stands by Suarez: "I've been given no actionable information & I accept his assurances that he knows nothing of biting Chiellini."

— Martin Shovel (@MartinShovel) June 25, 2014
No-one seems to be offering Suarez a shoulder to cry on.

— beaubodor (@beaubodor) June 25, 2014
As it's the third time Suarez has apparently done this, we suggest a new journalism rule: 'Suarez Bites Man' is not news. 'Man Bites Suarez' is.
PICTURE: Check Out This Pub's Brilliant Suarez Sign