Beyoncé and her rapper husband Jay Z kicked off their co-headlining 'On The Run' tour in Miami on Wednesday night, with the pop diva working her way through a series of outfits, each more revealing than the last.
The high-power couple managed to whizz through a setlist consisting of 42 (yes, 42!) of their best-known hits, performing their songs as individuals as well as duetting on their collaborations such as 'Crazy In Love', 'Drunk In Love' and 'Bonnie And Clyde '03', which opened up the show.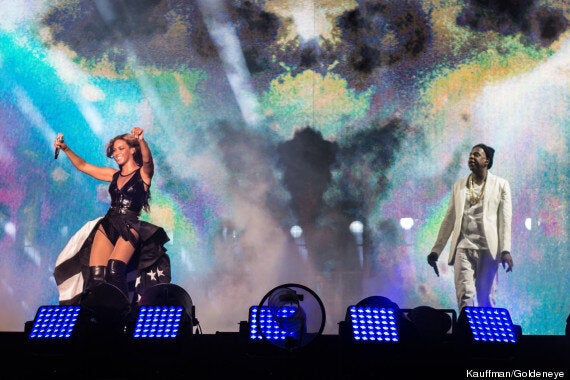 Beyoncé and Jay Z performing in Miami
It wasn't just songs they were getting through at a rapid pace, though, as it wouldn't be a Beyoncé show without a whole range of extravagant stage outfits, which included leotards in both leather and lace.
The famous couple appear on stage together during the 'On The Run' tour
The 'On The Run' tour sees Beyoncé belting out a number of songs from her self-titled album released last year, which has been described as her raunchiest album ever by some fans, so it was only fitting that she turn up the heat with her costumes too.
When performing her single 'Baby Boy', the diva puts on a real show with some provocative choreography, alongside her troupe of female dancers, all wearing leotards with cut-outs that showed off her bum.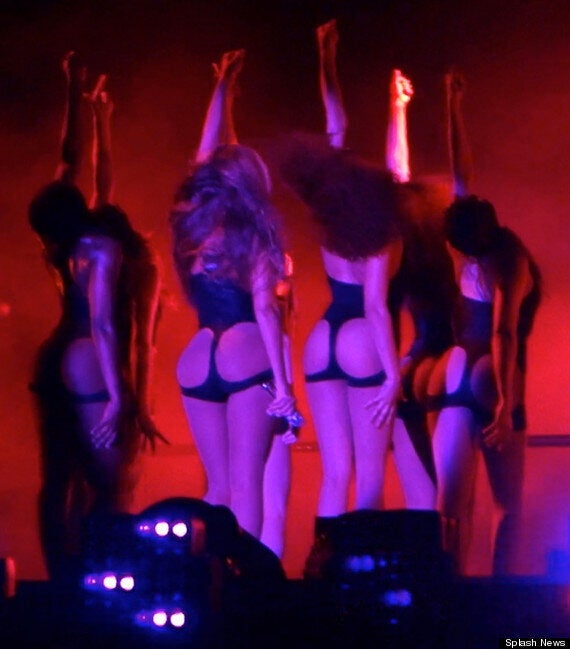 Beyoncé wears a provocative cut-out leotard
Meanwhile the couple also treated their fans to a never-before-seen clip of their wedding video during the concert, while also playing home movies of them with their daughter Blue Ivy on screens during the course of the night.
The fifth anniversary of Michael Jackson's death fell on the same night as the couple's first co-headlining concert, and the King of Pop was referenced throughout the evening.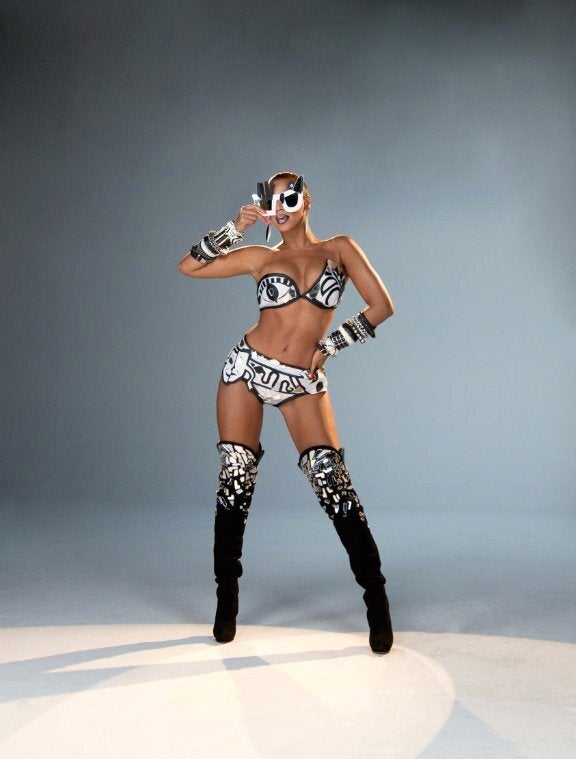 Beyonce: 100 Sexiest
href="http://www.facebook.com/HuffPostUKEnt"target="_hplink">LIKE US ON FACEBOOK

| FOLLOW US ON TWITTER
Popular in the Community