The USA and Germany's World Cup fixture today consists of two German coaches managing the two teams best placed to qualify from Group G with a draw guaranteed to take both nations through to the knockout stage. USA coach and former Germany manager has already said the Americans will not play for a draw, but in the immediate aftermath of Silvestre Varela's equaliser against his side on Sunday, the "Disgrace of Gijón" inevitably reared its ugly head.
Said disgrace was the 1982 World Cup group game farce between West Germany and Austria. If Austria avoided defeat, or if West Germany won by three goals or more, Algeria were through. A 1-0 West German win, though, meant both they and Austria would qualify for the second group phase at the expense of Algeria. Lo and behold, West Germany won 1-0. An Algerian fan flashes money at players amid cries of "fix"
West German forward Horst Hrubesch's goal in the 10th minute preceded a mundane, diplomatic affair which compelled German ARD commentator Eberhard Stanjek to refuse to comment on the game at one point, Algerian fans to wave money at the players and a German fan to burn the national flag.
ITV's Hugh Johns was appalled. "A few seconds on Bob Valentine's watch between us and going-home time. And what a relief that's going to be. Breitner for Briegel for Stielike, names that run off my tongue at the moment and leave a nasty, nasty taste. Stielike … quality players who should all be in the book of referee Bob Valentine for bringing the game into disrepute. This is one of the most disgraceful international matches I've ever seen."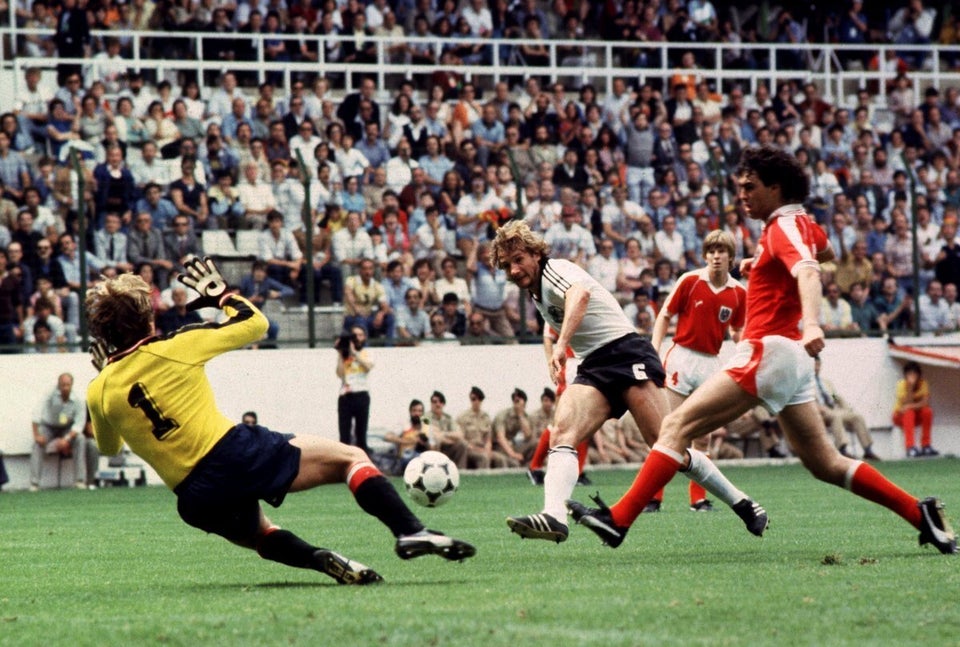 Disgrace of Gijon