However, the FA Cup winners are linked with an array of European players this morning. Bayern Munich's Mario Mandžukić, a dead man walking for nearly a year after it emerged the Bavarains would be bringing in Robert Lewandowski, has cropped up again now Croatia are out of the World Cup.
Lewandowski will join Bayern next month and the club have already extended veteran forward Claudio Pizarro's contract. For a team that occasionally plays without a striker, all signs point to a Mandžukić exit, especially after his supposedly questionable attitude cost him a place in the German Cup final squad.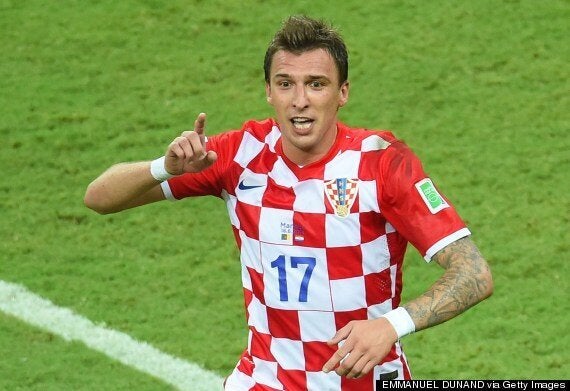 Mandžukić is likely to leave Bayern this summer after two years at the club
Wenger could also look elsewhere in Germany to bolster his flimsy midfield. Arsenal reportedly offered Bayer Leverkusen £15 million for Lars Bender last year and could increase their offer for the German midfielder this summer.
Bender pulled out of Germany's World Cup squad through injury, so there is no need to wait for Die Mannschaft's exit or triumph in Brazil.
And Loïc Rémy, guest of Sagna at the Emirates Stadium on the penultimate day of last season, has re-emerged as an attacking antidote for Wenger.
Nicklas Bendtner and Park Chu-young finally bid farewell last month while Yaya Sanogo's rawness and impotence, as well as the over-reliance on Olivier Giroud, suggests Arsenal need to bring in two strikers.