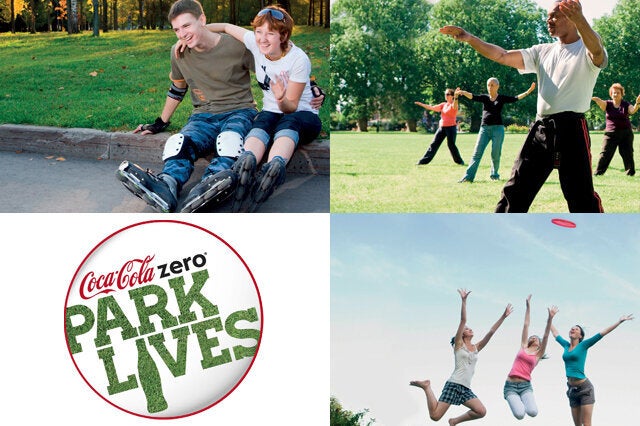 What's not to love about summer? Plenty of sunshine, lots of family time and, best of all, enjoying the great outdoors.
Coca-Cola Zero's ParkLives initiative is a programme of fun and free activities in parks across the UK that will have you and your family leaping into action and moving like never before - from learning Zumba samba moves to cycling - all summer long.
Launching in Birmingham, Newcastle and London this June to September - with the aim of getting one million people active by 2020 - Coca-Cola Zero ParkLives is a jam-packed programme of informal activity sessions for your family and friends to help you make the most of summer.
With something for everyone to enjoy, Coca-Cola Zero ParkLives will have you running, dancing, cycling, walking, stretching and hula-hooping your way through summer. Part of Coca-Cola Great Britain's commitment to tackling the global issue of obesity, it's a fun chance to get moving and active, an important step in getting you closer to a happier, healthier lifestyle.
Anyone can join in the family-friendly activities; whether you're looking to try out something you've never done before like Pilates or Tai Chi, or you're a busy new mum who wants a baby-friendly, safe post-natal workout (and a chance to meet some new friends). You can pick up the pace on a group run, perfect your tennis serve or badminton stroke on the court and jump into the varied team sports on offer, from football and basketball to rounders and cricket.
Suitable for beginners and individuals of all activity levels, with classes for adults and children, Coca-Cola Zero ParkLives offers something for everyone: a bit of relaxation and meditation, a fun way to spend a Saturday with the kids, some sporty action, cardio and toning or a chance to learn more about your favourite park (yep, there are conservation and forest school activities, too!).
Coca-Cola Zero ParkLives, delivered by Active Parks Birmingham, includes activities like Zumba, Tai Chi, fitness training, running, cycling, canoeing and rowing across Birmingham's favourite parks.
Children can get creative with Spray Art workshops in the skatepark, move to the music with Fizzical Dance (suitable from eight years old) and test their batting skills with rounders (from age 14), and the whole family can join in activities like Orienteering, which introduces navigational skills, and Edible Garden, where you can learn growing techniques to help support your community allotment.
The Birmingham parks also offer Green Fit Baby activities, which allow parents to exercise alongside their babies in pushchairs and prams (including exercises that are safe and suitable for post-natal women). After the classes, mums and babies can stay for a friendly cuppa and some conversation.
Find out more about the available activities on offer at parklives.com
Powered by Active Newcastle, at Coca-Cola Zero ParkLives events across Elswick, Gosforth, Ouseburn, Blakelaw, Hodgkin, Paddy Freeman's and Tyne Riverside parks this summer, you can improve your ball skills with rugby, basketball and football, stretch your limbs with yoga and cheer your heart out with Park Cheer and Streetcheer, a fun and funky workout that fuses cheerleading moves with street dance.
Active Newcastle activities also include plenty of women's fitness groups for all ability levels, like running, tennis, netball and women's and girl's soccer – a great chance for mums and daughters, sisters and friends, to bond on a Sunday afternoon.
Don't forget to bring the whole family along to Coca-Cola Zero ParkLives' London-based events in partnership with Newham London, which offers an amazing selection of activities for teens and adults.
Activities include Chase the BOLT, a running activity that involves searching for clues and is suitable from 14 years, cricket group coaching and games (from age eight), running, rugby league and rounders for teens and Quadkids, a social fitness session for children.
Adults of all ages can learn the Nordic walking technique, enjoy social walks and active running sessions, try out a bowling taster class or an energising outdoor boot camp.
So go on, have a go - throw that Ultimate Frisbee, get your wiggle on at a hula-hooping group or enjoy a lovely walk through your favourite park while meeting new people and joining in the heart of your local community. Our instructors can help you with the basics of a new activity as well as improve and perfect your skills and techniques in a favourite sport. Once you start, you'll be having too much fun to stop!
The more you move, the happier and healthier you'll feel and there's no better way to spend the summer months than enjoying the outdoors with family and friends.
These activities are on your doorstep, offering tons of interesting and exciting ways to be active and something new to try out every week - it's easy, fun and free.
Just grab your trainers and get going - see you there!