Most magazines reinforce their cache by the type of celebs they can get on their front covers.
But perhaps they've been going about it the wrong way: rather than gunning for Victoria Beckham or Angelina Jolie, more editors should be following in the path of Australian Women's Weekly and feature a truly exceptional person.
One such woman who has graced the cover of the magazine's July issue is burn survivor Turia Pitt who has 65% of burns all over her body.
Pitt hasn't sold millions of box office tickets or posed in designer gear; three years ago, she was running an ultramarathon (which is pretty exceptional in itself) when she tragically got caught in the middle of a bush fire in Kimberley, western Australia.
She underwent 100 surgeries and spent more than 864 days in the hospital fighting for her life. She also lost all her fingers on her right hand, and her partner had to give up work to care for her full time.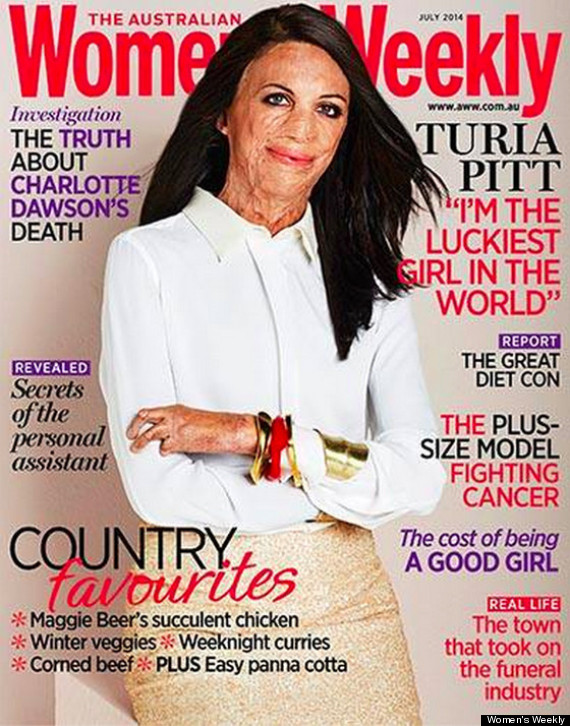 What does the magazine win mean for her?
"Being on the cover of the Australian Women's Weekly is a huge honor. I feel very humbled," she said. "For me, it sends the message that confidence equals beauty. There are a lot of women out there who are so beautiful but don't have the confidence, and that's what gets you over the line."
Pitt has taken a terrible incident and turned it into something inspirational. The mining engineer is a motivational speaker and author, and she is also a member of Women's Weekly judging panel for the annual Women of the Future scholarship awards.
SEE ALSO:

These Kids Prove There's Nothing Sissy About Throwing 'Like A Girl'
After Pitt was photographed as part of the panel, Women's Weekly editor-in-chief Helen McCabe decided to put her on the cover.
"When Turia was photographed as part of our Women of the Future judging panel among a group of similarly impressive Australian women, it was clear from the moment she sat in front of the camera that the July cover had to belong to her," says McCabe.
"Any attempt to describe the magic and beauty of Turia seems to get lost in platitudes or clichés. Yet I have never met a more remarkable person."
We have to agree, and we couldn't be more pleased to kick off our month of Month of Determination - 31 days of people telling us their stories of how they overcame personal adversity.
If you have a personal story you'd like to share or know someone who does, email us or tweet @HuffPoLifestyle.