Monty Python fans will soon be making their way to London's O2 arena for tonight's highly-anticipated reunion of the Pythons, live on stage.
But die-hard fans of John Cleese, Michael Palin, Terry Gilliam, Terry Jones and Eric Idle will be disappointed to learn one perennial favourite is not on the bill - the Ministry of Silly Walks will not be making an appearance.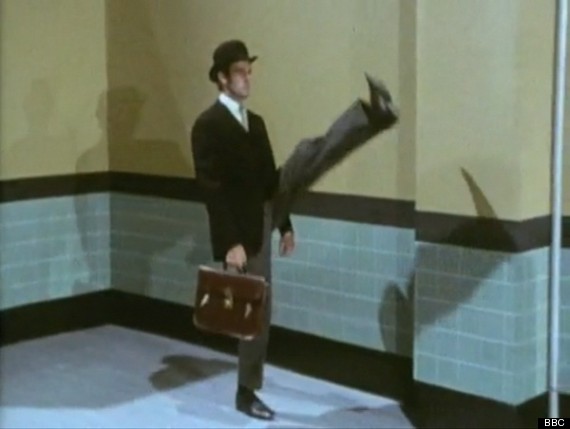 Remember this? John Cleese's joints are no longer up to the job, sadly
The reason is simple... John Cleese's legs are no longer up to the job. The comedic actor and writer, now 74, explained in a documentary broadcast on the eve of the Python's reunion that it had become increasingly difficult for him to perform the acrobatics required of the gags, and now he finds it impossible - "because of my various operations".
But there will be some Silly Walks on show tonight at the O2. In Cleese's absence, the show's dancers have stepped in and will be incorporating the same kind of silliness into their routines, choreographed by 'Strictly Come Dancing' alumna Arlene Phillips.
EXCLUSIVE INTERVIEW: Michael Palin reveals pre-gig fears - 'I don't know why the Spanish Inquisition is funny'
The sketch originally appeared in Monty Python's Flying Circus, episode 14, and involves John Cleese as a bowler hatted civil servant in a fictitious British government ministry responsible for developing Silly Walks through grants.
Some old favourites will be show tonight, though, including the Lumberjack Song and the Dead Parrot sketch.
In 2005, the Ministry of Silly Walks was chosen by a poll taken in Britain as the 15th greatest comedy sketch of all time (and one of five Monty Python sketches in the top 50).
Did you enjoy this sketch, or do you think, like John Cleese, it's a bit silly? Share your thoughts below...
It may not be on the bill tonight, but here it is now - in all its full, nonsensical glory, along with some other Python favourites...
Monty Python Live (Mostly) - One Down, Five to Go begins its 10-night run at the O2 Arena on 1 July.
LIKE US ON FACEBOOK | FOLLOW US ON TWITTER