'Sherlock' fans - don't hold your breath.
That's the message being given by Martin Freeman, who plays John Watson, alongside Benedict Cumberbatch as Holmes, in the hit series based on Sir Arthur Conan Doyle's novels.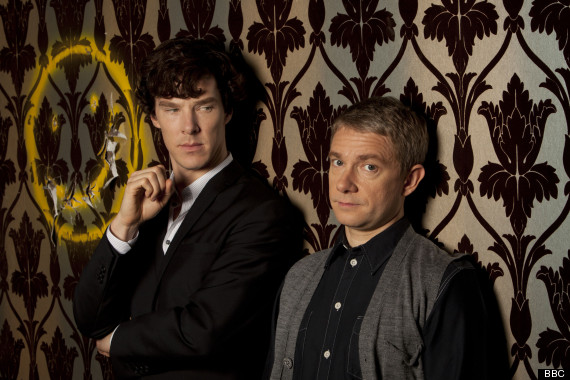 Benedict Cumberbatch and Martin Freeman's stars have risen since Sherlock's debut
Martin, put on the spot during an interview with the Telegraph, hinted - "off-message" - that the next instalment of the series would probably be a Christmas special, timed for broadcast next year.
Series co-creator Mark Gatiss had previously said there would be a full fourth series of the show, but it looks like the burgeoning careers of both Martin and Benedict have made this increasingly unlikely.
Martin has found success on the big screen as 'The Hobbit' in Peter Jackson's blockbusting trilogy, and in the US in the television adaptation of 'Fargo', while Benedict is all booked up - currently filming 'Black Mass' with Johnny Depp in Boston, having just completed a biopic on codebreaker Alan Turing called 'The Imitation Game' alongside Keira Knightley.
Better news for 'Sherlock' fans is that Amanda Abbington, Martin's partner on and off-screen, is set to reprise her role of Watson's wife Mary in any upcoming episode - according to Martin, anyway.
He said: "While we play fast and loose with the original stories, we generally follow the trajectory of what Conan Doyle did.
"So he [Watson] gets married, and then Mary dies - so at some point presumably she'll die."
Come on, chaps - nothing you do on the big screen can compete with this. Get back to your roots!
LIKE US ON FACEBOOK | FOLLOW US ON TWITTER