Monty Python took to the stage last night in London for the first time in four decades, and for what they have confirmed will be their last live tour together.
The Pythons are a busy bunch - Terry Gilliam and Terry Jones both directing, John Cleese performing his one-man stand-up 'Alimony' tour to pay for his divorce, Michael Palin writing and acting both, and Eric Idle counting his Spamalot millions.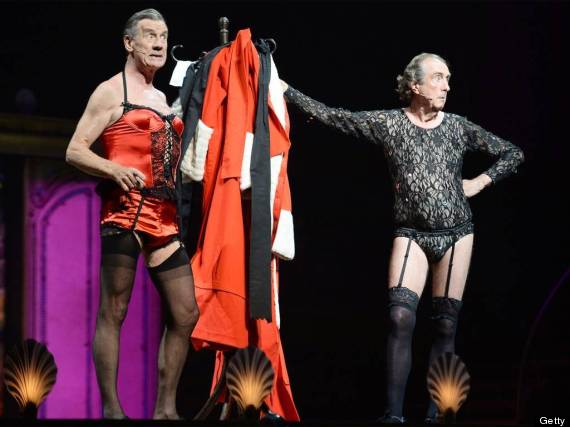 Michael Palin and Eric Idle turn it on for the fans
In a documentary aired at the weekend, they all admitted there had been little time to rehearse, and no time to write new material.
Michael Palin expressed his own fears to the HuffPostUK, but also realised they would be borne along on a tide of goodwill from fans who've been waiting a long time to see their favourites again.
And so it transpired.
The Telegraph's Dominic Cavendish was very pleased with his evening out with the Pythons. "John Cleese was hoarse, Terry Jones relied on cue-cards and at times they looked lost amid the spectacular. But none of that really mattered. The Pythons came, they doddered, they conquered.
"The live material looks far more golden than olden, reminding us at every turn of the debt we owe them… the mash-up finale of Dead Parrot Sketch and Cheese Shop is worth the price of admission alone." Read full review here...
The Guardian's Peter Bradshaw was more muted, but respectful.
"The sketches are old – of course they are, and you'd have to have a heart of stone not to enjoy hearing them again just a bit, though the campy jokes about men with silly effeminate voices and ladies' underwear have dated. Not a great deal of effort has gone into updating the script…
"But maybe period flavour is part of the point. These sketches come from a time when some men really did go to work wearing bowler hats.
"Everyone wants the Pythons to do the classic stuff and so they did. If Abba reformed, nobody would expect them to avoid Dancing Queen… And in fact the whole concept of the Python team doing new material is almost meaningless to fans and non-fans alike. Read full review here…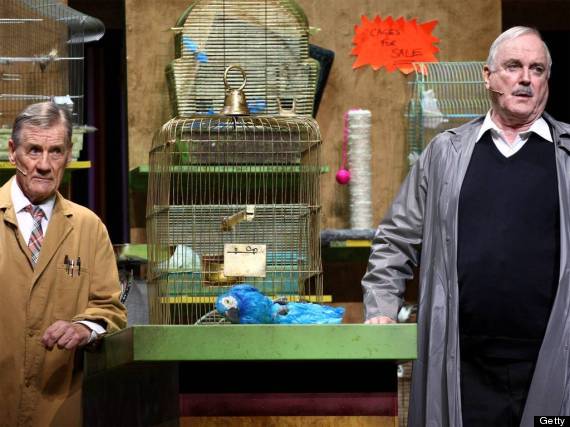 Michael Palin and John Cleese perform the Dead Parrot Sketch
The Independent's John Walsh was more damning. He gave two stars for "elderly, much-loved and much-seen sketches revivified in their mid-70s glory.. Some of the old sketches are still very funny. But WT Actual F? Have we been dragged to the O2 at vast expense to watch material you can find on the DVD.
"But this is desperately lazy production, resting on its laurels, uninterested in showcasing new material, relying on TV footage and the whooping adulation of an audience who know all the words." Read full review here…
And the Mail's Quentin Letts reported how "Five tuxedo'd old geezers, necks like tortoises, creaked and croaked through a patchy night of their greatest hits.
"Once they were the sharpest thing in satire. Last night, quite often, they looked and sounded like a dodgy tribute band."
But this show is already critic-proof. With a catalogue of old, familiar sketches and the audience shouting along with words they know all too well, it seems as though the Pythons aren't interested in converting new fans, but pleasing old ones.
And with nine shows left, and tickets selling - literally - in seconds, there'll be a lot more coins in the bank for the various Pythons, and even John Cleese may finally be able to pay off his ex-wife.
Will you be going to see Monty Python live? Is this reunion a good thing? Share your thoughts below…
Until July 20. Tickets: 0844 856 0202; montypythonlive.com
LIKE US ON FACEBOOK | FOLLOW US ON TWITTER