Bianca has been having a tough time lately in 'EastEnders' and things aren't getting any better for the market stall trader, who is forced to ask Terry for help in tonight's (Thursday 3 July) show.
The hour-long 'EastEnders' special sees Bianca crumble under the pressure of her mounting debts, leaving her crying on Terry's shoulder.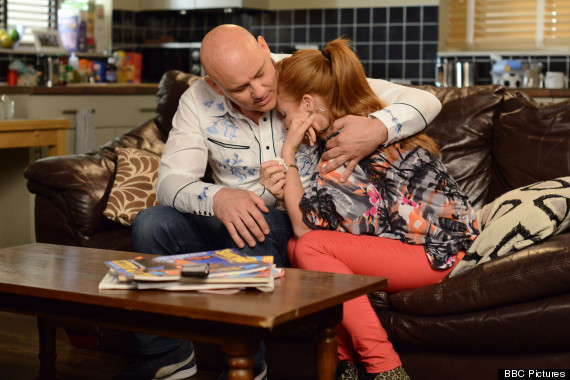 Bianca and Terry
The arrival of a loan shark demanding cash is too much for Bianca to handle, and her mother Carol - who is currently battling cancer - becomes even more stressed when she finds out her daughter's financial troubles.
A row with Sonia doesn't help either and poor Bianca is forced to ask Terry for help.
However, Terry has enough problems of his own and is currently trying to work things out with Nikki, who is desperate to get back with him.
Elsewhere in the Square, the Beale family are still struggling to move on following the murder of Lucy while Mick Carter is set to land himself in trouble when he tries to help out Ian.
Watch 'EastEnders' on BBC1 at 7.30pm on Thursday 3 July to see the action unfold.
LIKE US ON FACEBOOK | FOLLOW US ON TWITTER