Feel like a nostalgic wallow through one of cinema's most romantic wartime tales, brought freshly to life with songs and music?
Tim Rice's musical version of 'From Here To Eternity' will be released in 170 cinemas across the UK and Ireland tonight, giving fans the opportunity to experience the critically acclaimed show in their local cinema.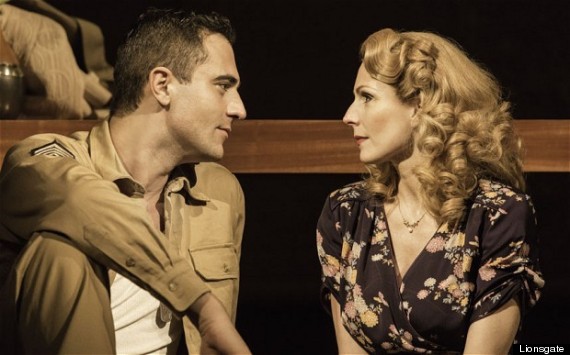 'From Here To Eternity' is back in the cinemas
Double Oscar-winner Sir Tim, who also penned the lyrics for the show, is convinced that cinema-goers will not lose anything in the move from stage to big screen, and might actually gain from it.
"We've had a chance to tweak with the orchestration so it sounds top-notch," he admits, "and we've also been able to edit the piece. So hopefully viewers will enjoy a pace, a slickness… and also I'm delighted that it will be reaching a much bigger audience."
For Tim, with a bagful of musical hits, Awards and record-breaking theatre runs to his name, it was a surprise that he ended up writing the lyrics for the music of composer Stuart Brayson.
"It was a great story, I liked what Stuart had done, but originally I just wanted to help get it out there," he remembers. "But I ended up writing the lyrics as well, and I'm so glad I did. It was a great, happy job."
Tim, a veteran of the London musical scene along with Andrew Lloyd Webber and Mackintosh, remains equally surprised by the lack of opportunity for new composers similar to Stuart Brayson...
If you look at London's West End lineup these days," says the man behind the original 'Joseph and the Amazing Technicolour Dreamcoat, 'Evita' and 'Jesus Christ Superstar', "there are the long running tourist attractions that won't ever come off, there are the golden oldies like 'Oklahoma', or the jukebox musicals, the likes of 'The Bodyguard' and 'Mamma Mia'.
"Some of them are very good," he immediately adds, "but it's not new music, so it's not getting us anywhere culturally. There's a great gap, with lots of people willing to fill it."
Despite his veteran status and his famous love of other hobbies including cricket, Tim himself, however, shows no sign of tiring. "What else would I do?" he asks disarmingly. "Not sure I'd be good at anything else."
Some classic Hollywood kisses to send shivers down your spine...
'From Here To Eternity' will be released in cinemas across the UK on 3 July, marking the 60th anniversary of the original film version sweeping the board at the Oscars in 1954. The original soundtrack for the musical is now available to download via iTunes, and the CD will be released on 4 August. Click here for a list of participating cinemas and watch the trailer above...
LIKE US ON FACEBOOK | FOLLOW US ON TWITTER