Max Chilton could be doing some singing and dancing to keep the rain clouds above Silverstone for Sunday's British Grand Prix after the weather gods helped him produce a stunning qualifying result.
The Marussia driver was left buzzing after Saturday's session which nearly landed him and team-mate Jules Bianchi with top 10 grid positions.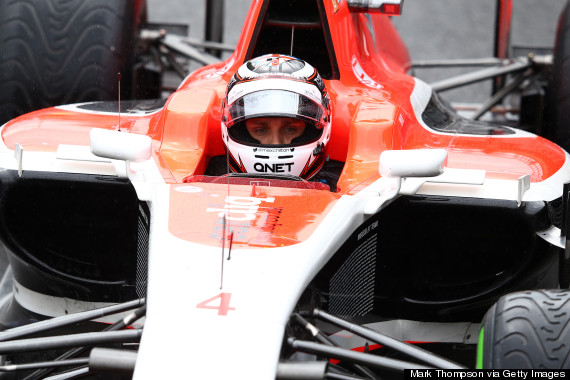 Max Chilton described qualifying as 'an awesome buzz'
As it was, their performances in the difficult conditions were enough to give one of the paddock's minnow teams its best qualifying results in its four and a half years in Formula 1; Bianchi took 12th while Chilton was 13th to the delight of the home crowd.
Nico Rosberg took pole position for the race with Sebastian Vettel second and Jenson Button third. Both Button and Chilton enjoyed relatively better qualifying their their compatriot, Lewis Hamilton, who finished a disappointing sixth and faces a tough battle to recover positions.
"It's an awesome buzz," Chilton told The Huffington Post UK. "It's pretty hard for a team like us to do what we did and it was an awesome day.
"The team made the right calls, we had the right strategies in place and me and Jules got the right amount of aggression when we needed to do the lap, so it worked out well. It's a fantastic feeling to have had such a good qualifying in front of the British fans and I can't wait for the race."
SEE ALSO:

Surely Some Mistake? Red Bulls On Top At British GP

Susie Wolff Makes F1 History At British GP
The highlight of Q2 was the possibility of one or both of the Marussia's making the top 10
The result was all the better because it followed a tough practice session on Saturday morning that was cut short for both drivers. Bianchi slid off the track at Stowe and into the barriers while Chilton only managed one lap before he was forced to return to the pits because of a gearbox problem.
He will start the race in 18th place after the team had to change the gearbox, automatically handing the 24-year-old a five-place grid penalty. But even that failed to lower his spirits.
"It's amazing," Chilton added. "Even with the five-place grid penalty we're ahead of both Ferraris and Caterhams so we'll just have to get a good strategy together.
"And I'm hoping to do a bit of a rain dance tonight. It might stir things up like it did today."