Nico Rosberg will start the British Grand Prix from pole position after a thrilling Formula 1 qualifying hour that left his team-mate and rival Lewis Hamilton firmly in his shadow.
In a topsy turvy session dominated by the changing weather, the race order looked like a lottery as both Ferrari and Williams failed to make it out of Q1 while Marussia stunned everyone with their best-ever qualifying.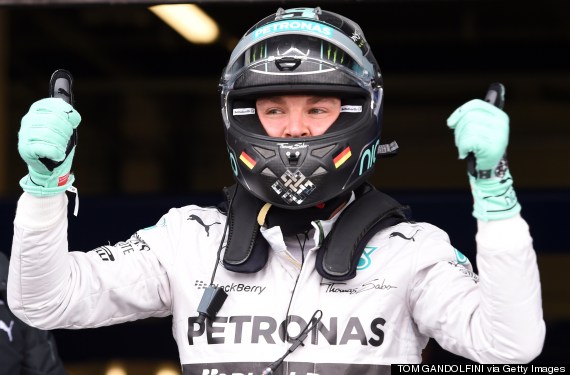 Nico Rosberg took pole position with his final lap in qualifying at Silverstone
Rosberg took full advantage of a drying track to snatch top spot from Hamilton as the pair crossed the line with just seconds to spare before the end of the hour but a mistake by the Briton at turn four ended his hopes of improving and allowed Rosberg to continue on his flying lap.
Along with Sebastian Vettel and Jenson Button, the championship leader found the final sector had dried enough to give them a considerable advantage and they crossed the finish line in that order while Hamilton was relegated to sixth. Third place is Button's highest grid position since the last race of the 2012 season.
After mistakes in qualifying at the last two grands prix in Canada and Austria, on this occasion it appeared to be misjudgement that has cost Hamilton dearly and again leaves him playing catch up in the race to Rosberg.
Story continues after slideshow
Behind the top three will be Nico Hulkenberg ahead of the second McLaren of Kevin Magnussen, and then Hamilton while Force India's Sergio Perez starts seventh, with Daniel Ricciardo in his Red Bull eighth and the Toro Rosso duo of Daniil Kvyat and Jean-Eric Vergne rounding off the top 10.
Qualifying had begun in wet conditions that caught Ferrari and Williams out while Marussia called it perfectly and at one stage even looked to have got both their MR03s in to the top 10. At the end of Q1 Jules Bianchi and Max Chilton were as high as fourth and sixth respectively while Fernando Alonso was left languishing in 19th place after a spin at Luffield ruined his chances of reaching Q2. Team-mate Kimi Raikkonen was equally disappointing and will start in 20th place with only the two Caterhams of Marcus Ericsson and Kamui Kobayashi behind.
Both Caterhams failed to set a time in the 107% rule and so are at the mercy of the stewards to let them race on Sunday.
Felipe Massa, who just a fortnight ago was the hero of the day after claiming pole in Austria, will start in 18th with his team-mate Valtteri Bottas just ahead.
SEE ALSO:
The highlight of Q2 was the possibility of one or both of the Marussia's making the top 10 for the first time but as the track dried throughout this period, the superiority of other cars began to make themselves felt and Bianchi and Chilton were both pushed down the order. However, their 12th and 13th places respectively marked the team's best qualifying results in its four-and-a-half years in F1.
Hamilton took spot early in Q3, taking advantage of the drying conditions and as the rain began to fall again it looked as though there would be little movement in the order and those who had put their banker laps in were to benefit.
But as the clock ticked towards the hour mark, there would be further twists that leave the Briton facing a tough battle to get near Rosberg, whose grip on the championship looks to be tightening again.